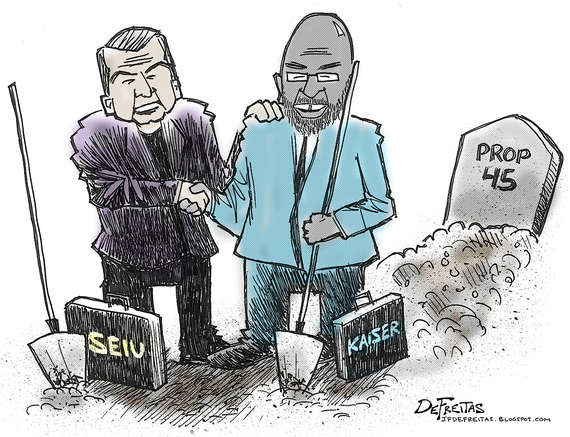 Proposition 45 is pretty simple: It would grant California's elected insurance commissioner veto power over health insurance companies' exorbitant rate hikes. 
The job of the office of the insurance commissioner is to ensure that consumers don't get ripped off. Proposition 45 would simply give the commissioner the authority to actually do the job. Thirty-five other states already have such a system in place.
It's clear why health care corporations would want to defeat Prop. 45. It would require health insurers like Kaiser Permanente, Blue Cross, and Sutter Health to publicly justify their rate increases. To date, the health care industry has spent more than $57 million to kill the ballot measure and protect their huge profits and lavish executive compensation packages, outspending proponents 14 to 1. 
More than $20 million of that war chest came directly from the deep coffers of "nonprofit" Kaiser Permanente, which has made more than $13 billion in profit since 2009, including more than $2.1 billion so far this year, putting the HMO on pace to double last year's record profits.
It's also clear why working families and health care workers would support Prop. 45. Health care insurance rates have been rising five times faster than inflation. Over the past decade, middle-income households have seen their health care costs increase by 51 percent -- twice their income growth -- and premiums for employer-sponsored heath insurance have doubled. 
What is less clear, at least on the surface, is why the Service Employees International Union, one of the nation's largest labor unions and California's largest health care workers union, would oppose the ballot measure. Prop. 45 would protect working families from skyrocketing health care premiums and help ensure affordable coverage for all Californians. So why would SEIU -- which represents 45,000 Kaiser workers in California  -- side with giant HMOs instead of working families?
The answer has profound ramifications for all Californians. A few months ago, SEIU signed a corrupt deal with California health care corporations in which the union promised that in return for the opportunity to unionize 60,000 California health care workers, SEIU would not criticize these corporations or support legislation they dislike. Under the terms of the deal, SEIU explicitly agreed to prohibit its members from participating in "communications that degrade or attack a signatory hospital or health system or the hospital industry as a whole includ[ing] communications raising concerns about hospital pricing and executive compensation in health care."
In other words, SEIU has formally abdicated its watchdog role. In exchange for the chance to collect dues from 60,000 new members, SEIU has officially sold out the workers and is actively campaigning in support of the political goals of their employers. And it's not just Prop. 45. As part of the deal, the union is working with health care corporations to lobby for increased Medi-Cal reimbursements to boost their already considerable profit margins.
This is the very definition of a company union.
Even while trying mightily to keep the details secret, Dave Regan, president of SEIU's United Healthcare Workers West and author of the deal, touted the pact as "revolutionary." And he may be right. A defining principle of the labor movement is that unions represent workers. With a few strokes of the pen, SEIU has silenced its members and put their dues dollars at the disposal of multi-billion-dollar corporations. 
The effects reach far beyond health care workers. Again, take Kaiser as an example. For four years, Kaiser mental health clinicians represented by the National Union of Healthcare Workers have raised concerns about illegally lengthy wait times for appointments at Kaiser psychiatry clinics. Based on the clinicians' well-documented allegations, the California Department of Managed Health Care levied a $4 million fine against Kaiser and continues to monitor the HMO's ongoing violations of state and federal law. SEIU represents the clerical workers who schedule those appointments, but its partnership with Kaiser and other health care corporations has essentially gagged those workers, preventing them from blowing the whistle on the HMO's illegal and unethical practices. 
Without another union to counter the conspiracy of silence, Kaiser's systemic understaffing of its mental health services, which has often led to tragic outcomes, even suicides, would not have been brought to the attention of state regulators and the public. 
When unions abdicate their watchdog role in favor of "collaboration" with health care corporations, patients lose, health care workers lose, and democracy loses. 
Sal Rosselli is president of the National Union of Healthcare Workers, a democratic, member-led union that represents more than 10,000 healthcare workers throughout California. NUHW.org.
REAL LIFE. REAL NEWS. REAL VOICES.
Help us tell more of the stories that matter from voices that too often remain unheard.