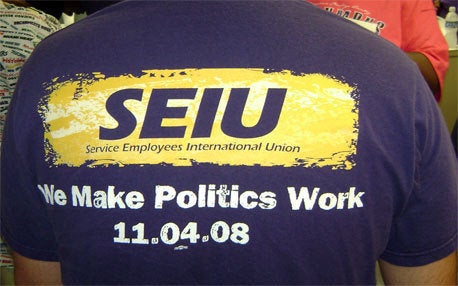 One of the nation's most influential unions is making preparations for staff cuts and rearrangements in an effort to meet challenging economic and political demands.
The Service Employees International Union (SEIU) is attempting to realign employees from its national headquarters to its local affiliates in the days and weeks ahead. But officials at the union acknowledge that layoffs will likely happen in the process, a product of inter-organizational realities and fiscal constraints.
"There is generally a realignment after each SEIU convention, where the member delegates vote on the program of the union and the union determines the best structure to carry out that work," said Michelle Ringuette, a spokesperson for SEIU. "Right now, I think everyone is wrestling with the challenges of this economic crisis, and like many other organizations, SEIU is also facing some tough choices."

How many employees will be realigned or let go remains to be seen. One SEIU official speculated that the process was designed to free up money for the union to make a firmer push on its legislative priorities, specifically the Employee Free Choice Act. But Ringuette noted that de-centralization is something that the union goes through roughly every four years, meaning one would be hard pressed to read too much into the budgetary significance of the move.
"We're in the middle of our post-convention realignment process," said Ringuette, "which means there are a lot of conversations taking place right now about how best to achieve the goals of the members and how to protect their interests."
A powerful and innovative force in the labor movement, SEIU represents approximately 1.7 million workers with more than 300 local branches. Its success since disaffiliating with the AFL-CIO in 2005 has been as much organizational as legislative. As such, the union often makes heavy staff and financial investments in local branches at the sacrifice of pushing policy or political items in the nation's capital. That said, the union was one of the biggest spenders during this past election. According to the Federal Election Commission, the Service Employees International Union Committee on Political Education (SEIU COPE) spent more than $45 million during the 2007-2008 election cycle.
Calling all HuffPost superfans!
Sign up for membership to become a founding member and help shape HuffPost's next chapter