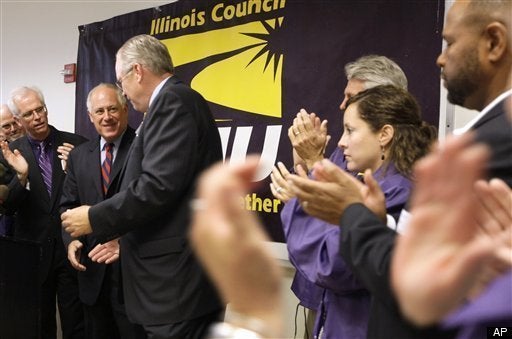 In a bold warning shot to Democratic lawmakers, the new president of the powerful Service Employees International Union says that members are prepared to withhold their support for candidates they oppose in primary elections even if they make it to the general.
In an interview with the Huffington Post on Thursday, SEIU President Mary Kay Henry confirmed that her union will not back Sen. Blanche Lincoln even if the Arkansas incumbent beats her primary opponent -- SEIU-backed Lt. Governor Bill Halter.
"We will not support Lincoln [in the general] because that is what we heard from our members," Henry said. "Blanche Lincoln stands with corporate interests, Wall Street, voted against us in health care, and our members in Arkansas, together with non-union workers and community organizations, saw Bill Halter as somebody that would stand with working families."
Henry did say that she would have a talk with SEIU members after the Arkansas Democratic primary takes place this coming Tuesday. But an official with the union confirmed that the discussion will simply be to explain why (if Lincoln wins) the union won't lift a finger to help her campaign against the Republican nominee.
The posture by SEIU is a remarkably aggressive one, in that it runs the risk of not just having a Republican (less favorable to Big Labor) elected into office, but also leaves Lincoln less beholden to union concerns should she actually win.
But for Henry, the decision to fully withhold support from non-sympathetic or unhelpful Democratic nominees reflects a broader vision of how the SEIU's political apparatus will operate. The newly elected union president pledged to expand on the policy put in place by her predecessor, Andy Stern, to start third-party organizations in districts where neither major party candidate reflects labor's interests
"We want to use whatever innovative strategies we can to accomplish our members' goal to trying to elect politicians who will stand with working families no matter what the heat is that comes on them," Henry said.
SEIU also will continue pushing for filibuster reform in Congress, as a mechanism to reduce the ability of individual senators to hold up legislation.
As for the legislation itself, Henry pledged to make a major push in support of comprehensive immigration reform, which she deems an absolute priority in the wake of the controversial law recently passed in Arizona.
"It's a fact," she said, that Hispanic workers were now endangering themselves by going to Arizona. "We have had three of our members that, the weekend after the law was passed, were picked up or stopped by law enforcement officials and asked for papers. It is not a question. It's a fact. And everyone in our union is outraged about it."
Already, the SEIU has announced plans to boycott the state over the new law, which requires that police question anyone they suspect may be in the state illegally. But ramping up efforts on that front means devoting less muscle to others. And on another major plank of the SEIU agenda -- the Employee Free Choice Act -- Henry acknowledged that progress remains far off.
"We are, as you know, running on several issues at the federal level. So we are currently full-tilt on comprehensive immigration reform and jobs," she said. "So we have to make the same calculus that everybody does in Congress. What is the best moment to get what done? And the current priorities that we have are comprehensive immigration reform and jobs [not EFCA]."
Popular in the Community