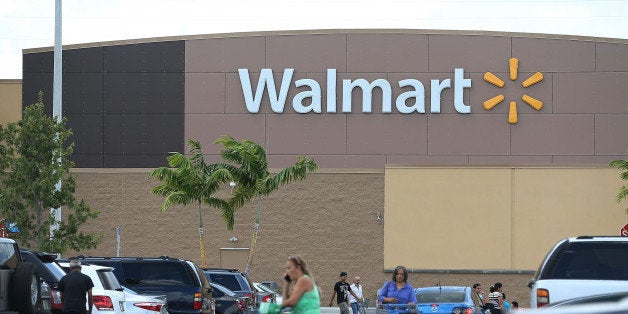 Walmart recently got great reviews for doing something to prevent kids dying in hot car seats. Walmart reminds us that 39 infants and toddlers die annually in hot cars, and explains that they have taken on this cause because "there are millions of cars in the parking lot." I applaud them for this proactive effort. But of course, everyone is pro safety when it comes to kids dying in hot cars. Who would argue with innovating new ways to prevent this?
In contrast, we all know the hot potato of guns and politics makes companies duck-and-cover when it comes to anything to do with gun safety. Yet, with all the guns carried out of Walmart into those same parking lots, it would be nice if some of those gun buyers were reminded of the rules of gun safety before they got home. Does it sound odd that Walmart, Starbucks or the NBA would ever promote gun safety? No more than Breast Cancer Awareness "pinkafication" and NFL players wearing pink ribbons on their jerseys and cleats.
What exactly are they afraid of? Apparently, all it takes is one extreme person to start protesting that industry-standard gun safety measures are restricting my second amendment rights. That's when behemoth brands like Walmart start to get nervous and fill up their marketing calendars with car seats and sustainability. But all it takes to fix that problem is a voice. The voice of the customer. And the voice of Walmart. Martin Luther King Jr. spoke about the "silence of good people" as an obstacle to Civil Rights progress -- I would revise that statement today and say it's the silence of good companies that is holding back progress. Selective good and selective silence, rather than consistently doing the right thing for the communities that they profit from.
Doing the right thing as a socially responsible brand takes leadership, creativity and vision. With some bravery and heart too. Brands who seek this lofty status, need to take on those challenges, if they aspire to be the authentic voice of today's customers.
People who sell dangerous products have always endured a conflict. As global brands, they must weigh conscience with commerce. Efforts to keep people safe must be seriously undertaken, otherwise it is superficially selective in social good.
So with alcohol, bars check IDs, even when you look over 40. Spirits brands promote designated driver campaigns, even though it is, in effect telling people NOT to consume their product. And yet spirits sales are just fine. As far as regulation, the alcohol industry has shown that if you "self-regulate" with massive safety efforts -- making lots of great ads, partnering with brands such as Uber -- it's a halo effect of good and you get left alone by government regulators. Given all this, why aren't more of the mass retailers who sell gun products, actively partnering and supporting what could make gun safety as memorable and iconic as "Friends don't let friends drive drunk"?
Maybe we just need to tell them that someone IS looking.
Related
Popular in the Community