Selena Gomez commented on her body after some social media users wrote negative comments on her appearance at the Golden Globes.
"I'm a little bit big right now because I enjoyed myself during the holidays," Gomez said while streaming live on Instagram from a car with her 9-year-old sister, Gracie Elliott Teefey, on the night of the awards show. "I mean, right?" she said to Gracie with a laugh. "But we don't care."
Gomez, who was nominated for Best Television Actress in a Musical/Comedy Series for her starring role in Hulu's "Only Murders In the Building," rocked a Valentino gown with puffy statement sleeves, a thigh slit and train on the red carpet. She brought Gracie as her date.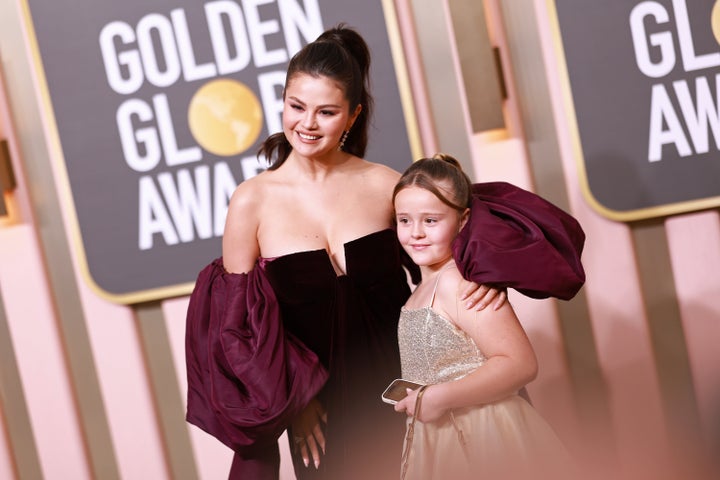 Though Gomez did not explicitly mention the negative comments, fans speculated that her remark came in response to social media users who wrote nasty judgements about her body after red carpet photos were shared online.
Gomez has had a complicated relationship with social media for years and returned to Instagram just recently after a break. In a March 2021 interview with Vogue, she said she'd largely been off the internet for three years and would send photos and captions to her assistant to post on Instagram and Twitter. In an Instagram Live last year, she clapped back at critics who make observations about her body size.
"I don't care about my weight because people bitch about it anyway. 'You're too small. You're too big. That doesn't fit,'" she said. "Bitch, I am perfect the way I am."
She's also been candid about her health issues, including her mental health struggles, and has spoken about using her story and platform to help others feel less alone. Her cause-driven beauty brand, Rare Beauty, has raised millions to help address the gaps in mental health services.
Popular in the Community