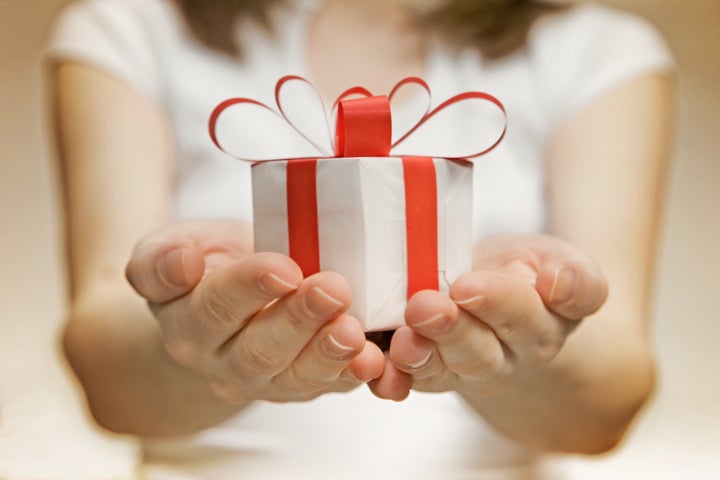 Holidays are here, the time of year for family, festivities, and presents galore. Do more presents equal more happiness? In my film Project Happiness, young people tell us that the answer is "no!" Here's a question: What would happen if, along with the usual gifts of clothing, tech and stocking stuffers, you added something that money cannot buy -- the acknowledgment and celebration of who you really are? What if that turned out to be the best present of all?
What we really long for are not more things. Memories of fun-filled moments, loving relationships, and authentic connections last far longer than the flush of excitement for that "gotta have it" new toy. Yet in the rush to show others how much you care, it's easy to forget that you probably demonstrate some of that just about every day. Could it be that you are the best living, breathing present ever, and that you show it much more often than during the holidays? It's true that this idea fights with all the seasonal pressures to buy-buy-buy to show your love -- so here are some thoughts to jog your memory:
1. Being You Helps
Can you remember a time when your perspective, humor, or plain old common sense added some lightness to a challenging situation?
2. The Gift of a Smile
Did you ever smile at someone and know that it changed his or her day?
3. Fueling Up and Inspiring Others
Taking care of yourself and doing what you love gives you the fuel to inspire others and share even more of your awesomeness.
4. Stillness Gives Clarity
How many times did a flash of intuition show you or others a better course of action? Though we all face challenges (which is what joins us with humanity as a whole), in quiet moments, such as in the shower, in nature or whatever gets you in the zone, you are more connected than you know.
5. Remember Your Strengths
How many times a week do you demonstrate kindness, caring or love to others? That's a real gift in their lives.
These things do not cost money. They are a living expression of who you are, and over time they make an indelible statement of the real gifts you bring. By celebrating who you are, you embody the idea that day-to-day thoughts, words and deeds make a lasting difference for others. Acknowledge your awesomeness! This season, consider that you are the Secret Santa, and what you give every day makes you fabulous not only during the holidays, but all year long. The best present is your presence and the best gift you could ever give is your authentic self. Now that's something to celebrate. Happy holidays!
What presents or experiences have meant the most to you and yours over the years?