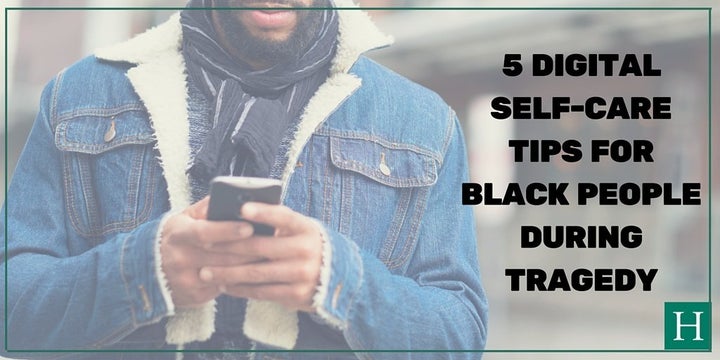 Trauma in the black community is a constant reality we have to face.
We especially feel it when an unarmed black man is killed by a cop, a black woman dies in police custody or an officer walks free of charges after killing a black child in the park. In America, our skin color is a daily reminder that we, and our loved ones, may not make it to tomorrow.
One of the most recent reminders of this seemingly unescapable fate is Alton Sterling, who was shot several times in the chest and back by Baton Rouge police Tuesday outside of a convenience store where he frequently sold CDs. Before the black community could even fully process Sterling's death, Philando Castile was gunned down Wednesday after he was pulled over for a busted tail light. Accompanying both tragedies were gruesome videos and images of cops taking their lives ― including Sterling's bloody corpse plastered on Wednesday's New York Daily News' front page cover.
Sterling and Castile's killings weren't isolated incidents. Black bodies have been at risk long before smart phones were readily available for people to document police brutality. We now live in a country where we're inundated with horrific news and images that remind us why we have to declare to the world that #BlackLivesMatter.
These graphic images of slain black lives can be triggering if we neglect our mental and emotional limits. This is why black people must take the extra steps to preserve their health, especially in a digital space.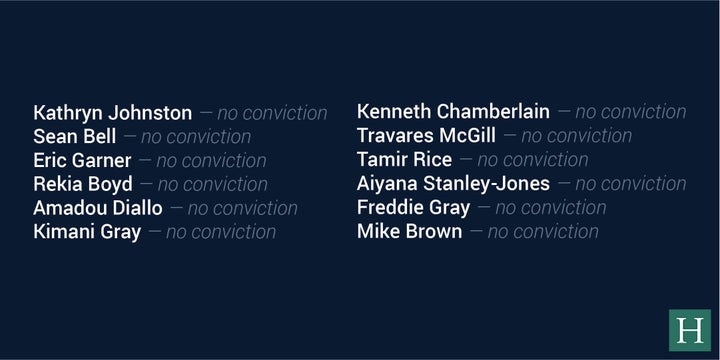 The unfortunate reality is that Sterling and Castile weren't the first and they won't be the last to lose their lives to police shootings. But while we fight for them and stand against the despicable cycle of black death at the hands of cops leading to non-indictment, we must take care of ourselves.
Here are five ways you can practice good mental and emotional habits online while coping with race-related trauma.
1. Turn video autoplay off on your social media pages.
You DO NOT have to watch the videos of these killings to stay informed. The autoplay setting on many platforms like Facebook and Twitter make this unavoidable, especially when the videos are shared over and over again on your timeline. Luckily, you can control whether or not you want these videos to automatically play. Tatiana King Jones shared screenshots of the process on Twitter to make the steps easy to follow.
Simply adjust your settings on Facebook, both online and on the app, by selecting "settings," click "videos" and switch video autoplay to "off." After going into your settings, press "data" then "video autoplay" and "Never play videos automatically" will be the last option. On Instagram, just tap the settings icon in the top-right corner of your profile and switch the autoplay option to off.
2. Follow accounts that inform and nurture you without force feeding you torturous details.
The quickest way to send yourself into an anxious frenzy is looking at a string of triggering posts on your timeline. Make an effort to weed out the accounts who capitalize on black death by posting purposefully "baity" content for the sake of a share or like. Make a list of some of your favorite accounts that inform you in a realistic, productive and ethical manner. A few examples of these accounts are Julia Craven, Wesley Lowery, Jamil Smith, Yamiche Alcindor, Xavier Burgin, Broderick Greer and Amandla Stenberg. Part of having a healthy social media life in times of crisis should also include nourishing your soul. Balance out the hard facts with social accounts that give meditative and reflective advice. Some accounts to get you started are Alex Elle, Tracy Clayton and Shelah Marie. The poem below from Elle about self-love in times of pain is all too relevant here. Also indulge in a few hashtags that will put a smile on your face like #CarefreeBlackKids2K16 created by Heben Nigatu.
3. Ignore the trolls.
Trolls deserve zero attention. This rings especially true when they use black pain and death to taunt people who speak out against racism. Instead of stressing yourself over irrelevant trolls, realize that they went out of their way to search for your post ― most likely behind a fake account ― and expose their bigotry. It's usually a fruitless endeavor to explain how racism works to a Twitter account with an egg as an avatar so do yourself a favor and use that block button.
4. Log off.
You shouldn't feel guilty for unplugging for a few hours ― or days. Sometimes that is the best thing you can do for yourself in the midst of trauma. When you're inundated with news updates, often times of a disturbing nature, staying informed can seem too heavy duty so You have to balance the bad with the good. Take a walk, write in a journal, watch a movie or do anything productive that makes you happy. You can get lost in the digital madness if you don't walk away every now and then. Don't worry, everything will still be there when you get back.
5. Remember offline conversations are just as important as online conversations.
Confide in friends and family about how you're felling. Vent. Write it down. Talk to yourself. However you communicate your feelings, remember that it doesn't have to always be online. It's vital to have people in your life whose shoulder you can cry on and can help you process traumatic events. It's equally as important to have people who can uplift you and help reaffirm why your livelihood matters. A good support system is key.
These are just a few tips that may help you remain hopeful. Maintaining your overall health is the only way you can continue to fight the good fight and help make a difference. And always remember, in the words of Kendrick Lamar, "we gon' be alright."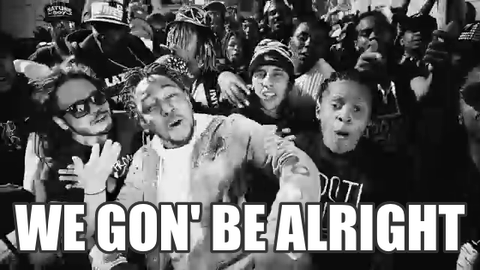 Popular in the Community