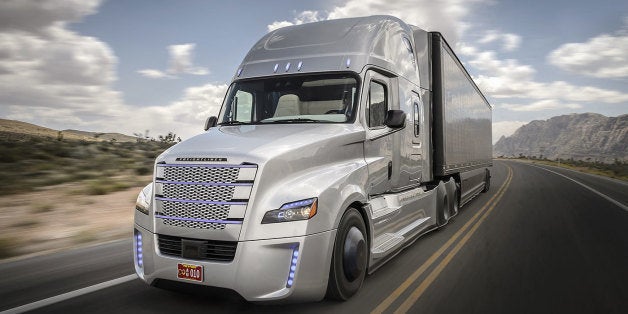 The next self-driving vehicle may be an 18-wheeler barreling down the highway.
German manufacturer Daimler on Tuesday revealed its Freightliner Inspiration, a self-driving semi-truck. The company will begin test-driving the rig in Nevada, one of four states (and the District of Columbia) that have approved licensing for autonomous vehicles.
Though a human driver will need to sit in the driver's seat, the truck has an autopilot feature that can take over on long highways. Fatigue is a leading factor in large truck crashes, and Daimler hopes a self-driving rig will give drivers a break during long hauls.
The Freightliner Inspiration is equipped with Daimler's Highway Pilot technology, which includes a radar and a stereo camera, in addition to steering and cruise control systems available in other Daimler vehicles. When the driver selects the Highway Pilot feature, the truck will adapt to the speed of nearby vehicles and maintain a regular distance from the car in front.
The truck will not be able to change lanes when while the automated pilot is activated, though it can steer itself in case of a bend in the road. In addition, the truck's human driver will be able to perform many tasks like normal -- exiting the highway, driving on smaller roads and taking control of the rig in case of bad weather or an emergency.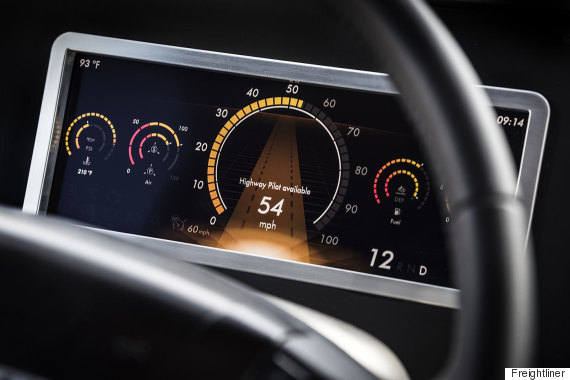 By taking the wheel from tired drivers, the Freightliner Inspiration could help reduce road accidents and cut down on labor costs, Wolfgang Bernhard, who oversees Daimler's commercial truck operations, said in a statement.
At a news conference in Las Vegas on Wednesday, Bernhard evoked Neil Armstrong when he called the new truck "a short drive for man and a long haul for mankind."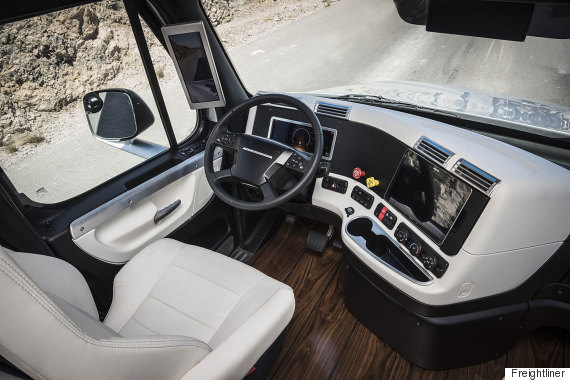 The Freightliner Inspiration still needs a lot more testing, as well as new technology to improve radar sensors and cameras, according to Daimler, which also owns Mercedes-Benz. And like all self-driving vehicles, it faces both legal and ethical complications.
Martin Daum, the head of Daimler's North American division, told The Associated Press that people would be much less willing to forgive a fatal crash caused by a computerized driver than a human driver.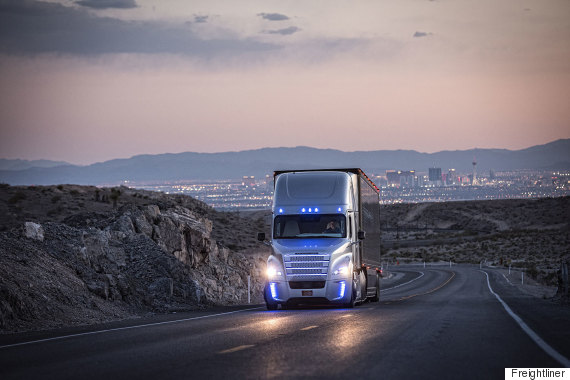 Smaller self-driving cars, meanwhile, may begin appearing on roads in greater numbers within the year.