The backup driver in a fatal accident between a self-driving Uber and a pedestrian in Arizona last March may have been watching an episode of NBC's "The Voice" on her phone at the time of the crash.
That's according to a more than 300-page investigation released by the Tempe Police Department late Thursday. Investigators concluded the fatal accident would have been "entirely avoidable" had driver Rafaela Vasquez not been distracted. 
Records provided to investigators by Hulu show Vasquez was streaming an episode of the reality TV show on her phone when the Volvo SUV fatally struck Elaine Herzberg as she walked her bike across a dark stretch of road. Had the backup driver reacted, she could have stopped the SUV 42.61 feet short of impact, one analysis found.
Video from inside the vehicle shows Vasquez glances down more than 200 times and "appears to react and show a smirk or laugh at various points during the time she is looking down," the report states.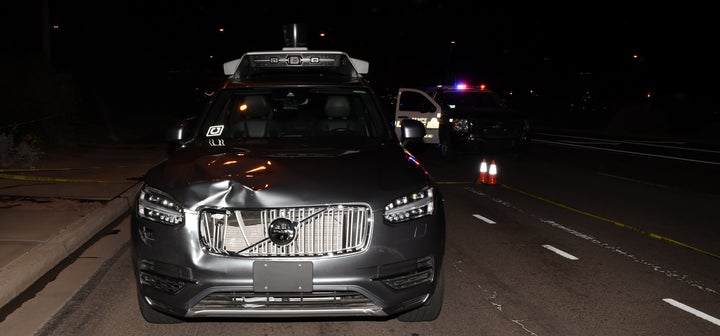 Vasquez's cellphone records seem to contradict statements she gave National Transportation Safety Board investigators earlier this year. Asked what she was looking at, Vasquez denied she had been using her phone and said she was instead "monitoring the self-driving system interface."
In the nearly 22 minutes leading up to the crash, Vasquez wasn't looking at the road for six and a half of them ― about 32 percent of the time ― police found.
Uber told HuffPost it considers any smartphone or smartwatch use by its backup drivers while the vehicle is in motion a fireable offense, a point emphasized in training.
"We have a strict policy prohibiting mobile device usage for anyone operating our self-driving vehicles," Uber wrote in an emailed statement. "We plan to share more on the changes we'll make to our program soon."
The ride-hailing company permanently suspended its self-driving car research in Arizona following the accident.
While Tempe Police initially said Uber was "likely" not at fault in the accident, they didn't rule out the possibility of future charges against the backup driver. Given the findings in this latest report, the likelihood of vehicular manslaughter charges against Vasquez has certainly increased.
The police investigation doesn't completely absolve Uber of guilt, however. A preliminary NTSB report released in May found Uber's self-driving software had a full six seconds to react after it first observed Herzberg, but failed to properly identify her in time and take evasive measures until it was too late.
Calling all HuffPost superfans!
Sign up for membership to become a founding member and help shape HuffPost's next chapter