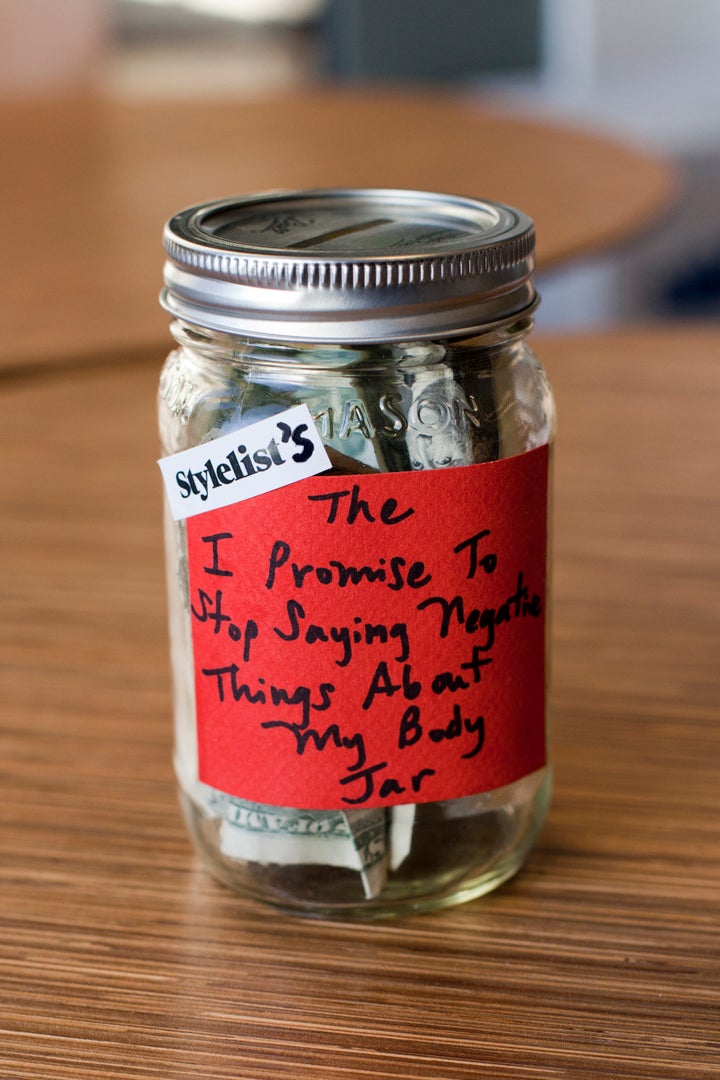 I have a very strange allergy. Some people are allergic to wheat, others are allergic to cats. I'm allergic to hearing women put down their appearance. I use the word allergy because something truly visceral happens to me: my toes curl, my hair stands on end, and I stumble over my words as I try to come up with the appropriate, scripted-yet-sincere response.
It's a common dance between women. One says "I feel so fat" and her friend responds "Please! I am so fat" and then the first one says "Whatever, you didn't just eat a burrito" and on and on they go.
I went to an all-girls high school, an all-women's college and have worked in media for the last 10 years, so I've overheard --or been baited into-- this conversation a lot. But not until I started working with one foot in the fashion world have I heard it so much. In an industry where designers have to be reminded to distinguish between a sample size and an eating disorder, and encouraged to keep snacks for runway models (though judging by some of the physiques at last February's Fashion Week, these efforts were in vain), it's not particularly surprising.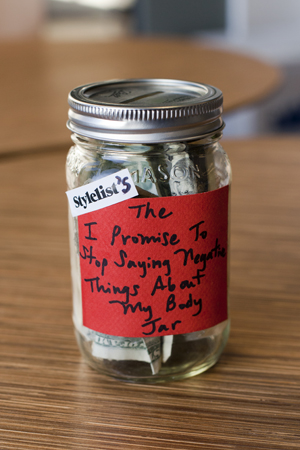 So, here at Stylelist, I've long joked that I need to implement a tip jar to fine anyone who says something negative about their appearance. And one night, over a snack of mac & cheese and martinis with the very supportive Bobbie Thomas of the "Today Show," I realized it needed to be a reality. So the next day, with some paper, scissors, glue and a Sharpie, the very literally named "I Promise To Stop Saying Negative Things About My Body Jar" was born. The fine is $1 for every negative comment someone makes, with proceeds going to Girls Inc, an organization that promotes self-esteem and leadership skills for young girls. Within two minutes I had $2 in that jar. Was one of them mine? Sure. I never said I don't have moments of hypocrisy!
I am, however, trying hard to curb this nasty habit, and I hope you'll join me. A recent study shows that when a woman engages in "fat talk," she may feel the effects of depression for several weeks afterward. Talk about a lose-lose scenario.
So even though I'm not normally one for saccharine self-affirmations and cheesy platitudes, I want to use the comments section of this post to flip the script and ask you all to say something positive about yourselves. In return, the Huffington Post Media Group will donate $1 for every kind comment to Girls Inc. We're hoping to reach our cap of $5,000 for 5,000 comments by April 17th [ed note: formerly the 10th], so please go ahead and say something nice.
And if you want to contribute to Girls Inc. on your own, you can do it here.
Check out Bobbie Thomas telling Hoda and Kathie Lee about the jar on TODAY.
Popular in the Community