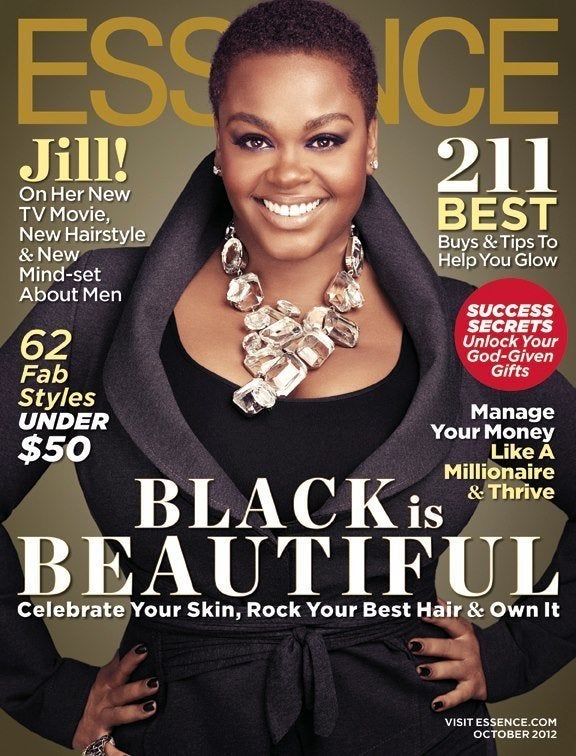 I love the words to Jill Scott's song "Golden." To me it is prayer, mantra and meditation.
"I'm strumming my freedom, playing the God in me.
I was born into it
It comes naturally."
Such powerful words! What makes them even more powerful is that Jill lives by them. This gives them their credence and their power. Jill's beauty graces the cover of the October issue of Essence magazine and of course she is glorious. Her one request? That she be photographed with her natural hair. I LOVE when women do this. Not just when it comes to hair, but when we celebrate our beauty on our own terms.
Women like Jennifer Lopez, Halle Berry and Jennifer Anniston have redefined the forties for women. Theirs is a healthy, proactive approach to aging with grace.
I loved when Helen Mirren caused a stir a few summers ago on a beach in Italy when she, a woman of 63 at the time, was photographed wearing a red bikini and looked fabulous. If I could have a figure like that at 63, I don't think I would worry about coloring my gray hair, either.
I love when women in the public eye don't give in to the pressures of public scrutiny when it comes to their beauty. I love when women like Kate Winslet proudly admit that they do not and don't plan on having any plastic surgery. And at the same time, I admire when someone like Jane Fonda, a woman in her late seventies, decides to get a little work done just because she feels younger than she looks and wants to see how she feels.
We are all beautiful no matter what our "flaws" may be. Just look at Cindy Crawford's mole, Lauren Hutton's gap teeth and Beyonce's curves. None of these women have ever been described as anything but flawless, yet what we love about them, at some point, was said to be a flaw. How blessed we all are that they did not see themselves that way.
So, I encourage you to live your life like it's Golden and celebrate your beauty, flaws and all.
Calling all HuffPost superfans!
Sign up for membership to become a founding member and help shape HuffPost's next chapter