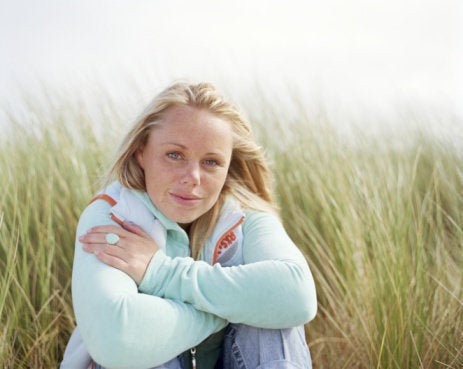 Loneliness accepted becomes a gift
leading one from a life dominated by tears
to the discovery of one's true self
and finally to the heart of longing and the love of God.
-Unknown
This week, I have been reading Alex And Me by Dr Irene Pepperberg, the touching and inspiring story of the author's scientific studies with a Grey parrot, Alex, and his intelligence and language skills. A feisty bird by all accounts, he also demonstrated qualities of empathy and understanding -- qualities I call "heart skills." His premature death was deeply grieved.
Do you ever feel disconnected and find this world to be a lonely place, lacking in warmth and friendship? Or perhaps you are one who thrives in solitude. Do you feel overwhelmed by demands being made on you for your time and attention, but absent from real contact with others? Do you ever wonder in all of the busy-ness who your friends really are?
Many touching comments to my post last week, Overcoming Powerlessness, raised the importance of contact with others in experiences of powerlessness. Many were moved to offer their concern and caring.
A cry from the heart came from "dumbrecovery," who wrote:
Recession has nearly destroyed me, resources I had are gone -- no job, no money, no credit, no perceptible opportunities. Practically every avenue I know is now closed, and it keeps getting worse.

Beyond fading hope (and power), the prospect of growing old with no security, independence or comfort is frightening. Many other people are in similar situations. I doubt that anyone could have a satisfactory answer. Neither faith nor positive thinking will suffice.

Kind wishes from readers were heartfelt, offering hope; some shared the challenges they were meeting. No words would have changed the circumstances being faced, but the warmth of human caring and encouragement does a lot to alleviate the sense of loneliness and isolation. None of us is truly alone.
Language has created the word "loneliness" to express the pain of being alone.
And it has created the word "solitude" to express the glory of being alone.
-Paul Tillich
When I was working with people approaching retirement, we looked at two areas of loss for those leaving paid work. One is the loss of meaningful and engaging activity that shapes the day, giving it purpose. The other was the loss of casual companionship, taken for granted in the workplace. In planning for the future, people were invited to consider their needs for companionship: time alone, time with family and close friends, time with acquaintances. Knowing your needs is a step towards fulfilling them.
I feel passionately that while technology advances and leaps ahead, we are being left behind and missing the calls to advance our own capacities -- our heart skills -- as human beings. As the "Unplug and Recharge Challenge" has been showing me, we are needing to learn how to divert ourselves from our attachments to screens and electronics; to re-engage and connect with the richer dimensions of living in this remarkable world; to interact with nature; to deepen our ability to love and care for others in their presence; to simply spend time with those we love.
What do I mean by "heart skills?" Think about empathy, compassion, courage, enthusiasm, understanding, humor, joy and love. These are the qualities I associate with the heart. Heart skills such as listening, observing, forgiving, receiving, inspiring, encouraging, serving and loving open us to more of those qualities. Heart skills awaken and connect us with each other.
How is it possible to move from loneliness, to appreciating solitude and then to feel re-connected and at one with the world around you?
In talking to two widows recently, one having been married for 70 years and the other for 40 years, it seems that the presence of a community of caring friends around them has made a great difference to them. While they will never entirely get over their loss, I am impressed how they are creating new lives for themselves in ways perhaps that they had never imagined doing. Their loneliness becomes more tolerable. They blossom differently than before.
Tines of solitude, chosen or enforced, can be embraced to reflect, to nurture your spirit, to meditate, contemplate, pray and get in touch with a deeper aspect of yourself. I call this connecting inwardly.
Connecting inwardly may invite you to forgive the criticisms or self-judgments you have been holding against yourself. Give yourself a break! Look around you for the simple blessings that you enjoy and give you pleasure. Receive from your own store of goodness -- your compassion, your kindness, your tenderness, your good will.
You are blessed with many treasures. Treat yourself to some time to get to know them, and you, better. Take a walk with God, your spirit, soul, the universe and listen to the love and guidance it has for you. When you are open, the blessings abound.
Many years ago, I used to have a Thursday afternoon date with Ruby. A lady in her 80s, she had a cancer but refused to have it operated upon. She lived in sheltered housing in London's Earls Court area where there were other elderly residents. We had a routine where she prepared a pot of tea and tea cake of some kind. We chatted about the world, shared a meditation and I left.
One of the qualities that made Ruby remarkable was that she was an excellent listener. She was never lonely. People would always want to talk to her.
In choosing the topic of loneliness for this article, I was resistant. I had thought about writing something "pink and fluffy." When that still small voice tells me what I am to wrote about, I normally cooperate with it. I did not want to touch into my own feelings and fears of loneliness -- which I did. However, my experience this week has been profound and enriching. I am glad I listened to that inner voice. It is usually right.
This week, I have been moved to put into practice some of my own heart skills. It has been well worth it!
I would love to hear from you. Do you ever feel lonely, and how do you deal with it? Do you re-charge by being alone? What are your favorite ways of connecting with others?
Please re-tweet or pass to friends who may enjoy this post.
For updates on The New Wealth Book, click here for the latest from the New Wealth Book Blog, Finding The Wealth In Passion

For information on my future blogs, click on Become A Fan at the top.

Popular in the Community