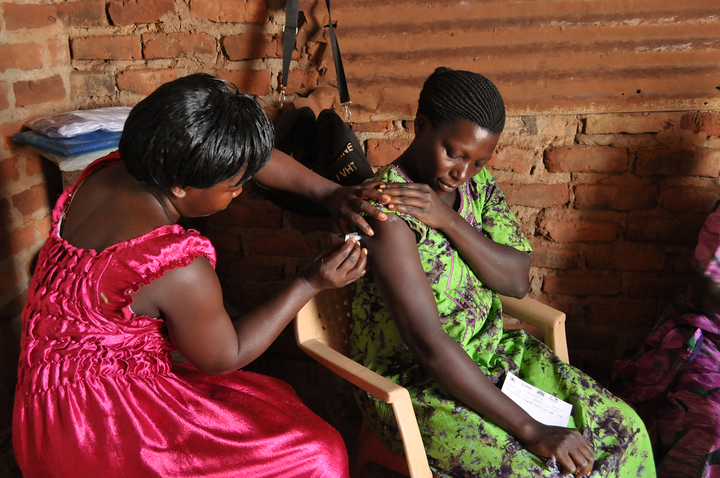 A recent meeting of advocates supporting the introduction and scale up of the injectable contraceptive DMPA-subcutaneous (DMPA-SC)—commonly known as Sayana® Press, which is currently the only formulation on the market—provided the chance to learn how the method is being introduced in countries, discuss challenges countries are facing, and map the way forward to ensure that women who want to use it have access to it. While DMPA-SC is frequently referred to as a "game changer" because it is designed to allow women to inject themselves with the DMPA hormonal contraceptive, the challenges of developing a coordinated plan that brings together public, social marketing, NGO, and commercial sector programs and providers will be a critical step to ensuring a successful introduction and scale-up.
Among the reasons that DMPA-SC is seen as a game changer is because lower-level providers, such as drug shop workers and community health workers, should be able to provide the method. While a long-term goal is self-injection, many countries are not ready to go that far yet, but are open to task-sharing policies that allow lower-level health workers to offer contraceptives. Several ongoing studies on self-injection should provide evidence in the near future that women can effectively and safely use Sayana Press.
While most aspects of introduction and scale-up appear optimistic, we cannot overlook some of the existing challenges. How can the growing availability of Sayana Press avoid cannibalizing the huge existing demand for the intramuscular formulation of DMPA? The way this issue is resolved over time will depend on a number of policy and financing issues. In its favor, Sayana Press is an all-in-one device—rather than the syringe and drug that DMPA-IM (often referred to as Depo Provera) requires. However, its price is higher than DMPA-IM and if countries are expected to procure contraceptives, their price sensitivity to Sayana Press may create barriers in spite of a growing demand for the method. Currently, the subsidized price of DMPA-SC is US$1, compared to DMPA-IM, which costs a fraction of that amount to produce; this difference may create a real barrier. Perhaps with a large enough demand for Sayana Press, the volume discount price will decrease further so that the price differential between the two products is less and programs won't have to struggle with the current large difference.
Another challenge to be addressed at the country level is the coordination among different providers. In one country, DMPA-SC is being introduced by social marketing programs without any coordination with the public sector. In another country, the public sector is using a donated supply of Sayana Press to introduce the product, with the trust that donors will continue to support the likely large demand for the product. Coordination among providers and donors will be critical to ensure that there is an adequate supply of the product. The topic of total market approach was frequently mentioned during the meeting as a way to get relevant stakeholders to the table and develop a plan that segments the market for Sayana Press and maximizes the channels through which the method is provided.
The demedicalization of family planning continues to be an important issue—one that is central to helping ensure that national and global FP2020 goals are met. And Sayana Press—along with other existing and emerging methods—can go a long way to empower women to decide on the number and timing of their pregnancies and births. But to avoid making errors in the introduction and scale-up of Sayana Press, stakeholders and countries need to work together and stay focused on how public and private programs and providers can best meet the family planning needs of women and couples.
Popular in the Community