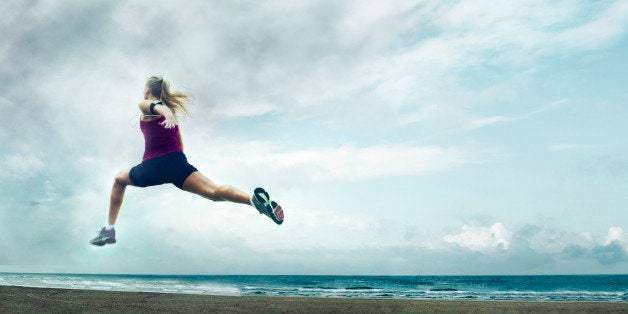 There is one four-letter word that I really despise, but it comes up time and again when I talk to other runners. It sneaks into our conversations and it a buzz-kill and can do more damage that the worst four-letter word in and out of the dictionary. Not only do we say it in running but we say it in other areas of our life.
When a fellow athlete is talking about training for a marathon and you say I'm "just" doing a 5K; when a co-worker has lost 25 pounds and then your accomplishment is "just" five pounds; when a friend finished defending her dissertation and you "just" have a bachelors degree. Just. Just. Just.
You can't help but wonder "how can I feel good about my accomplishment when there are others doing more than me... working harder than me...gaining more ground than me?"
It is completely human to over analyze ourselves, but it is not good for your 'self' to compare your accomplishments to others and downplay your goals and achievements. Recall your own conversations where you have said this or heard someone else say the word 'just.'
So, JUST as we train ourselves for that mileage - whether it is a 5K, 10K or 26.2 -- we need to train our brain to eliminate the JUST out of our vocabulary. Because no matter what the task (running, losing weight, getting that degree) you have worked hard for that accomplishment. You took time out of your busy life for this journey. You got up early in the morning to get in a mile or two before going to work. You stayed up late studying for that final. You said no to that dessert or snack.
It's a subtle shift in our collective conscious but a powerful tool toward understanding the way we acknowledge ourselves and others. You don't JUST deserve to stand in someone's shadow. You deserve to shine a light on yourself and your goals. We are all individually different and have the capacity and the knowledge to be happy with our own achievements and be happy for the achievements of others, because we know what it was like to make that commitment and work hard to get to the end goal. We all know that feeling.
You didn't JUST do it; you DID it. And in that process you became stronger because you lived your commitment to making yourself better. The end goal doesn't care how many miles you ran or how many books you read. It cares about your accomplishment and that you finished what you started. That's JUST cause for a celebration! Be proud of your journey and don't judge or compare yourself with others.
The best part? You will be ready for more! I promise you that. Then, YOU will be the inspiration to others who are beginning their journey.