For many of us, we could all use some help in the self-love department. Our own level of self-love can be detrimental to our success in relationships, career, health, and overall well-being.
Here are seven ways to start your journey toward self-love:
#1 -- Do mindfulness practices. To be mindful means to be tuned in to your own thoughts, emotions, and needs. Many of us struggle with this because we can get so caught up in all of the things going on outside of ourselves that we forget to stop and tune in to our own experience.
To practice mindfulness is a lifelong journey and can be challenging at times, but it doesn't have to be difficult. A few ways to practice mindfulness include:
- Focusing intently on the present moment while doing an activity, such as while doing the dishes, cleaning, driving, cooking, or working.
- Taking moments throughout the day to tune-in to how you are feeling in your body. Check in to see where there is tension, aches, fluttery sensations, and more.
- Taking breaks throughout the day to take deep breaths for a few minutes through your diaphragm.
If you want to start doing well at self-love, then start practicing mindfulness every single day. The more mindful we are, then the more successful we will become in our self-love practice.
#2 -- Nourish your body. Ask yourself: What have I been eating? What have you been eating at home for dinner? What places do you eat at? How much sugar do you consume? How many processed foods do you consume daily or weekly? What are you drinking during the day? Do you drink sugary drinks or alcohol and, if so, how much of it weekly?
While I don't definitely don't think there is a "one size fits all" diet for everybody, I do think it is important for us to focus on how the the things we put into our body affect how we feel. What foods make you feel sluggish? What foods give you energy? What foods make you feel lighter?
Discovering what foods work best for you and your body can be a journey, so try out a few different diets and discover what works best for you.
#3 -- Move your body. Find time every day to move your body each day. Go for a walk. Get up away from your desk and stretch. Take up a new exercise that you've always wanted to try.
#4 -- Do things that feed your soul. What things do you feel passionate about? What activities light you up? Do you love performing music? Do you love dancing? Do you love writing? Do you love cooking? Whatever it is, be sure to find time to do it. The more we do things that feed our soul, then the more we become connected to our soul.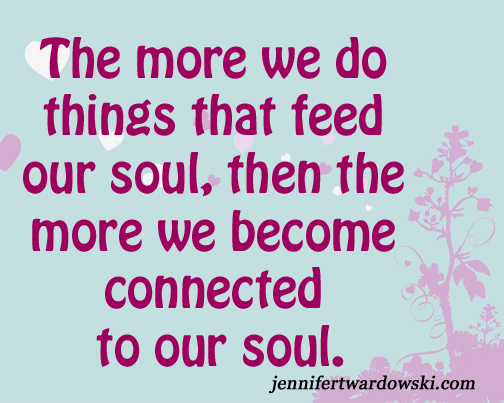 #5 -- Write a list of all the things you love about yourself. This activity can be very transformational, especially if we are dealing with relationship issues, self-esteem issues, or depression.
Get a journal and put it by your bed. Every night before you go to sleep write down at least two things that you love about yourself. Overtime, you will definitely notice a shift.
#6 -- Become the master of your own self-care. When you notice that you are hungry, be sure to make it a priority to feed yourself. When you notice that you are tired, be sure to rest or make time to get extra sleep. Be sure to give yourself time and space to disconnect from other people's stress. Be sure to set healthy boundaries by saying "no" or setting a limit to things that you know are going to greatly deplete your energy.
#7 -- Be grateful for the things you do for yourself. In your journal that you keep by your bed, write down all of the things that you are thankful that you did for yourself at the end of every day. Bringing gratitude to our self-love practice will bring fuel to to it in a way so that we can become even better in our own self-love.
In the comments below, share at least one thing that you are going to do today to start your journal toward self-love.
Jennifer is a self and relationship coach and teacher. She helps women worldwide create fulfilling relationships with both themselves and others so they can live happy and joyful lives. Click here for her Free Self and Relationship Healing Meditation.