Nely Galán is probably best known for her skillful entrepreneurial talent and for her quest to empower women, especially Latinas. As the founder of the Adelante Movement, Galán takes her message nationally as she motivates and inspires Latina women socially, economically and politically. A dynamic and sought-out speaker, Galán is also an award-winning television producer and the owner of Galán Entertainment, a progressive multicultural media company. She was the first Latina president of entertainment of a U.S television network and has produced hundreds of shows in English and in Spanish. A New York Times best-selling author, her book SELF-MADE: Becoming Empowered, Self-Reliant and Rich in Every Way (Random House) is an educational letter for women on how to take ownership of their finances. Below, is my Q&A with the empowering Nely Galán.

Where were you born and raised?
I was born in Cuba, emigrated to the U.S. when I was 5 years old and raised in Teaneck, New Jersey.
Did you grow up bilingual and/or bicultural?
We always spoke Spanish at home and to this day, it is my parents' dominant language. Growing up, I was the de-facto translator at home, the living bridge between my parents' Cuban worldview, and our new reality as immigrants in America.
How was education viewed in your household? What were the expectations from your parents for your performance in school?
Like many immigrants, my parents came to this country with a certain amount of built-in fear, which of course meant they wanted me to work hard and excel in school, if only to keep up with my newfound American peers. The highest expectations on me were the ones I placed on myself: determined to achieve excellence at school.
Tell me about your new book, SELF MADE. What is your message?
SELF MADE is the new ticking clock. To me this means that there is no true empowerment for a woman until she has her own money. SELF MADE, is about the power of radical self-reliance, the journey of entrepreneurship, the ability to work because you want to and not because you have to--all for the ultimate goal of being rich in every way.
What were your early goals for your career? Are they related to SELF MADE?
When I first started out in my career I was sure that I wanted to be TV producer, creating content and programming for my community. And while I did manage to accomplish these things, it wasn't until I began dabbling in real estate that I really made any money. This is how I learned the art of the pivot, the ability to be flexible--even insofar as my goals--for the sake of the bigger picture. Earning money through real estate showed me a side of entrepreneurship that excited me, and became my personal testament to the power of the side-hustle. This trajectory inevitably inspired many of the insights that I write about in SELF MADE.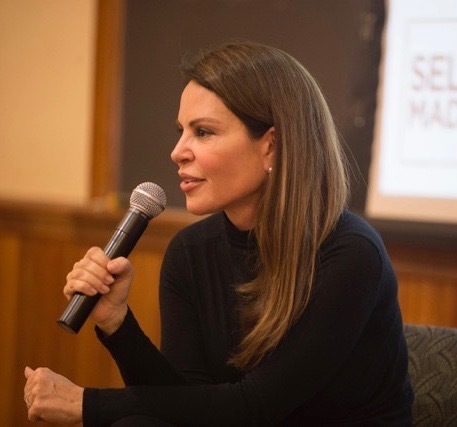 Did you have some career mentors along the way? Did you find a difference between women mentors and men mentors?
I had a handful of male billionaire bosses and I learned invaluable lessons from every single one of them. It was from such male mentors that I learned how to master the art of asking for money. I noticed that men display a certain amount of confidence when it comes to this subject, so I began to emulate their attitudes, and taught myself how to walk into any room and ask for any amount of money with that same level of swagger and poise.
That said, so many of my most crucial mentors are women, or as I like to call them, the women of my life. Two examples include Supreme Court Justice Sonia Sotomayor and Administrator, US Small Business Administration, Maria Contreras-Sweet.
Do you think that women fear of money is cultural or is it a universal trait?
I believe every woman is different, and each one might have a different history with money. Sure, culture can play into it, but so can so many other variables, such as professional experience, confidence, and even basic personality traits. But the one thing I do know is that all women can benefit from the remarkable time in which we live, where women (and especially multi-cultural women) are one of the largest economic growth engines in the country. We are for the first time truly poised to succeed.
How have you balanced work and family? What is the one thing you can think of that helped the most?
One of the things that helps me most is the simple act of calling my mother every morning before the day begins. Not only does it make her feel loved and cared for, but, it helps me feel grounded before the mania of the workday takes over.
Do you think things have changed much for women in the corporate world in the last 20 years?
I think there will always be challenges. But I firmly believe it is the attitudes and motivations of women that are truly starting to change. More and more, women are starting to identify with the ideal of independence, so even in their capacities as employees, they are acting like owners and using their jobs as training grounds for the next chapters of their lives.
Do you have a message for young Latina entrepreneurs raising a family?
Yes! There has never been a better time for young entrepreneurs to balance work and family, what with the sharing economy, which provides not only extra income, but also flexibility. Women can start families and online businesses right from their homes, and they can create their own work schedules. We are living in the era of having it all, or as I write in my book, being rich in every way.