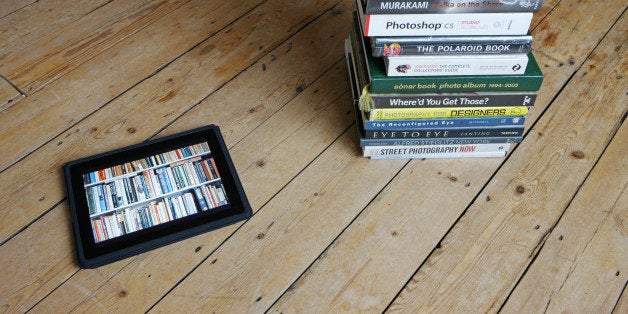 "That was back when the Internet was still some exotic pet kept in the corner of the publishing world – throw some kibble at it, watch it dance on its little leash, oh quite cute, it definitely won't kill us in the night." -- Gillian Flynn, Gone Girl
In 1917 Virginia Woolf and her husband Leonard unpacked a small printing press in the front room of their home. They set up the Hogarth Press to enable them to print small volumes of books that "the commercial publisher would not look at". The Hogarth Press gave the writers of the Bloomsbury circle, which included T.S. Eliot and E.M. Forster, the freedom to write what they wanted, rather than write what established publishers judged sellable.
Nearly one hundred years later, it's happening all over again.
In front rooms around the world, people are unpacking Amazon Kindle Direct Publishing (KDP), Smashwords, Nook Press, Kobo's Writing Life, Lulu.com and ePubli, all online digital presses that empower writers to publish their work both in digital and print formats, bypassing the old publishing hierarchy which required writers to court literary agents, literary agents to court publishers, publishers to court book sellers, and book sellers to court readers.
"I am a refugee from traditional publishing," says Orna Ross who had two novels published by Penguin, before becoming a self-published author and founding the Alliance of Independent Authors. "The trade pinkified my writing (pigeonholed it in the Chick-Lit genre) and sold my books to supermarkets. It left me feeling empty. I chose to self publish because it gives me creative freedom."
"It was a personal goal to finish writing a book. I'd started three, but never finished one before because I always stopped before I got to the end. I lost heart when I thought that it would probably not get published. Amazon allowed me to achieve a personal goal. A book is only a book if other people read it," says Eva Martens, Kindle-author of A Princess at The Court of Russia.
Although there is currently no data from Amazon and their competitors as to the extent of the self-publishing trend, Agent Orange, an industry insider who writes incognito for the UK publishing industry newspaper, The Bookseller, estimates that 30% of e-books in the online market place could be self- published. What does this mean in real numbers?
"The e-book market is 300 million, so if it was 30%, self-publishing would be 100 million," says Philip Jones, editor of The Bookseller. "We are talking the equivalent of a large bookshop chain like Borders only selling books that are not published by traditional publishers. That's massive. I don't think it's as big as 30%, it's probably closer to 20%, but that's eating into reading time."
What does this mean for readers and writers? "Five years ago self-publishing was seen as the last refuge for failed authors – they called it the vanity press. Their fellow writers who were professionally published mocked them. Now we are seeing that stigma completely disappear," says Mark Coker, founder of Smashwords.
The reason the stigma is disappearing is because the digital revolution has blown apart the old distribution networks. Whereas in the past publishers had tightly sewn-up relationships with book sellers, effectively preventing self-published authors from finding an audience – their books served only their own vanity – Amazon and their rivals, Kobo, Rakuten (Japan), iBookstore, and Barnes and Noble's Nook do the opposite. Their infinite bookshelves can stock every book of every writer, their algorithms don't favor The Big Five Publishers (Hachette, Simon & Schuster, Penguin Random House, Macmillan and Harper Collins) and self-published authors earn between 60-100% of the net profit (depending on who they choose to publish and sell through), compared to the 12-15% royalties they would earn through the traditional publishing business model. Writers can now sell direct to readers, who armed with their Kindles, iPads and all manner of e-readers, can decide what rises into the bestseller charts. Readers are the new tastemakers and gatekeepers. During the week 22-27 July 2013 (and most weeks), four out of the top 20 titles on The New York Times e-book Bestseller list were self-published.
"One of the things I will applaud Amazon for is taking books from small publishers and individuals and if they are popular, treating them on equal basis with big publishers' books," says Darren Laws, founder of Caffeine Nights Publishing who publish crime and contemporary fiction in across paper and digital platforms. "If you look at how WH Smith and Waterstones operate, publishers have to buy space in the front of the shop. It costs £25K to become a Richard and Judy book. There is no democracy in that."
So as vanity press is re-branded "indie publishing" and indie writers begins to garner the same respect as indie musicians and indie filmmakers, genres that were previously overlooked, ignored, and even scorned by the publishing establishment – including fantasy, soft porn, memoir and mixed-genre books that the marketing departments of publishing houses would reject on the basis that "they were difficult to market" – are now exploding in popularity. Over the past three years, Amanda Hocking's self-published paranormal romance series about a vampire love triangle has earned her $1.5 million in sales.
"I see digital as the new wave or punk revolution for our time. This brings a new art," says Laws.
One of the most talked about among the "new art" is EL James's erotic romance novel, Fifty Shades of Grey. Fifty Shades began as work of fan fiction, the curious online sub-genre where aspirant writers borrow the characters from popular films and books, and write stories around them – often with a sexual bent.
James borrowed two characters from the popular vampire series, Twilight. Through the fan fiction world she drummed up a huge readership. She then changed names of her characters and published it, chapter by chapter, through The Writer's Coffee Shop, a book-loving community in Australia. The chapters were so popular with readers, The Writer's Coffee Shop published it as an e-book, it reached the top of The New York Times bestseller e-book list, leading Vintage Books (Random House) to offer James a publishing deal. The Fifty Shades trilogy has now sold over 70 million copies, outselling Harry Potter, and in August 2012, was the sole reason that e-books overtook print for the first time, after Fifty Shades sold two million copies in just four months.
That said, many in the industry agree: Fifty Shades would never have been published if it had gone through the established publishing channels; it would have been considered a risk because it was not well written enough, and because it belonged to a genre to which the establishment turned up its nose.
Which leads to the question: in our rapidly changing, mixed-up world, is the publishing establishment really the best judges of what readers really want? Has the received literary opinion silenced thousands of would-be authors? And more to the point, have their conservative attitudes left millions of dollars on the table?
It was no secret that even before the digital revolution kicked off, the publishing industry didn't always get it right. In 2006 The Sunday Times sent In a Free State, the Booker-prize winning novel by VS Naipaul under a pseudonym, to 20 publishers. Each and every publisher rejected it. Earlier in July this year, JK Rowling's new crime novel, written under the pseudonym Robert Galbraith was revealed to have been rejected by numerous publishers. And there are countless examples from the past. Diary of Anne Frank. Rejected. The Spy Who Came in From the Cold. Rejected. The Time Traveler's Wife. Rejected 40 times before an independent publisher took a risk. Audrey Nifenegger's book went on to sell over seven million copies.
"The general public is a colossal mystery to the publishing industry," says Andrew Crofts, a ghost writer, author of Secrets of the Italian Gardener and one-time small publisher. "One year you'll try to sell them a misery memoir about someone who got sold into prostitution in Yemen and they won't want to know it. A year later they'll be paying ridiculous advances for any book like that because the people who go to Tesco suddenly love them. They are reactionary in what they publish."
The hit-and-miss nature of the business has got some – even within the publishing establishment – wondering if there is a better way to do business. And whether the trend in self-publishing might provide the answer.
HarperCollins' Scott Pack heads up authonomy, an experimental online community where writers publish their books for others to read, comment and recommend. Each month, the five most-liked books are read by HarperCollins editors and if suitable, are offered publishing deals. So far six writers have been "discovered" through authonomy. That doesn't sound like a lot, but as Scott explains, the difficulty with democracy is that it is very corruptible.
"Sometimes we find the top ranked books at the end of each month aren't really suitable for publication. It's often the best networkers that rise to the top, not the best writers. If we can find a way to make sure the best stuff rises to the surface, then we can accelerate the level of publishing, which is why we are investing in a revamp for the site."
A similar site is Wattpad, created by Canadian entrepreneur Allen Lau. It has built itself up over six years now has a membership of millions writing in 25 languages (after English, the most popular language are Spanish, Dutch and Filipino), with 1.7bn minute views per month. Increasingly, publishers and music companies are looking at it as an aid to promotion and are using it to spot new talent. 18-year-old writer Abigail Gibbs secured a six-figure sum from HarperCollins after she published the first five chapters of her vampire novel on Wattpad, and teenage readers responded with an insatiable demand for more blood.
And it's not just vampire fiction that is making it big through self-published gateways. Richard House's novel, The Kill, nominated for the Man Booker Prize 2013, is a 900-page novel that was first published digitally in four parts, with the first given away in exchange for a mention on Twitter.
Indie Reader editor Amy Edelman comments: "Self-publishing is the new slush pile [the term literary agents give unsolicited manuscripts] with the advantage that you get reader response."
HarperCollins' Scott Pack agrees. "Writing has turned into a democratic process. It's no longer a system of benign dictatorships. The risk is being spread. For us, lots and lots of people self-publishing means that the writers can take all the risk, we'll see which one works the best, and then we'll go in there."
I experimented with Wattpad and authonomy for my narrative non-fiction book Homeland, charting a journey I made as a journalist both into Nelson Mandela's heartland and into my own white South African heart. By publishing a few chapters online and promoting them via Facebook and Twitter, I was able to connect with potential readers and gauge a diverse opinion of the book – not just the opinion of one, very powerful gatekeeper. The result: I was approached by a literary agent, made contact with a very influential former ANC MP who offered to read my manuscript, and developed the confidence to self-publish Homeland, should it not find a traditional publisher.
Andrew Crofts - whose latest book, Secrets of the Italian Gardener, was optioned for film rights via Wattpad, even before it was published - is buoyant about the fresh air that is being breathed into publishing. "Before you were helpless as a writer; there was an awful despondency. The business people had convinced us that if a book does not make business sense, it's not good art. Now the writers are back in control. We are working more like the artist."
Calling all HuffPost superfans!
Sign up for membership to become a founding member and help shape HuffPost's next chapter
BEFORE YOU GO