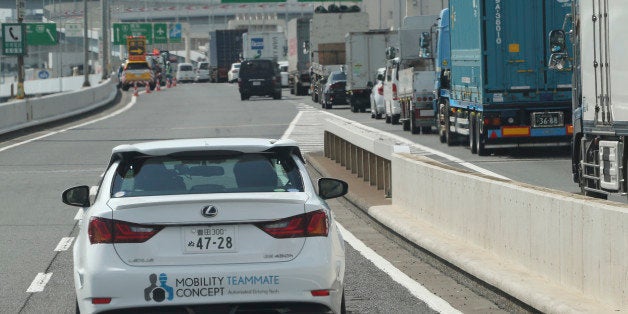 The momentum of self-driving cars on the road is accelerating with the question clearly becoming "when" not "if" the widespread use of self-driving cars will be allowed. A 2015 Business Intelligence Report forecasts a compounded annual growth rate of 134% from 2015 to 2020 with at least 10 million cars on the road by 2020.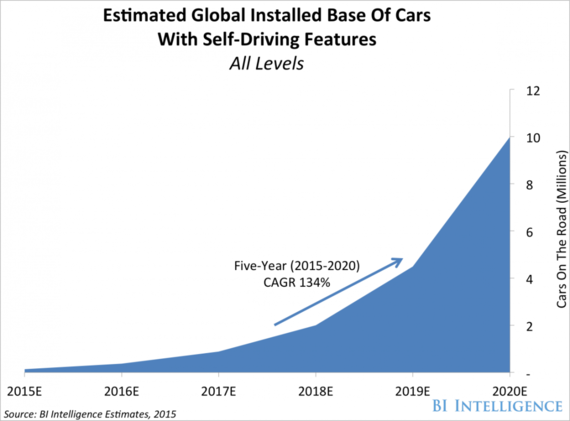 This should not come as a surprise, the descriptors for a car are heavily technology based with the importance of the car's brains (software) rivaling its brawn (styling). Cars are already equipped with the ability to conduct specific tasks with varying degrees of driver interaction such as fully autonomous emergency breaking and semi-autonomous driver assisted parallel parking that are performed more adroitly - and safely - then the vehicle is operated by the driver. But the narrative of the self-driving car isn't evolutionary but thought of as leapfrogging breakthroughs. Perhaps what has painted the imagery with futuristic color is the vocabulary of artificial intelligence. Fully autonomous driverless cars such as Google's use an artificial intelligence system to pilot the car. In February the National Highway Traffic Safety Administration posted on its website that it informed Google that the artificial intelligence system pilot in a self-driving Google car could be considered the driver under federal law.
Last month at the 2016 North American Auto Show the inevitability not necessarily the immediacy of driverless traffic became more concrete. Transportation Secretary Anthony Foxx announced that the White House proposed spending $3.9 billion over the next 10 years finance research and improved infrastructure improvements aimed at accelerating the acceptance of driverless cars. The proposal would have federal regulators work with auto makers, technology companies, state officials and other stakeholders to craft and expedite policies and rules for driverless vehicles. Transportation Secretary Foxx also said that within six months additional guidelines looking at preferred performance characteristics and testing methods for driverless cars would be provided. Among the anticipated benefits of accelerating the introduction of driverless cars would be the reduction of traffic fatalities and improved traffic flow. Transportation Secretary Foxx estimated that as many as 25,000 deaths could have been avoided last year if driverless technology had been in widespread use. An example for how these benefits would be realized are the pilot programs testing and enhancing the ability of "connected vehicles" to communicate with each other. The proposal is intended to make it easier to develop driverless cars but requires congressional approval; there is no fixed timetable to when any new regulations might be adopted.
Manufacturers and car driving services are already planning for inevitability of driverless fleet. As reported by Reuters, GM and Lyft are partnering in the Express Drive program. The program with GM is part of a $500 million investment the auto giant made into San Francisco-based Lyft in January. The partnership's larger focus, however, is to develop an on-demand network of self-driving cars, an area of research that tech companies such as Alphabet Inc's Google and Uber Technologies Inc and auto-makers including Ford Motor Co have devoted resources to in recent years. Both companies say the rental car program is the first step toward building a network of autonomous vehicles because it will establish the infrastructure to house, maintain and organize a large fleet of cars.
Although 10 million cars is a not even a rounding error to the 257.9 million light vehicles registered in the US in 2015 its impact on the disabled, the elderly and those who provide care for those groups could be proportionally enormous. In the US there are no upper age limitations to being licensed to operate a motor vehicle. The only special provision for older drivers to be licensed is in Illinois where after 75 years of age a driver must pass a road test. Several states require in person renewals attached to an eye exam but those are the exceptions not the rule. The Insurance Institute for Highway Safety reports that drivers 85 years and older have the highest rate of fatal accidents per miles driven of any age group. Drivers reaching 70 years of age have accidents and fatal crashes per mile driven at rates sometimes exceeding the youngest most accident-prone drivers.
Technology enhanced, dignity intact
A San Jose Mercury News article, "Should older drivers undergo road tests to keep licenses?" described the failed efforts in California of implementing a road test provision in the license renewal process for elderly drivers. The situation is not going away. In the article they reported that number of Americans over age 70 is expected to rise to 52.7 million in 2030, including about 46.6 million licensed drivers, more than double the number of older drivers in 2011. In one example they cited "a 2012 federal study found that almost two-thirds of all pedal errors -- where the driver mistakes the gas pedal for the brake, similar to the Livermore accident -- involve young and elderly women, and the highest percentage was women 75 or older." Groups opposing age based limits and special provisions dispute these studies as inconclusive and the topic as ageist which I guess in the context of the topic seems somewhat indisputable but seems to obfuscate the concern that elderly drivers have a higher risk of accidents ending in fatalities.
However, fully autonomous/driverless cars, in this context, looks as if it might actually address everyone's concerns.
The car, no matter what age, is a means of independence and self-reliance. No one wants to be a potential safety hazard but as physical capabilities naturally decline over time is not a choice one wants to confront. With driverless cars elderly drivers do not have to make a choice and there is no ageist stigma attached to owning one of these vehicles. It leaves the elderly drivers and owner's dignity intact.
For marketers there is probably a "cool" factor to be explored. Is there a Betty White hallow for driverless cars marketed to this demographic?
Somewhat analogous to designated drivers - except that driver is the car - it would meet the objectives of improving traffic flow and safety on the roads for a high risk segment of drivers.
For car manufactures and the artificial intelligence systems the target segment for access to mobility is only growing.
Family caregivers may get back hours of time in a day or week which may open up opportunities (employment, study or just plain rest).
The driverless car is not quite here yet but it is coming and we are getting older just waiting for it.
Calling all HuffPost superfans!
Sign up for membership to become a founding member and help shape HuffPost's next chapter