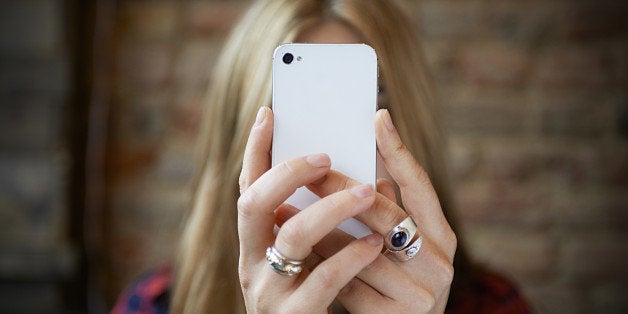 By Kelly Schryver, Senior Education Content Specialist, Common Sense Media

The number of "likes" and comments that teens receive on their Instagram, Tumblr and Facebook photos speaks volumes. The effect on their confidence? Double-edged. According to a recent survey on body image by AOL.com and the TODAY Show, 65% of teen girls feel that selfies and other flattering social media photos boost their confidence. But 53% also say that photos of themselves posted by others can make them feel bad.
For a long time, parents have discouraged kids from comparing the way they look to celebrities, models or even to their friends. But today's teens can't help but idealize their own carefully-selected and perfected photos. As kids begin setting impossible beauty standards for themselves, here are three chief concerns for parents to consider:
1. Kids take this stuff really seriously. We do a disservice to kids -- especially girls -- when we dismiss all selfies as trivial or egocentric. (Keep in mind that selfies aren't even a new phenomenon... check out selfie pioneer Jackie-O!). But when kids begin to measure their self-worth by how they look in their digital self-portraits -- and how those portraits are received by their peers -- then we start entering risky territory. Talk to your kids about the validation they get from their peers and how it should never be defined solely by their looks.
2. Are they correcting -- or perfecting? When photo editing goes beyond erasing a few blemishes, parents need to start paying attention. If you notice apps like SkinneePix, Perfect365, and Facetune -- programs that smooth out all imperfections -- on your kids' smartphone, talk to them about how they're using them. Consider that your kids may feel more like themselves when they digitally alter their selfies. Ask: "What does it feel like when you change your photos like this?" Striving to look "perfect" can weigh heavily on us. We all have imperfections, and it's high time we embrace them.
3. There's a difference between authentic and natural. The pressure for girls to look naturally beautiful also deserves our attention. Some celebrities, like Lorde, have challenged the status quo by calling out pictures that are airbrushed or by posting pictures of themselves without makeup. But this raises new concerns. When teens see actresses looking gorgeously fresh-faced on Instagram, are they empowered to ditch their makeup bag for the day? Or does it make them feel dissatisfied with their own natural appearance? Researchers have yet to tackle these questions. In the meantime, we have to be careful not to warp au naturel beauty into yet another impossible body image ideal for girls.
Selfies are meant to be taken on a whim by capturing "in the moment" fun and spontaneous bursts of confidence. If that's the case, why are kids -- and let's face it, parents, too -- falling victim to apps that stretch, tweak and slenderize self-portraits? Let's shift the conversation away from selfies and more toward self-esteem.
About Common Sense Media
Common Sense Media is dedicated to improving the lives of kids and families by providing the trustworthy information, education, and independent voice they need to thrive in a world of media and technology. We exist because our kids are growing up in a culture that profoundly impacts their physical, social, and emotional well-being. We provide families with the advice and media reviews they need in order to make the best choices for their children. Through our education programs and policy efforts, Common Sense Media empowers parents, educators, and young people to become knowledgeable and responsible digital citizens. For more information, go to:www.commonsense.org.