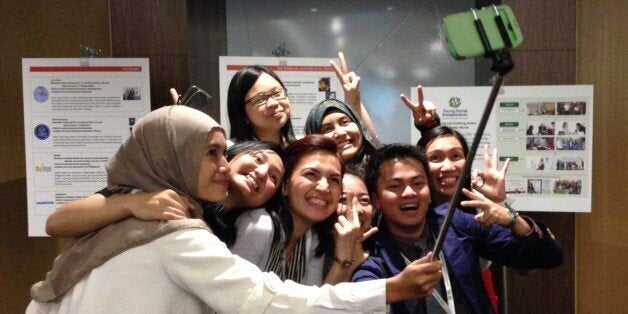 SINGAPORE -- The selfie trend is already big. But Asian teens have found a way to make the actual pictures even bigger.
"It's called a selfie stick," explains Diana Hemas Sari, a 21-year-old entrepreneur from Indonesia. She's holding an extendable metal wand that has a blue plastic handle at one end and her white Samsung smartphone clipped to the other.
I've just watched her use this monopod -- nicknamed the "selfie stick" since she and her friends use it exclusively for selfies -- to lift her phone three feet away in the air, set the camera's self-timer, then snap a photo of her mugging with her seven closest pals.
Gone are the days of blurry, solo self-portraits caught by flip phones in bathroom mirrors. Selfies have become such a social network staple that teens and 20-somethings around southeast Asia, a region that boasts the world's most active selfie-snappers, have invested in these metal wands to perfect their self-portraits, squeeze more people into the frame and be sure they never miss out on a Facebook-worthy moment.
Strange as it looks, pulling out a selfie stick is less awkward than bugging a stranger to take a photo, says Sari. And auto-photographers can take as many pictures as they need to get it right. When the shot is perfected, selfie sticks collapse into the handle and become small and portable.
In Indonesia, "it's become a trend," explains Sari.
A few others milling about us at a reception for young entrepreneurs hosted by the Singapore International Foundation chime in that it's big in Malaysia too. And the Philippines, adds someone else -- small surprise given that the Philippines' Makati City was recently named the "selfie capital of the world" by Time. (Two cities in Malaysia also cracked the top 10.)
Searching #selfiestick on Facebook and Instagram turns up photos of everyone from tourists to public servants snapping pictures of themselves with the metal arm, as well as online stores touting the accessory as a way to "never miss out on that perfect shot."
The photos Sari has just taken might end up posted to Facebook, Instagram, Twitter or Path -- or some combination of all four.
"We use social media all the time," says Soulaya Lestary, a 20-year-old also from Indonesia. "And because we're shy to ask someone, 'Please take picture of us,' it's easier to do it ourselves."
"And together with many people," adds Sari, "instead of using the hand, it's easier."
Sari purchased her Gala-brand selfie stick (see below) about a month ago for 200,000 Indonesian rupiahs, or about $18. On Facebook, online stores from the Philippines offer the same models for between 850 and 999 Philippine pesos (or around $19 to $22).
Sari and her friends saw Ellen Degeneres' celebrity-studded self-portait from the Oscars, which thrust group selfies into the spotlight. But next to Sari and her friends, Degeneres was way behind the curve: Hers was taken the old-fashioned way, with a hand clutching a phone.
"Actually, we're so surprised it's not famous in your place," says Lestary.
Back home, adds Sari, "it's just monopod, monopod, monopod."
Related