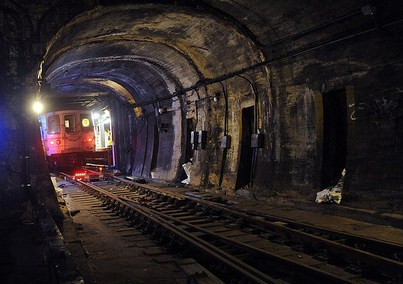 photo by MTA
The day my book got to the number one spot on the psychological thriller best seller list, I knew it finally bumped The Girl On The Train off the perch it had practically owned for the last year. That was a big deal for me. Mostly because my book is self-published. Any self-published author knows how difficult it is to compete with other indie books, not to mention, traditionally published ones.
My readers were incredibly excited. They sent lots of congratulations. I found myself responding to the kudos with things like, well, my book is on a price promotion--that probably has something to do with it. Or, I ran a BookBub ad--so that probably has something to do with it. Or, I asked all my readers to tell one friend about it--so . . . I kept apologizing for the success of my book, but more so, for my marketing strategy.
While my time in the #1 spot lasted a handful of days, once it was over I realized how temporary and fleeting and precious this state of number one-ness is. And how long it takes, and hard it is, to get there. It was no shocking stroke of luck or happy accident. It was planned and plotted and premeditated. Regardless of this, when my book actually bumped the reigning worldwide smashing success out of the way, it felt miraculous.
As I reflect back on those wonderful days, this is what has become clear to me. An essential factor in the success of a self-published book is its buzz. The challenge is, how to get buzz. What is the marketing plan? We can't do it in the same way traditionally published books do. We don't have a sales team talking up our book at conferences and trade shows, to bookstore owners and librarians. Most of us don't have ad budgets or publicists with book editor relationships at the national dailies or glossy monthlies. How are we going to stretch our literary necks above a crowded sea of books, struggling not to drown? If you've pitched mainstream media to review your book or cover your story, you've most likely heard about their strict "policy" prohibiting them from covering self-published books. Something I find incredibly frustrating given that indie books are making news and have great stories to tell.
So what do we have? We need to leverage the benefits of being self-published. What can we do that they don't, or can't? Immediate price flexibility is one: run a price promotion and publicize it. I've been told by many traditional authors never to give my book away. Though it was my three-day e-book giveaway during the month of its release that gave it visibility. Run a signed copy give-away through Goodreads. We have speed to market: publish an outtake chapter or an alternative ending. Do it next month. Or tomorrow. Accessibility to readers: strengthen relationships and galvanize their power and excitement and loyalty by reaching readers through regular newsletters or social media.
Admittedly, there was a time I thought I'd have to accept being overlooked or not taken seriously as an indie author, like a 21 year-old still sitting at the kids table on Thanksgiving. But then I started seeing traditionally published authors jumping ship, and coming over to my side. That was a huge wake up call. I discovered the power of self-publishing. I know now, that in order to compete and do business in this ever-changing literary landscape, it's essential to mine and maximize the benefits of self-publishing. And if I do so successfully, that's nothing to apologize for.
Eva Lesko Natiello is the award winning author of best seller, THE MEMORY BOX, a psychological thriller about a woman who Googles herself and discovers the shocking details of a past she doesn't remember.
Related
Popular in the Community