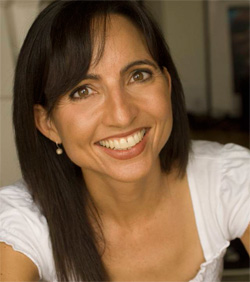 When I was considering self-publishing, I attended a great deal of publishing conferences. Maria Murnane often spoke at these conferences, on Amazon's panel. She was always the most upbeat, optimistic, sweetly encouraging person in the room.
She had good reason to be. After her first novel, Perfect on Paper: the (Mis)adventures of Waverly Bryson, a romantic comedy about a young woman in San Francisco struggling to find happiness in career and love, garnered a great deal of buzz on Amazon, Amazon chose it out of over 10,000 novels to be one of three it published in its then new venture, AmazonEncore. That was 2009, and it's only gone uphill from there. The book is now in CVS stores around the country, it's been published in German and Hungarian, a film rights agent is actively trying to secure a film deal, and Amazon Publishing is publishing the sequel, It's a Waverly Life, in November.
Murnane, who has a background in both public relations and marketing (like her protagonist, Waverly, she worked at a PR firm in San Francisco, and she has a graduate degree in marketing from Northwestern) believes Amazon took notice of her book because of the publicity it received, which outweighed the sales. Before ereaders became so popular, it was arguably much harder for a self-published author to attain high sales because of the higher cost to customers of a physical book.
Murnane's path to success is charming and inspiring and the engaging way she tells her story always garners her audience applause. Realizing she was profoundly unhappy in PR, she took what was supposed to be a brief trip to Argentina, but ended up finding a job there playing semi-pro soccer, and stayed for a year. It was there she found the time and inspiration to write her book. When she returned to the States, she found a literary agent without too much trouble, but the agent was ultimately unsuccessful in selling her book to a publishing house. Editors found the book funny and entertaining but said it was too risky for them to take on a new author in a genre they said was no longer selling very well. They nonetheless gave her constructive criticism.
Murnane believed strongly in her book, and really felt people would be able to relate to it. She took the editors' advice for improvement, and hosted serious focus groups, through which friends and acquaintances advised her on what did and didn't work. She attended writers' conferences, but received the same response as before -- agents liked the book didn't want to take a chance on it. She then decided to self-publish through Amazon's Create Space.
Once the book was published, with the help of her father and other family members, Murnane scoured Amazon, looking for books similar to Perfect on Paper. She looked at the positive reviews, and, if those customers left contact information in their profiles, she wrote to them, explaining what her book was about and asking them if they'd like a review copy. Many said yes, most really liked her book, and she began to amass lots of positive customer reviews. Murnane says she never sought reviews from family and friends. "As for family members and reviews, I strongly suggest staying away from that to avoid a conflict of interest. If other people in your personal life proactively tell you they enjoyed your book, then by all means, suggest they write a review. I just don't think it's a good idea to ask friends to write a review before they've even read the book. What if they don't like it? That puts them in an awkward position, and if they aren't honest in what they write about it, it's misleading potential customers."
After an Amazon customer reviewed Perfect on Paper on her blog, Murnane searched the blogosphere for bloggers who'd favorably reviewed books like hers, and sought reviews from them as well. Some conducted an author interview with her. She also contacted book clubs, which she found on Craigslist and Meetup.com, and offered to speak to the clubs. And, she contacted several independent San Francisco bookstores, five of which agreed to carry the book. Additionally, she entered the book into several independent publisher book competitions, and ended up winning an award in practically every contest she entered. She has a lengthy list of blogger reviews, interviews, and awards she's won on her website. I admit, in promoting my own book, even though my novel is not as light as hers, I went down her list and wrote to some of those same bloggers in hopes of a review, and entered some of the same competitions. Looking at such author websites is a great way to find bloggers who may be interested in reviewing your book in the increasingly ginormous blogosphere.
Murnane also began a line of greeting cards, tote bags, and t-shirts, bearing some of Waverly's clever, original sayings, like "Not everyone can have a cookie-cutter family, right? Honey, I'd cut your losses and settle for the cookies ," which she sold on Amazon and from her website. She called the line "Honey Notes." She contacted her college sorority, Delta Gamma, who got the word out about her book and the line of accessories, and offered her speaking engagements around the country about her paths to publishing and starting her own business.
After about a year of promoting the book, Amazon took notice of Murnane's large number of customer reviews. A representative contacted her, telling her they wished to edit and republish her book as part of its new publishing arm, AmazonEncore, which was launched in order to give quality, overlooked self-published books a bigger promotional push. Of course she was thrilled.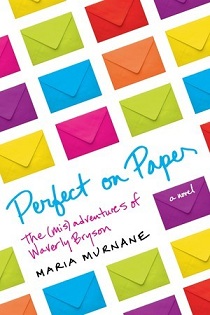 Since AmazonEncore re-published the book in early 2010, sales figures number well into the five digits and continue to grow steadily. Through Amazon, the book is now sold in CVS stores around the country, and could be sold in similar retail chains if Amazon expands. Amazon also secured foreign book deals for Murnane through its own international rights agent. Perfect on Paper is now published through Random House in German and Hungarian. Another agent contacted Murnane wishing to pursue film rights. Interestingly, in addition to the book, the agent, Murnane says, was impressed with the way Murnane "branded Waverly" through the Honey Notes: "She read my book and thought it was make a great movie-- she also loved the way I'd branded the Waverly Bryson character and brought the Honey Notes that appear in the book to life at Waverly's Honey Shop."
If you keep an eye on Perfect on Paper's Amazon sales rank, it's clear that it's one of AmazonEncore's longest-running successes. The book has continuously had a relatively strong rank, both in paper and digital versions, regardless of pricing. Murnane continues regularly to receive emails from customers: "I get several emails a week from readers who say they couldn't put it down and are dying to read the sequel. The reaction from readers is amazing-- literally a dream come true for me." It's no surprise Amazon Publishing is publishing her second novel, a sequel, It's a Waverly Life, due out in November, and that they've enlisted her to write a weekly Create Space column, where she gives advice to those new to self-publishing on how to market their books.
In addition to working on a third Waverly sequel, Murnane has teamed with the organization SheWrites, an online community of 15,000 writers, to travel around the country giving lectures on how to self-publish successfully. She has a list of those events on her website. She's also doing webinars on different aspects of the publishing process ("Basically I share everything I've learned along my own publishing journey!"), which can be purchased through her website. I'm very pleased she's giving all of these lectures and webinars. Every time I've heard her speak, I've found her words very encouraging, her energy contagious, and her advice -- especially in publicizing and marketing -- immensely helpful.

Popular in the Community