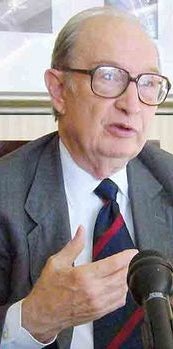 Selig Harrison, the veteran Washington Post journalist who died at the age of 89 in Camden, Maine, on December 30, 2016, is mostly recognized for his outstanding reporting on North Korea. One place in the world where his death is being deeply mourned among intellectuals is Balochistan, a region rich with mineral resources yet divided between Iran, Pakistan and Afghanistan. Harrison, whose 1981 book In Afghanistan's Shadow: Baluch Nationalism and Soviet Temptations, is indeed the most cited book on Balochistan, was a highly credible authority on the subject and a longstanding friend of Balochistan. He can justifiably be credited for introducing Balochistan to America and the rest of the world.
Decades after the publication of Harrison's book, Pakistan's war against the Baloch still continues. According to the BBC, activists in Balochistan blame Pakistani authorities for killing thousands of Baloch while subjecting countless others to forced disappearance and torture. The war against the Baloch has dramatically intensified since the Chinese government has embarked upon the China-Pakistan Economic Corridor (CPEC) aiming to develop the Baloch port in Gwadar.
The Baloch fear being outnumbered on their own land once people from other parts of Pakistan and China begin to arrive their region. The Federation of Pakistan Chambers of Commerce and Industry (FPCCI) recently warned in a report that the Chinese would outnumber Baloch natives by 2048. In spite of widespread human rights violations and unaddressed Baloch fears, Pakistani officials strictly control media coverage of Balochistan. As mystery shrouds Balochistan, Harrison's In Afghanistan's Shadow: Baluch Nationalism and Soviet Temptations even today provides relevant perspectives, insights and rich context about Baloch nationalism and the prolonged conflict in Balochistan. Within Balochistan, In Afghanistan's Shadow (and its Urdu translation) is the most widely read book by students, activists, researchers and scholars to understand Baloch nationalism.
From his prolific career as a journalist to a respected think-tank scholar, Harrison remained America's most vocal critic of Pakistan's repression of the Baloch. He criticized Washington's military assistance to Pakistan which was diverted by the Pakistani military to fight the Baloch instead of crushing Al-Qaeda and the Taliban.
"Most of Pakistan's natural resources are in Baluchistan, including natural gas, uranium, copper and potentially rich oil reserves, both onshore and offshore. Although 36 percent of the gas produced in Pakistan comes from the province, Baluchistan consumes only a fraction of its production because it is the most impoverished area of Pakistan," wrote Harrison in a Washington Post article, "For decades, Punjabi-dominated central governments have denied Baluchistan a fair share of development funds and paid only 12 percent of the royalties due to the province for the gas produced there."
He vehemently disagreed with American diplomats who looked at human rights abuses in Balochistan as Pakistan's "internal matter" and urged Washington to reverse such a policy "not only to stop the carnage but also because the United States has a major strategic stake in a peaceful accommodation between Islamabad and Baluch leaders."
In Washington, where a strong Pakistani lobby, discourages and often disrupts events, debates and scholarly research on Balochistan, Harrison was a fearless voice. During his stints at the Carnegie Endowment for International Peace and the Center for International Policy, Harrison spoke at numerous think-tank events calling upon Washington to withhold military and economic assistance to Pakistan until Islamabad ended "military repression in Baluchistan and entered into serious negotiations with Baluch leaders."
With the passage of time and unabated violence in Balochistan, Harrison's views on Balochistan also radically evolved. While he once urged Washington to encourage a peaceful solution between the Baloch and Islamabad, he subsequently became a open supporter of the idea of an independent Balochistan.
In a 2011 article in The National Interest, Harrison suggested that the the United States should do more to support Baluch insurgents to counter Islamism in nuclear Pakistan.
"Most important, it should aid the 6 million Baluch insurgents fighting for independence from Pakistan in the face of growing ISI repression. Pakistan has given China a base at Gwadar in the heart of Baluch territory," he wrote, "So an independent Baluchistan would serve U.S. strategic interests in addition to the immediate goal of countering Islamist forces."
Would anyone in Washington listen to Harrison's advice? The answer to this question can be found in the first paragraph of In Afghanistan's Shadow which starts with a journalist asking Henry Kissinger during his visit to Pakistan if the United States supported the insurgency in Balochistan. "I wouldn't recognize the Baluchistan problem," he said, "if it hit me in the face."
It would be no exaggeration to call Harrison the Gary J. Bass of Balochistan. While Bass in his remarkable book The Blood Telegram: Nixon, Kissinger, and a Forgotten Genocide exposed America's criminal silence over the genocide of the Bengalis in 1971 by the Pakistani army, Harrison endlessly wrote and spoke about what he called the 'slow-motion genocide of the Baloch' although no one was listening in Washington, again. After Harrison, America did not produce a Balochistan scholar like him nor was a book on Balochistan like In Afghanistan's Shadow ever written again.
Harrison will be remembered as the scholar who introduced Balochistan to the world and remained a lone crusader for the rights of the Baloch until his death although his own government sponsored and funded human rights abusers in Balochistan.
Related
Popular in the Community