 On Wednesday, September 12, at about 12:45 EST, two important, related things are going to happen:
1. Apple CEO Tim Cook will introduce the new iPhone.
2. The price that you can sell your old iPhone for will drop dramatically.
The second, of course, will occur because of the first -- once the "iPhone 5" becomes real, and not just an idea composed of an endless stream of rumors and supposed leaks, the resale value for all previous iPhone models will plummet. Everyone will want the New Hotness, and no one will want the Old and Busted, as they say.
Given this bit of information, then, let this serve as your final reminder: If you are planning to buy the new iPhone, and you want to get the most money possible back from your existing iPhone, you need to sell your current phone before Tim Cook's speech on Wednesday.
Back in August, we handed down a maxim to you that our great-grandparents handed down to us: "The earlier you sell your iPhone before an Apple event, the better." That was based on data from two different gadget resale websites, which showed sharp declines in the prices they can pay as an Apple event nears. Here, for example, is a chart of the value of different iPhones in the weeks leading up to the unveiling of the iPhone 4S, on the popular gadget trade-in site Gazelle: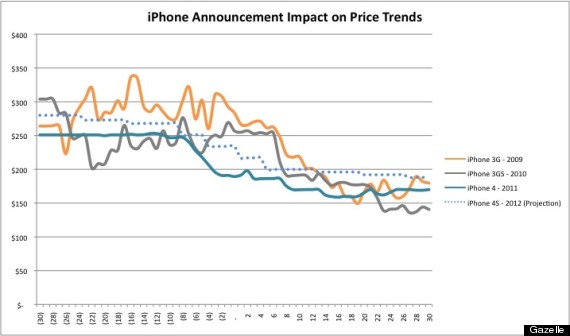 [UPDATE: We have a better chart from Gazelle, which shows prices in the days leading up to and after the announcement of the iPhone 4S].
The iPhone 4S was introduced on October 4: After a small spike in prices the following day -- probably due to the widespread initial disappointment that there was no redesign to the phone's body -- the value of an old iPhone steadily decreased over the following weeks. That decrease could be more pronounced this year, with a new design widely expected for the so-called "iPhone 5."
Selling your old iPhone -- rather than just letting it rot in a desk drawer -- can significantly defray the cost of your new purchase, especially if you have an iPhone 4S. On Gazelle, a 16GB iPhone in good condition fetches $277; on a similar site called NextWorth, $280. Both services work the same: You get a quote on your device, and then you have 30 days to mail in your gadget, postage paid by the sites. Once your gadget is received, the company mails you a check. That's a sizable chunk of change that can work toward undoing much of the upfront cost in buying a new smartphone.
There are other places that will buy your old iPhone, too. Apple itself, for example, lets you bring your phone to an Apple store and will repay you in store credit. More traditional consumer retail sites like eBay, Amazon, and Craigslist also function as active gadget marketplaces and can often bring higher prices than those at Gazelle, Nextworth, or Apple.
I recommend Gazelle or Nextworth, though, because of both the price certainty and that 30-day window: Those 30 days allow you to keep your current iPhone until you're able to purchase your new one, so that you don't have to go phone-less for a few weeks. Though the new iPhone will be unveiled on Wednesday, it likely won't be available for 10 days afterwards -- and even then, supplies will probably be limited. There's no guarantee you'll be able to get your hands on an iPhone 5 the day it comes out; the generous 30-day window should give you plenty of time to do so.
By all means, then: If you're cell phone contract is up, and you currently own an iPhone, now is the time to sell. When you wake up on Wednesday, your iPhone won't be worth as much as it was on Tuesday. Sell now, and sell fast, before the Hump Day takes a hunk of change out of your pocket.
REAL LIFE. REAL NEWS. REAL VOICES.
Help us tell more of the stories that matter from voices that too often remain unheard.
BEFORE YOU GO