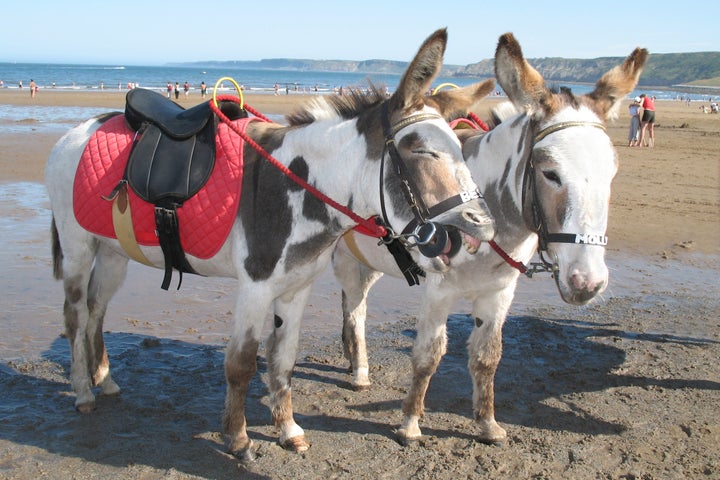 Years ago ― before husband, kids, houses and pets came along ― my friend Cindy and I were enjoying our last day of vacation on a black sand beach on the Greek island of Santorini when a sun-weathered old man approached us selling cups of fresh fruit off his donkey.
"How much for two?" I asked in the international language of finger-pointing and other gestures.
It was perhaps my fifth trip to Greece and I knew how to play the bargaining game. I feigned disgust at his first price and shooed him away. But instead of lowering his price as I expected he would, he plopped himself down on the edge of my sun lounger, pulled out a flask from beneath the donkey's belly and offered to share. And share we did. Business, he told us, was good. Plus, he got to look at all the pretty girls on the topless beach ― a perk of the job.
Ouzo, no matter how many trips to Greece I make, will never taste good to me. Yet we drank his flask dry. I'm sure we also paid asking price for the fruit, and there's an excellent chance we tipped mightily.
I remember the incident like it was yesterday for one reason: It was how Cindy and I came to create our escape plan. It was brilliant as only brilliance can be when seen through Ouzo-infused brains.
The plan went something like this: We would return to Los Angeles just long enough to tie up the loose ends of our lives and then return to Santorini ― or perhaps Mykonos or Zakynthos or Paros or Antiparos ― where we would spend the rest of our days selling fresh New York-style bagels from donkeys on the beach. Topless, of course, because if you're going to liberate yourself, you must liberate all parts.
Our business plan was simple: Bake fresh bagels each morning and stroll the beaches selling them until it was time to nap. It was freedom from our corporate rulers and stunning in its simplicity ― not to mention very low overhead. I mean, how much can a Greek donkey eat?
No, of course, we didn't do it. As is the case with many vacation-born fantasies, real life interfered.
But the bagel-donkey plan never really went away. It has been mentioned every time one of us needs an escape hatch. "Well, we can always go sell bagels from a donkey in Greece," we say, and miraculously whatever pain we are experiencing dissipates. It has worked on every sour occasion and bump in the road of life for almost 30 years now.
But yesterday, it really got put to the test: Cindy lost her longtime job as a newspaper page designer.
She was told that her department's work was being outsourced and the number of staff jobs whittled down. At 57 and after almost 25 years with her Texas-based paper, she had been blessed not only with a gorgeous mane of white hair, but also with a salary commensurate with her experience.
Might as well have painted a target on your back, I said. Her response surprised me.
"You know," she began, "I am weirdly OK with this."
Her news rocked my very foundation. The recession is over, isn't it? A guy who loves business and hates regulations and is going to make America great again by creating jobs, jobs, jobs sits in the White House. But still, older workers can find themselves kicked to the curb.
What will happen to Cindy?
"It's been an interesting ride ― now on to the next chapter!" she posted on Facebook. It was the exclamation point that left me suspicious about the sincerity of her words. This is Facebook, after all. So I tried again.
"Really, how are you?" I pressed.
"I can't even explain it," she said. "It's part relief ... and part exhilaration over the adventure of discovering what's ahead."
That part I got. When I was unemployed, something else happened besides me shaking in my boots. With an economic gun pointed at my temple, I discovered just how creative I could be. Sometimes security has an evil twin and its name is complacency.
So when I asked Cindy directly, "OK, but what will you do?" her answer didn't surprise me.
"Sell bagels from a donkey in Santorini."
Thanks, Cindy, I needed to hear that. Now how did we figure we'd keep the cream cheese cold?
Related