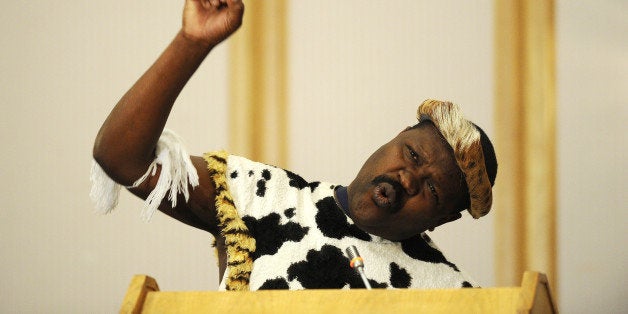 When Zimbabwe's most famous poet and musician, Albert Nyathi, decided to get circumcised, everyone had an opinion.
For Albert, poetry has always come first, but now he acts as a local champion of voluntary medical male circumcision (VMMC), hoping to inspire the men of his country -- both sons and fathers alike -- to undergo the procedure. When he was growing up, his father and uncle were polygamists, a characteristic of a much older society and one that flies in the face of a global HIV/AIDS epidemic.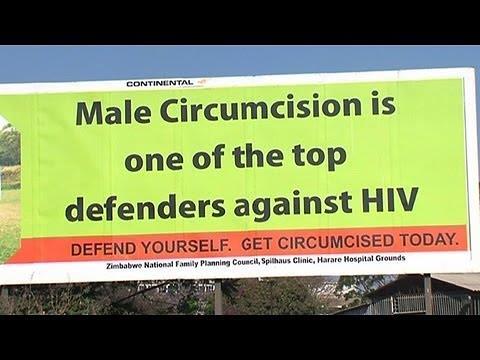 A campaign poster promoting male circumcision to prevent HIV in Zimbabwe (image source: healthyblackmen.org)
The topic of circumcision in Zimbabwe and across many southern African states is one that comes with many myths and misconceptions. In countries where HIV and AIDS run rampant, with new HIV infections in sub-Saharan Africa occurring at a rate of 2.3 million a year, male circumcision protects, but many still shy away from it.
Albert did his research before making the decision to undergo the procedure -- reading all the literature and discussing it with his wife. He underwent the procedure in April of this year with his son, who has now become Zimbabwe's youngest champion of VMMC.
An Unprecedented Public Health Intervention
In March 2007 the World Health Organisation (WHO) and UNAIDS pushed to have male circumcision more widespread and as part of every HIV prevention program -- a recommendation that came after a clinical trial published in PLOS Medicine had determined that male circumcision reduced female-to-male transmission of HIV by 60 percent.
Today, VMMC is designed to be part of a comprehensive package for HIV/AIDS treatment -- one that includes treatment and counseling, screening, condom promotion and health education.
Some countries in southern Africa show low rates of HIV testing, and enrollment in antiretroviral therapy (ART) treatment is even lower. In countries such as Lesotho and Zimbabwe, VMMC services are seen as an effective strategy to attract men to HIV testing and counseling and link them to continuing care and treatment, since early diagnosis of HIV and treatment initiation at higher CD4 counts improves outcomes and reduces HIV transmission.
"When I was growing up, I never had such opportunities," Albert says, talking about a public health care system that has vastly improved over the years.
Further, modeling studies published by PLOS Medicine in 2011 estimated that circumcising 80 percent of the male population between ages 15 and 49 in 13 eastern and southern African countries could avert 430,000 new HIV infections by 2015 and 3.36 million HIV infections by 2025. Those 13 eastern and southern African countries are currently scaling up VMMC.
Among these 13 countries, Zimbabwe, with its HIV prevalence at 15.2 percent among men between the ages of 15 and 49 (54.9 percent of the male population), has the potential to avert the highest proportion of new HIV infections (42 percent, or 600,000) by circumcising 1.9 million men.
Mobile Outreach Delivers Most Circumcisions
As part of its ongoing VMMC campaign, Zimbabwe now offers medical male circumcision in each district, including rural health care clinics. However, because the majority of the population cannot access these fixed sites, the VMMC campaign in Zimbabwe has relied on mobile outreach via 32 outreach sites and 27 mobile teams across all 10 provinces.
Still, uptake has been slow, according to Dr. Karin Hatzold, director of HIV services at Population Services International (PSI), a global health organization based in Zimbabwe, and author of one of the new PLOS papers. Only 170,000 men have undertaken the procedure as of September 2013. A lot more needs to be done if they are to meet the target of 1.9 million.
"Zimbabwe is a country that culturally does not do circumcision," Hatzold says, comparing the country to others in southern Africa that have minority ethnic groups that already have a traditional historical link to circumcision. "In Zimbabwe circumcision is a complete unknown practice, so at the beginning a large part of our job was to simply make people understand and increase knowledge levels about the benefits of circumcision."
The gap between the public health message and adoption always requires a leap of faith. "I did it. Why haven't you?" reads a poster in a clinic in Harare. Interestingly, the poster only mentions HIV once, close to the bottom, after four or five other benefits of male circumcision. It is just one part of an overall strategy to educate, inform, and allay some of the fears of undergoing such a procedure. Posters, leaflets, radio and TV public health messages are widespread throughout Zimbabwe.
A huge crowd gathered in Bulawayo at the Lobengula VMMC clinic to celebrate the circumcision of Albert Nyathi, who is also PSI Zimbabwe's VMMC Brand Ambassador. Here he is accompanied by other celebrities, his son and his wife to the procedure. From left: Ngqindi (poet), Mrs. Nyathi, Thabani Gambiza (radio personality), Mthabisi Nyathi, Albert Nyathi (photograph by PSI Zimbabwe)
The campaign is a tour de force that has recruited celebrities as role models or champions to motivate and lend a certain level of peer support to encourage both older and younger generations alike to undergo the procedure. "My friend got circumcised" goes a long way as encouragement. The rural town where Albert Nyathi comes from has had many undergo the procedure because the poet himself has done it.
However, the gap between education and uptake exists for a reason. Despite most men in Zimbabwe knowing the benefits of circumcision, few are willing. Researchers cite that 82.3 percent of male respondents who had heard of medical circumcision knew that it reduces the risk of HIV acquisition, that most knew that circumcision can protect against sexually transmitted infections, that most knew that it improves penile hygiene, and that most knew about its protective effect on cervical cancer for the female partner.
Myths and misconceptions seem to be a significant deterrent. Fear of pain and sexual performance problems afterwards keep many men away. "Older men approach me to ask if it is painful." Nyathi says, to which he always replies, "The pain is nothing to write home about."
But PSI is making progress and inroads in how it communicates its message, namely that HIV is not always a reason to get circumcised. It is easier to facilitate that discussion on circumcision when the other benefits are highlighted, and particularly when the female in the relationship is brought into the picture, as a significant number cite undergoing the procedure for their partner.
"I did it for my wife, and to set an example for the community," says Nyathi. His message on HIV and AIDS, and the benefits of treatment and prevention, has always been the same and clear: "We must all continue to protect ourselves."

The peer-reviewed research collection discussed in this post is available on an Open Access platform from the Public Library of Science (PLOS); anyone may read, redistribute or reuse these research papers by clicking here.
Support HuffPost
The Stakes Have Never Been Higher
Related
Popular in the Community