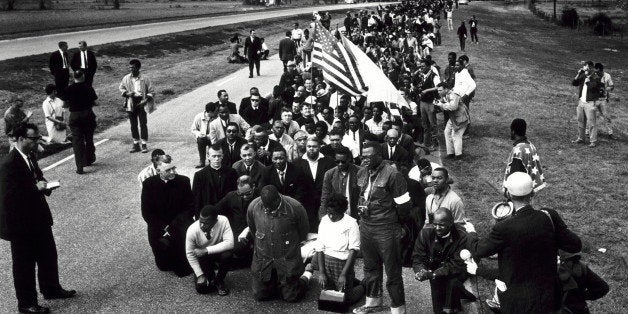 By the time Williabelle Lee was 11, she knew enough about the U.S. Constitution to teach her neighbors in rural Mississippi how to interpret the sections about voting and elections. She wanted more than anything to help them stand up to white election clerks who would systematically discourage black voters with various tests and poll taxes.
A proud member of the National Association for the Advancement of Colored People's citizenship and youth councils then, Lee was paid a handsome $15 a week to teach voters' rights under the law. But one of her proudest moments was March 7, 1965, when she joined thousands of others in a march from Selma, Ala., to Montgomery to advocate for voting rights.
"I had no idea that we were doing anything historic," Lee told HuffPost Black Voices Wednesday. "We were just trying to increase our chances at fully participating in the political system."
Forty-seven years later, Lee is taking that route again from Selma to Montgomery, rallying with thousands -- young and old, black and Latino -- to fight for voting rights and equality. The march will end Friday with a rally at the Alabama Capitol.
On Sunday, Lee was among thousands of civil rights leaders, minority and labor groups, and citizens from across the country who kicked off a march that will retrace the path of the original. They are rallying against recent anti-immigration laws passed in Alabama and new voting laws passed in more than a dozen states.
Lee is among them, passing the torch from young to old but still trucking for freedom, though this time in a wheelchair.
"It's the same fight," Lee said, of the current political struggles of blacks and Latinos. She recalled the snarling dogs and angry white police officers in 1965 who at points along the way beat or bludgeoned marchers "for no good reason at all," and the frustration of not being able to wholly realize the joys of being an American.
"It was a moment of joy and focus, as well fear," Lee said. "Having grown up in a segregated environment, I had never really had that kind of interaction with them ... We were filled with terror, but we were driven by the fact that we were people that were equal."
"When the civil rights movement was going on in the South, that's when I first got involved in the labor movement," Medina, 66, said earlier Wednesday, while taking a break from the march. "I grew up in the labor movement hearing about Martin Luther King, hearing about C.T Vivian… So walking in their footsteps in Alabama is not just a commemoration, it's about now coming together in a way we never have before, with the fifth generation of civil rights leaders."
Medina said the joining of forces among African Americans, Latinos and Asians has been long overdue, though they suffer the same "terrible wages, unemployment issues, the foreclosure crisis, attacks on voting rights ..." Immigrants, he said, come in all shades.
"Really, what I see with this is a long-term strategy for our communities," Medina said. "Being able to work together, to come up with an agenda for the future."
Lindsey Lunford, 21, a senior at Tuskegee University who joined the march, said the event was a call to action for her generation. "We forgot our past and now it seems we're trying to repeat it," she said. "I see people out here marching for immigrant rights, for voting rights. We're all together here because we realize that we are together in our fight for freedom."
"We're not just walking because of our own problems or to reenact the original march. We're marching because the same rights that were threatened in 1965 are being threatened today," said Lunsford, of Columbus, Ind.
Edras Umana, 21, of Minneapolis, came to the march in solidarity with undocumented immigrants in the state. He was undocumented when he came to the United States from El Salvador at the age of 12, but became a legal permanent resident two years ago. Umana said he didn't know much about the Selma marches before, but is learning more.
"I just wanted to send out a message of not being afraid, for any undocumented students or anyone," he said. "They need to share their voice."
State Sen. Hank Sanders (D-23rd) marched in 1965 while a student at Talladega College in Alabama. He said that in the 1960s, people felt they had little power to change anything through the legislature. "All of those things were won initially by actions out in the streets," he said. "And then the legislative victories came after."
Sanders is one of the top advocates of repealing Alabama immigration law House Bill 56, which, along with voter identification and labor rights issues, has become his new battleground. This time, he has been marching when he can, although two knee replacements limit his walking.
"I saw us making progress, but now I see us slipping back," he said. "But I'm determined not to go back, and I know there are others that are determined not to go back."
For Lee, who now lives in Philadelphia, celebrating the 47th anniversary of the original 50-plus mile march has brought her full circle. Though she said there is still much work to do in terms of equal rights, wages and protections under the law, she allowed that this time her experience has been more pleasant. White people that she has seen gathering along the roads are smiling and waving, not hurling insults -- and she's been particularly pleased at the number of black patrolmen who have ushered the marchers along their way.
Alabama is still one of the poorest states, but the voting tests and the $3 poll tax -- a full-day's pay back then, she said -- required in the '60s have long since faded. Progress takes work, however, said Lee.
"I saved my few quarters to get here and be a part of this. And I'm very grateful that I could make it," she said. "My prayer is that being here together can make a final and lasting impression to result in a true impact on those persons that don't know the importance of the ballot."
Elise Foley contributed reporting to this article.
PHOTOS: FROM SELMA TO MONTGOMERY