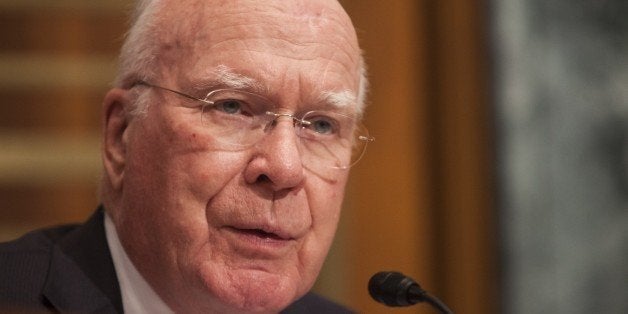 WASHINGTON -- It's been almost 50 years since the historic civil rights marches in Selma, Alabama, and Congress is ready to celebrate the people who made it possible.
Lawmakers have overwhelmingly passed a bill to award the Congressional Gold Medal to the thousands who marched on Bloody Sunday, Turnaround Tuesday and the final stretch of the 54 miles from Selma to Montgomery -- the movement that served as the catalyst for passage of the landmark 1965 Voting Rights Act.
The bill sailed through the Senate on Thursday with so much support it didn't even get a vote. It passed the House 420-0 earlier this month. The only thing left is for President Barack Obama to sign it into law.
"This bill, I believe, is a fitting honor that recognizes the courage and determination of the civil rights marchers at Selma 50 years ago," Sen. Jeff Sessions (R-Ala.) declared on the Senate floor. "It was a very historic day, and it marked an alteration in the history of America. It changed an unacceptable abuse of American rights: the right to vote."
But the disconnect between the masses of lawmakers honoring the marchers and those trying to restore the Voting Rights Act is stunning. The Supreme Court struck down Section 4 of the law in 2013. That section determined which states and localities that had a history of minority voter suppression had to get permission from the Justice Department to change their voting laws. In a 5-4 ruling, the court left it up to Congress to update that section with a new formula for designating which regions of the country need special scrutiny.
Nothing has happened since, because Republicans won't support legislation to fix the law. A House bill introduced in the last Congress had just a handful of GOP co-sponsors. The Senate version had none.
The prospects for action in this Congress look even worse. Reps. Jim Sensenbrenner (R-Wis.) and John Conyers (D-Mich.) reintroduced the House bill, with fewer GOP co-sponsors than before. Sen. Patrick Leahy (D-Vt.) is expected to reintroduce the Senate bill soon, but he doesn't have a single Republican co-sponsor.
With the approach of March 7, the 50th anniversary of the start of the Selma marches, it's worth noting amid the ceremonies which lawmakers are -- and aren't -- actually doing something to try to strengthen voting rights.
Below is a handy list of the lawmakers who have signed onto this year's House bill and last year's Senate bill to restore the Voting Rights Act. Lawmakers don't have to co-sponsor the bill in order to support it, but The Huffington Post hasn't found any additional GOP supporters of these bills.
Neither of Alabama's senators, Republicans Jeff Sessions and Richard Shelby, responded when asked if they plan to sign onto Leahy's bill.
House bill -- The Voting Rights Amendment Act of 2015

Rep. Jim Sensenbrenner (R-Wis.)
Rep. John Conyers (D-Mich.)
Rep. John Lewis (D-Ga.)
Rep. Steny Hoyer (D-Md.)
Rep. James Clyburn (D-S.C.)
Rep. Jerrold Nadler (D-N.Y.)
Rep. Zoe Lofgren (D-Calif.)
Rep. Sheila Jackson Lee (D-Texas)
Rep. Steve Cohen (D-Tenn.)
Rep. Hank Johnson (D-Ga.)
Rep. Pedro Pierluisi (Del-P.R.)
Rep. Judy Chu (D-Calif.)
Rep. Karen Bass (D-Calif.)
Rep. Cedric Richmond (D-La.)
Rep. Hakeem Jeffries (D-N.Y.)
Rep. David Cicilline (D-R.I.)
Rep. Scott Peters (D-Calif.)
Rep. Bobby Scott (D-Va.)
Rep. Charles Dent (R-Pa.)
Rep. Michael Fitzpatrick (R-Pa.)
Rep. Christopher Gibson (R-N.Y.)
Rep. Ann Kuster (D-N.H.)
Rep. Matt Cartwright (D-Pa.)
Rep. Luke Messer (R-Ind.)
Rep. Frank LoBiondo (R-N.J.)
Rep. Gregory Meeks (D-N.Y.)
Rep. Lois Frankel (D-Fla.)
Rep. Fred Upton (R-Mich.)
Rep. John Garamendi (D-Calif.)
Rep. Louise Slaughter (D-N.Y.)
Rep. Kyrsten Sinema (D-Ariz.)

Senate bill -- The Voting Rights Amendment Act of 2014

Sen. Patrick Leahy (D-Vt.)
Sen. Dick Durbin (D-Ill.)
Sen. Chris Coons (D-Del.)
Sen. Dianne Feinstein (D-Calif.)
Sen. Chuck Schumer (D-N.Y.)
Sen. Sheldon Whitehouse (D-R.I.)
Sen. Amy Klobuchar (D-Minn.)
Sen. Al Franken (D-Minn.)
Sen. Richard Blumenthal (D-Conn.)
Sen. Mazie Hirono (D-Hawaii)
Sen. Carl Levin (D-Mich.)
Sen. Sherrod Brown (D-Ohio)
Sen. Bob Casey (D-Pa.)
REAL LIFE. REAL NEWS. REAL VOICES.
Help us tell more of the stories that matter from voices that too often remain unheard.
BEFORE YOU GO
PHOTO GALLERY
Politicians React To Voting Rights Act Ruling