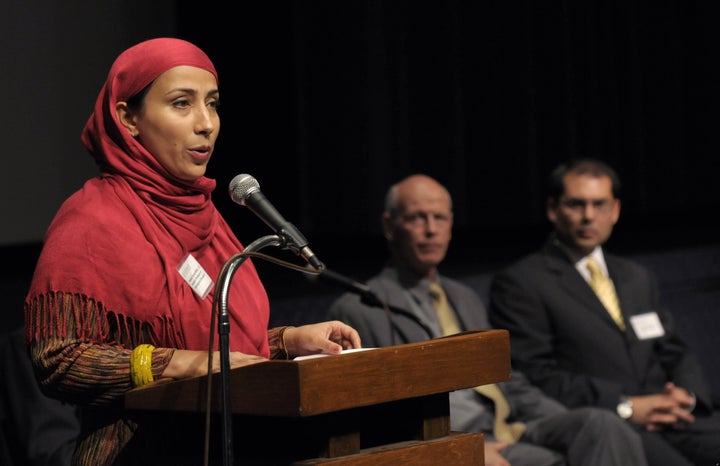 By Ankita Rao
Religion News Service
(RNS) In a move that has already caused a stir with some conservative skeptics, Christian seminaries are implementing interfaith curricula designed to promote tolerance and resolve conflict.
Two recent pilot projects aim to allow future Christian, Jewish and Muslim clergy to cross paths more often before they reach their pulpits. Faculty say interfaith dialogue helps students find firm footing in their own beliefs.
The new programs will foster independent training for ministers, rabbis and imams at separate institutions, while offering open courses that all students can take as electives or further study.
If successful, officials say the programs could be expanded to include other religions in the future.
"It's a time that calls for significant, if not radical, change," said the Rev. Nick Carter, president of the nation's oldest seminary, Andover Newton Theological School in Newton Centre, Mass.
Andover Newton, which has ties to the United Church of Christ and American Baptist Churches USA, and the Unitarian Universalists' Meadville Lombard Theological Seminary in Chicago have launched a joint program to provide interfaith education.
"The hope is that over time, other schools, and other faith traditions will be involved," said Larry Ladd, chairman of Meadville Lombard's board of trustees.
Meadville plans to maintain a presence in Chicago, but hopes to launch a new campus to house the interfaith initiative, Ladd said. Carter said Andover Newton's existing relationship with Boston's Hebrew College will help both universities expand their interfaith offerings.
Likewise, United Methodist-affiliated Claremont School of Theology in Southern California is implementing "The University Project" in an effort to build bridges to Judaism and Islam.
"In order to move forward, Claremont first realized we'd be nothing at all in this endeavor unless we found others from other traditions willing to join us," said the Rev. Jerry Campbell, Claremont's president.
The school collaborated with nearby Jewish Academy of Religion and the Islamic Center of Southern California to implement its new vision. Claremont faculty said the new model will help students deepen their commitment to their own faith, and interact with leaders of other religions.
"It's about not being afraid to go into the places that are awkward and difficult--that's where the learning happens," Carter said.
Marvin Sweeney, who has taught at Claremont for more than 15 years and oversees the school's Jewish component, said the goal is to study each faith on its own terms, not to dabble in syncretism.
"Christian theology has traditionally viewed Jews in negative terms," he said. "But the program is about cooperation--not the kind that leads to conversion, but the kind that leads to respect."
Sweeney said rabbis and ministers who study the same texts, in the same classrooms, have to articulate and understand their faith better in order to express themselves.
Ladd, from Meadville Lombard, agrees the new program will encourage students to strengthen their existing faiths. "It improves the likelihood that you will be challenged and have a chance to think through carefully what your faith really is," he said.
Najeeba Syeed-Miller, professor of interreligious education at Claremont, said her previous work in community-based conflict resolution inspired her commitment to interfaith education.
"The goal of this consortium is not that all students will come to one common faith," she said. "We need to honor the validity of the tradition that the student will be ordained in."
Syeed-Miller also said the program will help fill a gap in American-born Muslim leaders instead of imported imams from overseas.
The move, however, has not been without controversy, especially at Claremont, where the United Methodist Church had threatened to revoke $800,000 in annual funding, before lifting sanctions at the end of June.
Conservative Methodists are skeptical.
"Thanks to the liberalism of seminaries like Claremont, United Methodism has lost half its membership on the West Coast," said Mark Tooley, president of the Washington-based Institute on Religion and Democracy, a vocal critic of progressivism in mainline Protestant churches.
"Why would other religions want to follow that example?"
Critics also wonder if the seminaries' historic Christian roots will be compromised with the influx of different religions on campus.
"People were asking, `What does that mean if we're training Muslims and Jews--does it mean Christians are not going to make disciples for Christ?"' Sweeney said.
But rather than diluting any of the faiths, interactions with others actually makes each faith stronger, proponents say.
"It's only through the exploration of our unique identities, of understanding how we're different, how we each are unique, that we begin to find significant growth," Carter said

Popular in the Community