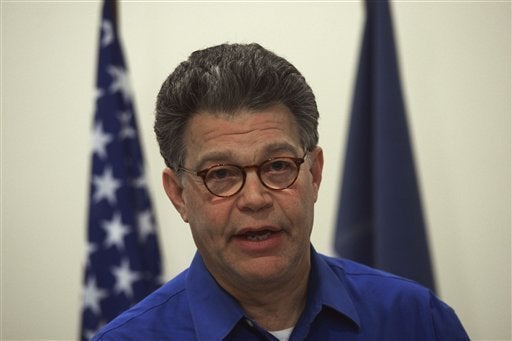 Sen. Al Franken (D.-Minn.) warned a packed house Thursday night in Minneapolis that the corporate takeover of our media, and the government's failure to stop it, is one of the most important issues of our time.
Franken said our media system is at risk everywhere we turn -- from our free speech online to the growing power of companies who own a massive number of media outlets.
Franken was speaking during a hearing featuring Federal Communications Commission Commissioners Mignon Clyburn and Michael Copps.
He spoke about recent efforts by Verizon and Google to push a "policy framework" on Washington that transfers control over Internet content from the people who go online into the hands of a few powerful corporations.
Franken: "We have a problem"
"We can't let companies write the rules that they're supposed to follow," he said. "Because if that happens those rules are going to be written only to protect corporations."
He also warned of the looming merger between cable giant Comcast and NBC-Universal, urging Copps and Clyburn to oppose the merger and enforce Net Neutrality rules that would protect free speech online.
With the Internet, "We don't just have a competition problem, we have a First Amendment problem," Franken said. He then quoted Justice Hugo Black, who warned against letting companies have the power to prevent people from publishing.
In a Thursday Minneapolis Star-Tribune editorial, both Copps and Clyburn said that the power of the Internet must remain in the hands of consumers, "because corporations will press their advantage if they can."
"History teaches us ... that when technological capability to exercise control combines with a financial incentive to do so, some will try to turn this power to their own advantage," they wrote.
In reference to the Verizon and Google deal, they wrote: "This new framework is not what the American people have been waiting for, not by a long shot."
Companies like AT&T, Verizon and Google would like to resolve this issue by creating policies in closed-door meetings with regulators. But the hundreds of people who packed the hearing in Minneapolis made it clear that this issue demands public participation.
Commissioners Copps and Clyburn and Sen. Franken are strong supporters of policies that would make Net Neutrality the rule of the road. President Obama has called protecting Net Neutrality a top priority. But FCC Chairman Julius Genachowski has been reluctant to move forward to create a lasting rule.
Calling all HuffPost superfans!
Sign up for membership to become a founding member and help shape HuffPost's next chapter