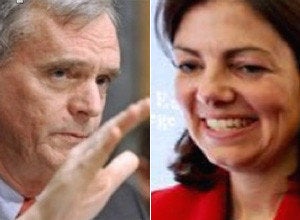 The Republican Party has been generally unified about the notion of repealing President Obama's health care reform law. If there's been any debate, it has been about which tactics would best achieve that objective.
On Tuesday, however, a split emerged, not just within the GOP but between Sen. Judd Gregg (R-N.H.) and the Republican candidate vying to take his place.
In an appearance on Fox Business Network, Gregg broke ranks with his fellow Republican lawmakers by stating that he doesn't believe the solution to health care is "starving or repealing" the law. "You basically go in and restructure it," he explained.
It was a new tune for Gregg, who earlier called for repealing and replacing the bill in entirety. It also was an interesting political development in the race to fill the senator's seat (he's retiring at the end of this year). New Hampshire Attorney General Kelly Ayotte (R-N.H.) has been a fairly ardent critic of the health care law. And when asked how she felt about Gregg's recalibration, a spokesman for the campaign reiterated her desire to see Obamacare completely dismantled.
"Kelly wants to repeal the federal takeover of health care and replace it with market-based reforms that reduce costs, improve quality and expand access," said spokesman Jeff Grappone.
Grappone's line is a standard one for Republican campaigns. And in a place like New Hampshire, with its longstanding libertarian streak, casting the law as a "federal takeover" makes obvious political sense. But Gregg's remarks do provide a small opening not just for defenders of the bill to claim that opposition is softening, but for Rep. Paul Hodes (D-N.H.) to argue that Ayotte is further out there than the doctrinaire conservative she is trying to replace.
REAL LIFE. REAL NEWS. REAL VOICES.
Help us tell more of the stories that matter from voices that too often remain unheard.