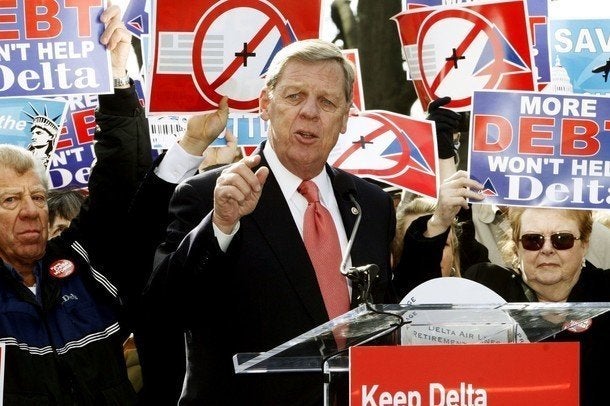 Just for fun, the Huffington Post decided Tuesday night to crash a dinner party for Sen. Johnny Isakson (R-Ga.). It was one of many fundraisers happening every day for different politicians around town. The event's location was listed on the Sunlight Foundation's website, www.politicalpartytime.org, as a townhouse just a few blocks from the U.S. Capitol.
The three-story red brick house, appraised at over $1.3 million, is owned by Mark Curry, according to the D.C. Office of Tax and Revenue. Curry is chairman of the board of the Online Lenders Alliance, a trade group for Internet payday lenders. The Sunlight Foundation calls this building the "OLA Townhouse."
This reporter arrived at the same time as John Greene of the National Association of Health Underwriters, which has a lobbying income of $250,000 so far in 2009, according to the Center for Responsive Politics. (Isakson is a member of the Senate Committee on Health, Education, Labor and Pensions.)
Two young women from Polaris Government Relations, a lobbying firm, greeted us at the door and invited us both inside. After introductions, the Huffington Post was disinvited.
"I'd appreciate it if you'd go ahead and leave," said one of the ladies.
John Greene accompanied the Huffington Post from the doorstep to the sidewalk. He declined to say how much he paid to attend the dinner. Guests typically drop $500 or $1,000 into a politician's campaign coffers for the privilege of attending these types of events.
Greene said he was thinking about moving his car, but then he went back inside. Another man appeared from the basement door and admonished the Huffington Post to stay on the other side of the fence.
"Street, sidewalk. Private event," said a man. "Private property."
More guests arrived. Two men, one in suspenders, the other in a dark suit, refused to identify themselves.
"The Huffington Post!" said the man in suspenders, laughing. "I wouldn't talk to those people if my life depended on it."
A man who said he was an Isakson staffer declined to provide info about the event before walking inside.
Another arriving guest said his name was Clint Robinson. He was less forthcoming after that. "Uh, what do you want to know?" he said, before noticing an acquaintance. "Hey, Bob!"
The Huffington Post asked Bob if he'd share any info about the event.
"Just that Clint Robinson's here," said Bob.
Isakson is a member of the Senate Committee on Commerce, Science and Transportation and the subcommittee on Communications, Technology, and the Internet.
Finally, the senator arrived. The Huffington Post asked him who was attending his fundraiser.
"I haven't seen the list," he said.
What kind of people, then?
"It's people interested in America and democracy and peace and the economy," he said. "Thank you for your time."