Sen. Mazie Hirono rejected the idea that women are coming forward with allegations of sexual assault only in an effort to target men, calling recent comments made to this effect by Donald Trump Jr. fearful and an example of "mistrust of women."
"It falls from a belief that, unfortunately, too many people have, especially men, that women just sit around making these stories up. It's not true," Hirono (D-Hawaii) said on CNN's "New Day" on Tuesday morning.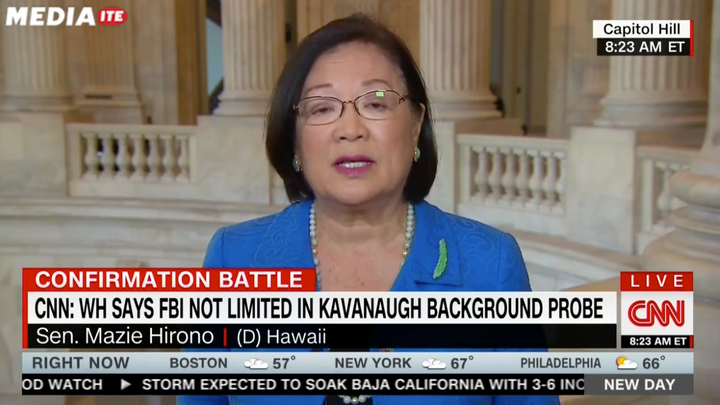 Host John Berman asked the senator about a recent Washington Post article discussing male fury and the alleged fear rising in the GOP in defense of Supreme Court nominee Brett Kavanaugh, who faces multiple accusations of sexual misconduct.
Berman wanted Hirono's take on the notion that men feel they're being unfairly targeted by allegations of sexual assault and proceeded to show her a clip of the president's eldest son echoing these sentiments, telling DailyMailTV that he's scared for his sons.
"I've got boys, and I've got girls. When I see what's going on right now, it's scary," Trump Jr. said in an interview published Monday.
"When the other sides weaponizes it against men, and says, 'Forty years later we can bring it up, and you did something in high school that no one remembers but it should disqualify you from ever doing anything ever again,' it diminishes the real claims," he continued.
Hirono responded by saying that the men in this country "should make sure their sons particularly are raised in such a way that they respect women, don't assault them, don't harass them ― all of that."
"This kind of attitude that is exemplified by the piece I just listened to, it falls from a fear and mistrust of women," she said.
Hirono also made the point that such comments illustrate why "sexual assault is one of the most underreported crimes."
"Because when women come forward ― and by the way, thousands of people are coming forward to share their traumatic stories that they never reported. These are the kinds of attitudes that make it really tough for them to come forward," she said.
Popular in the Community