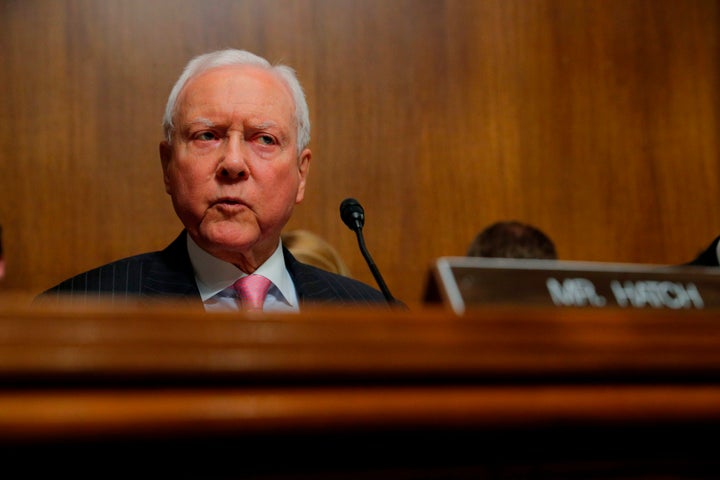 As crowds of demonstrators occupied the Hart Senate Building in Washington, D.C., to protest the potential — and increasingly likely — confirmation of Supreme Court nominee Brett Kavanaugh, Sen. Orrin Hatch (R-Utah) dismissed them with unkind words and a wave goodbye before ducking into an elevator.
The protesters, which included sexual assault survivors and their allies, marched from the E. Barrett Prettyman Federal Courthouse on Thursday to the Hart building, just two days before the Senate is scheduled to vote on whether to confirm Kavanaugh to the highest court in the nation. Kavanaugh, whose confirmation to the court could shift policy for a generation, has been accused by three women of sexual misconduct.
"Why aren't you brave enough to talk to us and exchange with us?" an unidentified female demonstrator asked Hatch during the protest, as seen in a video clip. The Republican senator from Utah responded with a limp, dismissive wave at her.
"Don't you wave your hand at me, I wave my hand at you," she said.
"When you grow up, I'll be glad to [speak to you]," Hatch responded from behind his security.
"How dare you talk to women that way? How dare you?" the woman replied. Hatch waved goodbye to the protesters as the elevator doors closed.
Christine Blasey Ford has accused Kavanaugh of holding her down on a bed, covering her mouth with his hand, and attempting to forcibly remove her clothes while the two were at a gathering in high school. An FBI investigation was opened last week in response to the allegation, but Ford's lawyers said she was not interviewed by the intelligence agency.
"Senator Graham, I was raped 13 years ago," survivor Robyn Swirling told him.
"I'm so sorry," Graham responded.
"I don't remember the exact date, but do you believe me?" Swirling asked.
"You needed to go to the cops," Graham replied. "Go to the cops."
Popular in the Community