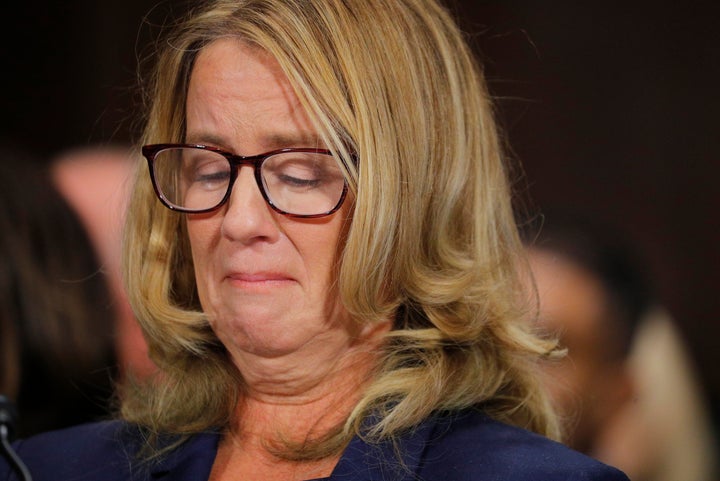 "I have found your testimony powerful and credible, and I believe you," Blumenthal told the Palo Alto University professor.
Blasey, who accused Kavanaugh earlier this month of sexually assaulting her in 1982, was testifying to the Senate Judiciary Committee. During Blumenthal's line of questioning, Blasey broke down in tears in response to his poignant statement.
"I want to quote one of my colleagues, Sen. Lindsey Graham, in a book that he wrote in 2015 when he was describing his own service ― and very distinguished naval service ― as a trial lawyer," Blumenthal said to Blasey. "He said, quote, of his prosecution of rape cases, 'I learned how much unexpected courage from a deep and hidden place it takes for a rape victim or sexually abused child to testify against their assailant.'"
As Blumenthal reiterated the quote, Blasey bowed her head and began crying.
"If we agree on nothing else today, I hope on a bipartisan basis we can agree on how much courage it has taken for you to come forward, and I think you have earned America's gratitude," Blumenthal added.
Visibly moved, Blasey mouthed the words "thank you" in response to Blumenthal.
Earlier in his statement, Blumenthal thanked Blasey for coming forward despite the criticism she knew she would have to endure.
"You have inspired and you have enlightened America," he said.
"You have inspired and given courage to women to come forward, as they have done to every one of our offices, and many other public places," Blumenthal continued. "You have inspired and you have enlightened men in America to listen respectfully to women survivors and men who have survived sexual attacks. And that is a profound public service, regardless of what happens with this nomination."
Blasey is the first of three women to publicly accuse Kavanaugh of sexual misconduct. The judge is set to testify in front of the Senate Judiciary Committee after Blasey on Thursday. A committee vote on Kavanaugh's nomination is set for Friday.
Popular in the Community