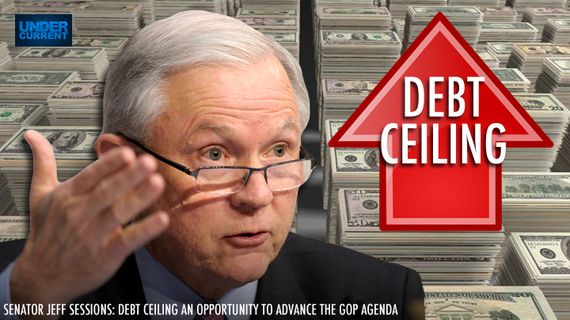 On Tuesday, Speaker of the House John Boehner ended the months-long showdown over funding the Department of Homeland Security, despite strident objections from Republican hardliners seeking to block President Obama's executive orders on immigration. Though Democrats ultimately won this battle without making any concessions, there will be other opportunities for the GOP to pick a fight. One is the upcoming raising of the debt ceiling.
Congress will technically hit the debt limit on March 15, but likely will not have to act until months later because of Treasury Department maneuvering. Politico estimates a vote will come sometime between late spring and early fall.
At the Conservative Political Action Conference last Friday, before the one-week DHS funding deal extension had been reached, Sen. Jeff Sessions (R-AL) was already contemplating the next Republican standoff. He called the debt ceiling "an obvious opportunity for Republicans" to advance their agenda... Manufactured debt ceiling crisis here we come!
Calling all HuffPost superfans!
Sign up for membership to become a founding member and help shape HuffPost's next chapter