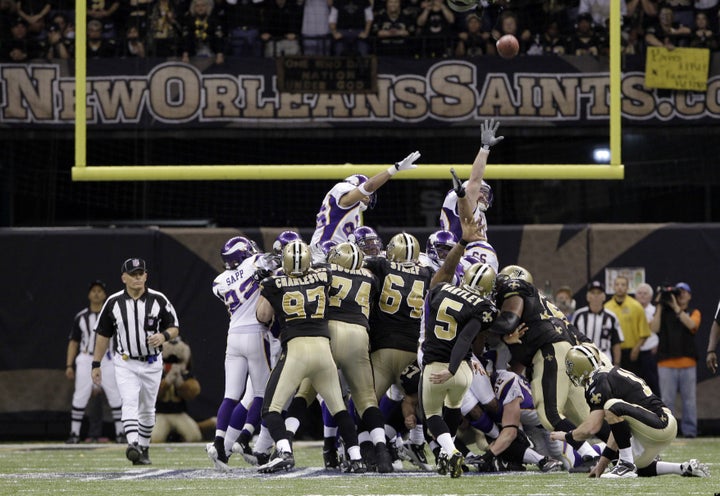 For those who have been too busy worrying about their fantasy drafts to notice, several NFL teams are in serious jeopardy of having multiple games blacked out this season. Taxpayers and fans in cities around the country should be outraged.
If an NFL game is not sold out 72 hours prior to kickoff, league rules mandate that the game be blacked out in the local market. Last season, the NFL blacked out 22 games and this season looks worse.
The Tampa Bay Buccaneers became the first victims of the league's blackout policy, having failed to sell out this weekend's game against the Cleveland Brown before the deadline.
While Browns fans will get to see this game because it's in Tampa, they may miss future games played in Cleveland. On Thursday, Sherrod Brown, the junior Democratic senator from Ohio, released a letter to NFL-commissioner Roger Goodell calling the NFL's blackout policy "deeply troubling." That's Senator-speak for seriously f'd up.
Brown may be primarily concerned about fans of the Browns and the Bengals, but the problem affects sports fans around the country. Especially in this economy.
And according to Team Marketing Research, it cost an average of $413 to take a family of four to an NFL game last season. That's for one game.
Now, some may argue that this is just a matter of capitalism and that the owners have every right to blackout television broadcasts if their games aren't sold out. That would be fine if most of these owners weren't benefiting from taxpayer funded stadiums.
The Buccaneers, for instance, play in Raymond James Stadium, which cost $168.5 million and which was financed entirely by raising taxes. The taxpayers of Tampa built the stadium only after Bucs owner Malcolm Glazer threatened to move the team if they didn't. (It's one of the key steps in what "Field of Schemes" author Neil deMause calls "the great stadium swindle.") So now Tampa taxpayers who paid for the stadium and who can't afford to go to the games can't even see the Bucs on television thanks to the rules of the owners -- most of whom didn't pay for the stadiums they play in.
Browns fans are intimately aware of the "art of the steal," having lost their team after refusing to cave to Art Moddell in the mid-90's and being forced to build a new stadium in order to reactivate the Browns. The team now plays in the $283 million Cleveland Browns Stadium. Meanwhile, Bengals fans (actually, Hamilton County taxpayers) forked over $455 million for Paul Brown Stadium, which opened in 2000. And despite all the money Clevelanders and Cincinattians paid because they love their NFL teams, their loyalties may be rewarded with blackouts.
Fans in Kansas City, Detroit, San Diego, and St. Louis, among others, may also feel the same sense of betrayal this season.
In addition, for those who argue that the government shouldn't get involved in the matter, remember that before Congress got involved in the 1970's, the NFL blacked out all home games, whether they were sold out or not. It wasn't until Congress passed a law that the NFL relented and agreed to show games sold out prior to 72 hours before kickoff.  FCC regulations further require that these games be blacked out.
Sports fans around the country need to stand up and demand that the NFL end the practice of blacking out games, at least in cities with taxpayer financed stadiums. Fans should contact their representatives and senators and ask them to write to the FCC and Roger Goodell.
With any luck, a few more senators will be willing to join Sherrod Brown in asking the NFL to remember that "football has long been a source of pride for communities" around the country and that blackouts betray loyal fans.
Brian Frederick is the Executive Director of Sports Fans Coalition. He holds a Ph.D. in Communication and lives in Washington, D.C. Email him at sportsfanscoalition@gmail.com
REAL LIFE. REAL NEWS. REAL VOICES.
Help us tell more of the stories that matter from voices that too often remain unheard.