She was the first Asian-American woman elected to Congress in her state back in 2012. The Iraq war veteran was the first disabled woman ever elected to Congress. She was the first member of Congress born in Thailand. And, most recently, she became the first woman to give birth while in the Senate.
So, it's no surprise Duckworth is a bit tired of firsts.
"I have won historic elections, but it feels like these 'firsts' are so overdue," she recently told Elle magazine. "I never set out to be the first in anything, and with a lot of these 'firsts,' it really makes me wonder how it's taken so long. It also underscores how much farther we have to go to have representation in our government."
Although women make up half of the U.S. population, women only account for 19 percent of members of Congress. Additionally, less than 25 percent of all state legislators are women, and only six of the country's 50 state governors are women.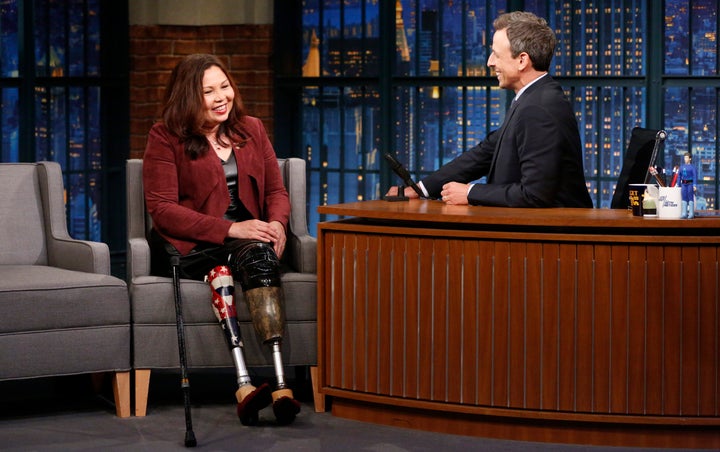 Duckworth discussed some of her firsts and what it's been like serving her country ― first in the military, then in politics ― as an Asian-American woman.
"I often felt underestimated, not so much by the people I served with ... but by people from other nations," she told Elle. "It was a double whammy with both my ethnicity and my gender."
She recalled going on international missions while serving in the Army. Many foreigners were surprised that she was the only woman ― and often the commanding officer ― in an otherwise all-male unit. 
"People would ask, 'Who is in charge of the unit?' And my team would respond, 'It's the short Asian girl, she's the one who is actually in charge of all of us.' And people would always say, 'Her? Is she even American?'" Duckworth said. "There's a perpetual foreigner syndrome with Asian Americans where, even as native, natural-born American citizens, we're often still not seen as being true Americans."
Duckworth said that whenever she gets a bit "overwhelmed" by all of it, she hangs out with her daughter: "She doesn't care about the Senate or Congress ― it's just mom-time."
Head over to Elle to read Duckworth's full as-told-to. 
REAL LIFE. REAL NEWS. REAL VOICES.
Help us tell more of the stories that matter from voices that too often remain unheard.
BEFORE YOU GO