WASHINGTON -- When a congressional caucus shrinks, it tends to solidify the politics of the remaining members, as conservative Democrats and moderate Republicans are always the first to get swept away in a wave. As the Democratic caucus in the Senate has gradually shrunk, from a high-water mark of 60 in 2009 to what will likely be 46 this January, the rump has gotten more progressive.
It hasn't just been by subtraction. The arrival of Sen. Elizabeth Warren (D-Mass.) last cycle has given the growing liberal bloc a power base to rally on, muscle that was flexed most prominently in the high-profile rejection of Larry Summers as chairman of the Federal Reserve before he'd even been nominated.
In 2016, as Democrats work to retake the Senate, they have a chance to do it while simultaneously expanding the ranks of their progressive members, given the tilt of the playing field. In Illinois, Pennsylvania, New Hampshire, Wisconsin and Iowa, Democrats have the potential to elect progressive senators in seats currently held by Republicans. Much, however, will depend on recruiting, and whether the decision is made to target populist-progressive types in the vein of Warren, or more centrist, corporate-friendly picks such as Virginia's Mark Warner.
What many activists are hoping is that the caucus will take note that progressive issues like the minimum wage, reproductive rights and criminal justice reform won on Tuesday, even though many Democratic candidates did not. The question is whether to double down on those positions or abandon them in favor of the moderate, Democrat-lite platforms that were so popular during the 2014 cycle.
"If the ballot measure results are any indication, actual progressive policies remain popular with voters in red and blue states. I believe you'll see a Senate Democratic caucus fight on behalf of those policies and provide the votes if and when Republicans are ready to act," said Faiz Shakir, a senior adviser to Senate Majority Leader Harry Reid (D-Nev.).
These choices could also affect the top of the ticket, whether it's Hillary Clinton or another Democrat.
"The question is whether [Hillary] feels like she can do the work she needs to do with a feisty speech now and then, or whether she really feels like she has to tack to the left in a meaningful way," said an aide to a liberal Democratic senator who requested anonymity to speak openly.
Only 10 Senate Democrats are up for re-election in 2016, the residual benefit of the shellacking they took in 2010 when tea party Republicans swept into office. The only two challenges Democrats likely will face will be defending Michael Bennet's seat in Colorado and Reid's in Nevada. In a presidential year, Bennet, who managed to survive in 2010, will be the favorite. Reid may be the most vulnerable, but he is a tenacious campaigner and in the past pulled off re-election in the face of stiff odds.
Map created by Aaron Bycoffe.
Meanwhile, Republicans need to defend 24 seats. Democrats likely will need to pick up five seats to take back the Senate. They'll have a variety of routes to get there.
Illinois: Sen. Mark Kirk (R) is perhaps the most vulnerable Republican, running in a blue state in 2016. Much will depend on candidate recruitment in Illinois, however, as a dud could cost Democrats the opportunity. Democrat Lisa Madigan, who as state attorney general has taken on the banks, is widely discussed as a potential candidate, and Reps. Cheri Bustos (D) or Tammy Duckworth (D) have also been floated as possibilities.
Wisconsin: Sen. Ron Johnson (R) has been trying to strengthen his popularity with the conservative base by doing things like taking on Hillary Clinton, but he's never been known as particularly charismatic or popular within his caucus. The race has been high on the list for progressives since Johnson defeated Sen. Russ Feingold (D-Wis.), and many Democratic activists in the state want Feingold to jump back in and challenge Johnson to a rematch. Rep. Gwen Moore (D) is another potential 2016 challenger.
Louisiana: If Sen. Mary Landrieu (D) loses her runoff in December, as is widely expected, she'd immediately be a leading candidate to return to the Senate. Sen. David Vitter (R) is planning a run for governor in 2015. If he does, Landrieu would either face a chastened Vitter or a freshly ensconced incumbent. And Landrieu's political skills are widely considered among the best in national politics.
New Hampshire: Sen. Kelly Ayotte (R) is well-liked and has carved a semi-moderate niche, but Gov. Maggie Hassan (D), who just won re-election Tuesday night, will finish the state's unusual two-year term and is expected to challenge Ayotte.
Florida: Sen. Marco Rubio (R) has said he will not run for re-election if he runs for president. In a presidential year, Democrat Charlie Crist, who lost the governor's race Tuesday night, could make a formidable candidate.
Georgia: Sen. Johnny Isakson (R) might face a tea party primary challenge that would weaken him. If he survives, Democrat Michelle Nunn has proven herself a credible statewide candidate who would look good with a general election turnout behind her.
North Carolina: The same is true in North Carolina, where amiable but forgettable Sen. Richard Burr (R) is up for re-election. Sen. Kay Hagan (D) is already being discussed by Democrats as a potential challenger, having run an impressive 2014 race and come up short.
Pennsylvania: Pennsylvania is much friendlier territory these days for Democrats than it was when Toomey, who is still a staunch fiscal conservative, was elected in 2010. The waters got even rockier for Republicans Tuesday, when Tom Corbett became the first governor in state history not to win re-election -- taking heavy heat during the campaign for his fiscally conservative policies, including cuts to education spending. Attorney General Kathleen Kane (D), former state Secretary of Environmental Protection Katie McGinty (D) and former Rep. Joe Sestak (D) -- who lost to Toomey in 2010 -- are potential challengers.
Arizona: With a rapidly growing Latino population, Arizona is increasingly turning purple. Much could depend on whether Sen. John McCain (R) decides to seek another term.
Ohio: Sen. Rob Portman (R), a business-friendly Republican, will be up in 2016, and facing the headwinds of a Democratic electorate. He's popular at home, however, and his public support of marriage equality, along with his revelation that he has a gay son, endeared him to some Democrats. Beyond Portman's general likeability, Democrats would need a top-tier candidate to challenge him, with few obvious choices rising from a desiccated state party. Rep. Joyce Beatty (D) and former Rep. Betty Sutton (D) have, however, been mentioned as possible challengers.
Iowa: Democrats were widely expected to win the open seat to replace Sen. Tom Harkin (D-Iowa), but they blew it with Rep. Bruce Braley (D-Iowa), who came off as arrogant and out of touch with Iowa voters. A better candidate may be stronger against Sen. Chuck Grassley (R-Iowa), but it will still be an uphill battle to oust the longtime incumbent. Christie Vilsack, the wife of former Gov. Tom Vilsack (D), has perhaps the most name recognition among Democrats after running unsuccessfully against Rep. Steve King (R) in 2012.
Kentucky: If Rand Paul winds up being barred from running for both Senate and president, the door will be open for Alison Lundergan Grimes to run again -- though she'd be forced to answer the challenging question of whether she voted for herself in 2014.
Want more updates from Amanda? Sign up for her newsletter, Piping Hot Truth.
This article was updated after publication to include more potential candidates. Due to an editing error, Christie Vilsack was briefly included as a potential candidate in Kentucky.
Before You Go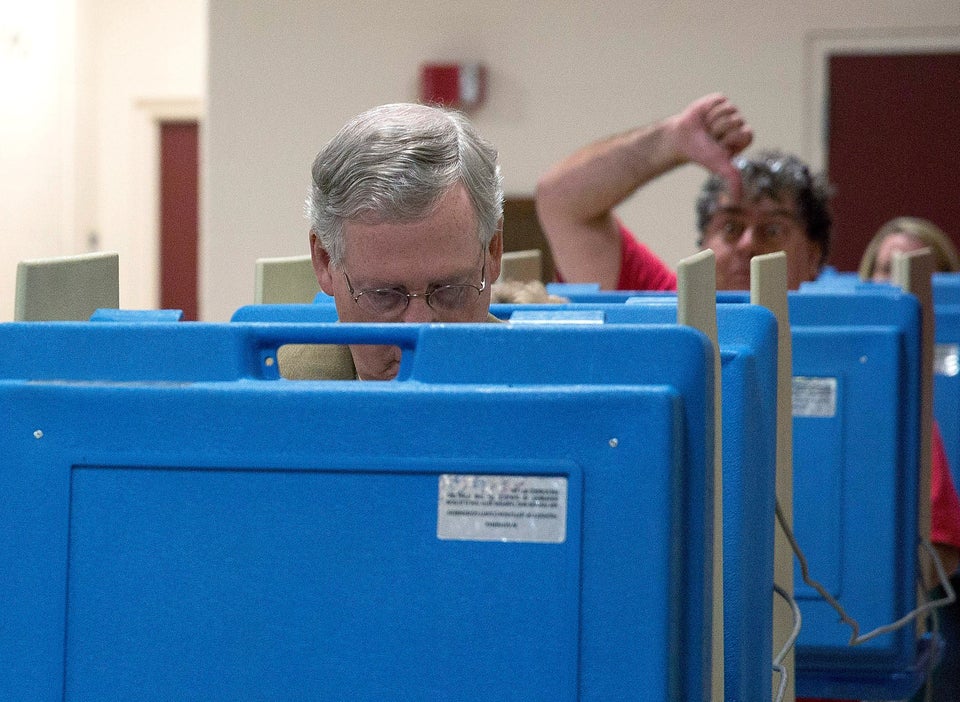 Scenes From Election Day 2014
Popular in the Community