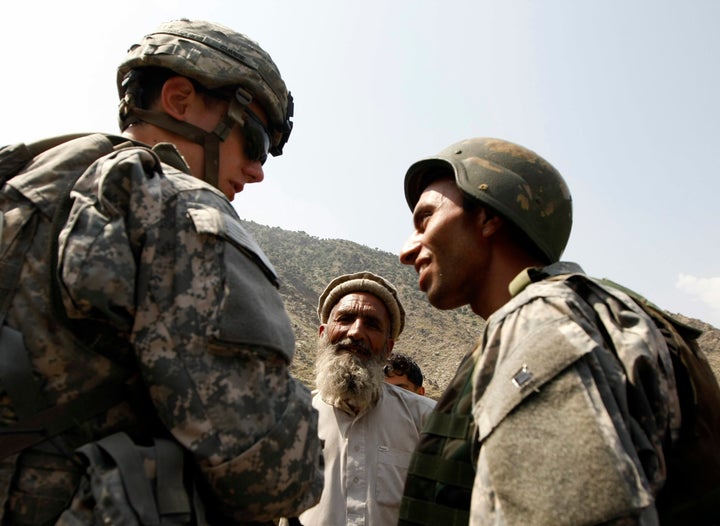 The visa program, which grants visas to Afghan interpreters and other staff, many of whom faced threats from the Taliban, is set to expire in January.
"It is no exaggeration to say that this is a matter of life and death as Afghans who served the U.S. mission continue to be systematically hunted down by the Taliban," Shaheen said in a statement on Wednesday.
In June, GOP senators omitted the bipartisan and seemingly noncontroversial amendment from the bill, apparently due to anti-immigrant sentiment. 
As HuffPost's Jessica Schulberg reported:
Because the judiciary committee has jurisdiction over immigration-related legislation, Shaheen had to first clear the amendment with Judiciary Chairman Chuck Grassley (R-Iowa) and Sen. Jeff Sessions (R-Ala.), who heads the subcommittee on immigration.

Publicly, the judiciary committee members said they opposed additional visas for the Afghan translators because it's too expensive, they have unanswered questions about the program, and there are still thousands of unused visas available.

But in a private back-and-forth with Shaheen and McCain, they revealed an alternative reason: They didn't want a net increase of foreigners entering the country.  

After initially opposing an increase in visa authorizations altogether, a Grassley staffer offered a deal on behalf of him and Sessions: For every additional visa given to Afghan translators, there would be a one-for-one reduction in the number of available diversity visas, which are awarded through a lottery system, a Senate aide familiar with the negotiations told The Huffington Post.
Shaheen rejected Grassley's June offer. Her spokesman said it "reeks of Donald Trump," referencing the then-GOP presidential candidate's racist and xenophobic rhetoric. 
If passed, the current version of the amendment would allocate 1,500 additional visas ― not enough to meet demand. Shaheen and McCain originally requested 4,000 visas, and lowered the number to 2,500 in a version considered earlier this year.
"I'm very relieved that additional visas will be made available in this legislation," Shaheen said Wednesday. "However, the number of visas needed for those in danger far surpasses what's provided in this bill."
The full defense spending bill is expected to come up for a vote in the House this week, and in the Senate next week.
Calling all HuffPost superfans!
Sign up for membership to become a founding member and help shape HuffPost's next chapter
BEFORE YOU GO
PHOTO GALLERY
Scenes From 114th Congress And Capitol Hill