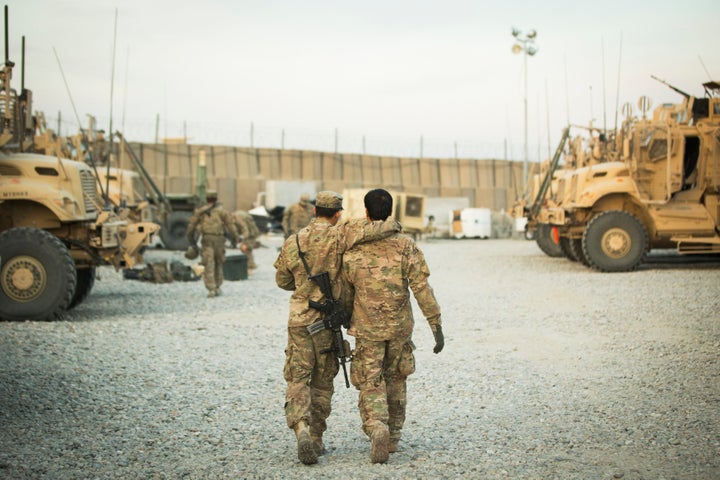 WASHINGTON -- A bipartisan attempt to secure thousands of visas for Afghan interpreters who risked their lives to assist American troops in the war in Afghanistan stalled on Tuesday, when the Senate passed a version of the massive defense spending bill that omitted the amendment backed by Sen. Jeanne Shaheen (D-N.H.) and Senate Armed Services Committee Chairman John McCain (R-Ariz.).
The seemingly uncontroversial amendment, which extends the existing special immigrant visa program for one year and allocates an additional 2,500 visas for the program, never had a vote on the Senate floor. In an effort to force a vote on his unrelated amendment, Sen. Mike Lee (R-Utah), blocked votes on several amendments, including the Shaheen provision, which the Utah senator said he supported.
Over the course of a days-long feud in the lead-up to Tuesday's vote, McCain accused Lee of "signing death warrants" for Afghan interpreters, many of whom have been threatened by the Taliban for their assistance to U.S. troops.
Lee rebuffed McCain's accusations, noting that he would vote in favor of visas for Afghan interpreters -- but only if McCain, the committee chairman, allowed the legislative body to vote on Lee's amendment to prevent U.S. citizens from being detained indefinitely.
In an embarrassing display of congressional dysfunction, the lawmakers never overcame the impasse -- and the Afghan interpreters are left with a program that expires in months and is running out of visas.
"It's unconscionable that the Senate has turned its back on the brave Afghan men and women who put their lives on the line to support our troops … For many of them, this could be a death sentence," Shaheen said in a statement after the vote on Tuesday, pledging to look for another legislative path to pass the amendment.
But the public feud on the Senate floor wasn't the first obstacle to the Afghan visa program.
Shaheen and McCain initially tried to get a version of the amendment that would have set aside 4,000 visas for Afghan interpreters tacked on to the defense spending bill that came out of the Senate Armed Services Committee last month.
Because the judiciary committee has jurisdiction over immigration-related legislation, Shaheen had to first clear the amendment with Judiciary Chairman Chuck Grassley (R-Iowa) and Sen. Jeff Sessions (R-Ala.), who heads the subcommittee on immigration.
Publicly, the judiciary committee members said they opposed additional visas for the Afghan translators because it's too expensive, they have unanswered questions about the program, and there are still thousands of unused visas available.
But in a private back-and-forth with Shaheen and McCain, they revealed an alternative reason: They didn't want a net increase of foreigners entering the country.
After initially opposing an increase in visa authorizations altogether, a Grassley staffer offered a deal on behalf of him and Sessions: For every additional visa given to Afghan translators, there would be a one-for-one reduction in the number of available diversity visas, which are awarded through a lottery system, a Senate aide familiar with the negotiations told The Huffington Post.
Beth Levine, a Grassley spokeswoman, confirmed the existence of the offer, but disputes that it came from her boss. Sessions did not respond to multiple requests for comment.
"Using immigrants as bargaining chips is a total non-starter and reeks of Donald Trump."
Shaheen rejected the one-for-one offer outright. "Using immigrants as bargaining chips is a total non-starter and reeks of Donald Trump," Ryan Nickel, Shaheen's spokesman, told HuffPost in an email. "We should be able to keep our nation's promise to Afghan interpreters without demanding a pound of flesh from a completely unrelated immigration program."
McCain referred HuffPost to Shaheen's office through spokesman Dustin Walker.
As a compromise, the amendment's backers agreed to cut the number of visas for Afghan interpreters from their original ask of 4,000 to 2,500, a move that Grassley and Sessions agreed to. But by the time they reached a consensus, the defense spending bill had already moved out of committee, meaning the amendment could only be added with a vote on the Senate floor.
The effort by Grassley and Sessions to shut out immigrants comes as the Republican party, eager to defend its majority in the House and Senate, struggles to justify backing a presidential candidate who is openly racist and nativist -- while simultaneously insisting that they, as a party, bear no ill-will toward the nation's minorities.
Sessions, known for his anti-immigration stance, was the first Senator to endorse Trump, the presumptive GOP nominee. He was rewarded with the title of chairman of Trump's national security advisory committee.
Grassley, who faces a tough re-election race this year, introduced Trump at a rally in Iowa earlier this year and offered a convoluted defense of Trump's claim that Indiana-born U.S. District Court Judge Gonzalo Curiel was inherently unfit to oversee a lawsuit against Trump because of his "Mexican heritage." He received scathing criticism from the Des Moines Register for that defense and later walked it back.
That two Republican lawmakers tried to advance an anti-immigration agenda by holding hostage protections for Afghans who assisted the U.S. is the latest evidence that party elements are lining up behind Trump because of, and not in spite of, his racist rhetoric. And that they would do so behind closed doors highlights their private investment in this agenda, regardless of its appeal to voters.
Levine, the Grassley spokeswoman, said the Judiciary chairman prioritizes the safety of the Afghan interpreters, and pointed to an amendment he authored that would extend the program -- but not authorize any additional visas for next year, rendering the extension pointless.
There are about 3,500 visas still available, but the State Department has said they are processing applications for 10,000 Afghans seeking entry to the U.S, meaning thousands could be left stranded.
Sgt. Aaron Fleming, who is retired and has spent past nine months fighting to secure a visa for his former interpreter Sami Khazikani, told HuffPost that the existence of unused visas does not indicate a lack of need -- but a complicated vetting system that can take several years and require assistance not available to many Afghans.
Fleming doesn't have much patience for the politicking on this issue. To him, the U.S.'s obligation to Afghan interpreters is pretty straightforward. "I don't like the sound of the one-for-one type swap," he told HuffPost. "But if we are going to have a set number of immigrants to be allowed into this country, we should at least float the Afghans to the top, because they did essentially serve this country."
Popular in the Community