WASHINGTON ― The Senate on Tuesday permitted a controversial shipment of more than $500 million in precision-guided munitions to Saudi Arabia, avoiding an embarrassing defeat for President Donald Trump and signaling that U.S. decision-makers still broadly support the Saudis' military campaign in Yemen despite concern about its humanitarian and national security impact.
Lawmakers voted 47-53 against a resolution of disapproval from Sens. Chris Murphy (D-Conn.), Rand Paul (R-Ky.) and Al Franken (D-Minn.) that would have blocked the sale of the weapons.
But the resolution's supporters argued that they still had some clear success.
The bill garnered far greater support than an effort last year to block a $1.15 billion tank sale to the Saudis to signal disapproval over Yemen. Some lawmakers who voted for that deal, like top Democratic Sens. Chuck Schumer (N.Y.), Ben Cardin (Md.), Jack Reed (R.I.) and Bob Menendez (N.J.), as well as independent Sen. Angus King of Maine, opposed the latest shipment ― as did a surprising pair of mainstream Republicans, Sens. Todd Young (R-Ind.) and Dean Heller (R-Nev.).
"A bipartisan coalition of Senators just sent a major message to the Saudis," Murphy said in a statement after the vote. "Today's vote total would've been unthinkable not long ago, but Congress is finally taking notice that Saudi Arabia is using U.S. munitions to deliberately hit civilian targets inside Yemen."
The high level of support for the resolution should be noticed by Saudi Arabia's rulers, activists said.
"The U.S. has no business providing weapons that will further fuel one of the world's largest humanitarian crises, with 7 million Yemenis on the brink of starvation and with cholera spreading rapidly," said Scott Paul, the senior humanitarian policy adviser at Oxfam America, one of many top rights groups that supported the effort to block the sale.
"By voting to block the sale of U.S. precision bombs that have been used by the Saudi-led coalition in Yemen to destroy farms, factories, schools, hospitals and Yemen's most important port, these senators took a stand for an American foreign policy that is rooted in our values ― one that is visionary, not transactional," he added. "While a similar vote last fall only drew the support of 27 senators, this unprecedented opposition shows that senators are fed up. Americans are finally calling time on our government's unconditional and unlimited support for Saudi Arabia's military intervention."
Aided by Senate Majority Leader Mitch McConnell (R-Ky.), the Trump administration engaged in heavy last-minute lobbying to save the deal, and Saudi Arabia pushed lawmakers on it too, sending its well-connected foreign minister, Adel al-Jubeir, to town on the day of the vote.
The crisis in Yemen, where the Saudis and allies have been battling Iran-backed militants for over two years, is getting increasingly desperate. The World Health Organization said on Thursday that the outbreak of cholera there has now affected more than 100,000 people, and a Saudi-led blockade is worsening the situation because of its impact on the availability of food and medical supplies. The International Committee of the Red Cross said Tuesday in a statement that more than 5,000 suspected new cases have been reported each day over the past week.
Meanwhile, attempts to negotiate between the militants and the internationally recognized pro-Saudi government are stalled. The rebel group, the Houthis, last week said it would no longer engage with United Nations envoy Ismail Ould Cheikh Ahmed because of his alleged bias for the U.S.-backed Saudi-led coalition.
Trump's decision last month to lift an Obama-era hold on the munitions and green-light other potential sales in an unprecedented $110 billion arms deal boosted fears that Saudi Arabia would only become more stubborn about ending the war on its terms.
"Saudi Arabia is an important friend and partner for the United States...But they are still a deeply imperfect friend. $110 billion in weapons will exacerbate, not ameliorate, these imperfections," Murphy wrote on HuffPost last month. "And in the powder keg that is the Middle East, this sale may simply light a fuse that sends the region, and us, deeper down the rabbit hole of perpetual military conflict."
This story was updated with additional comments after the vote took place.
Before You Go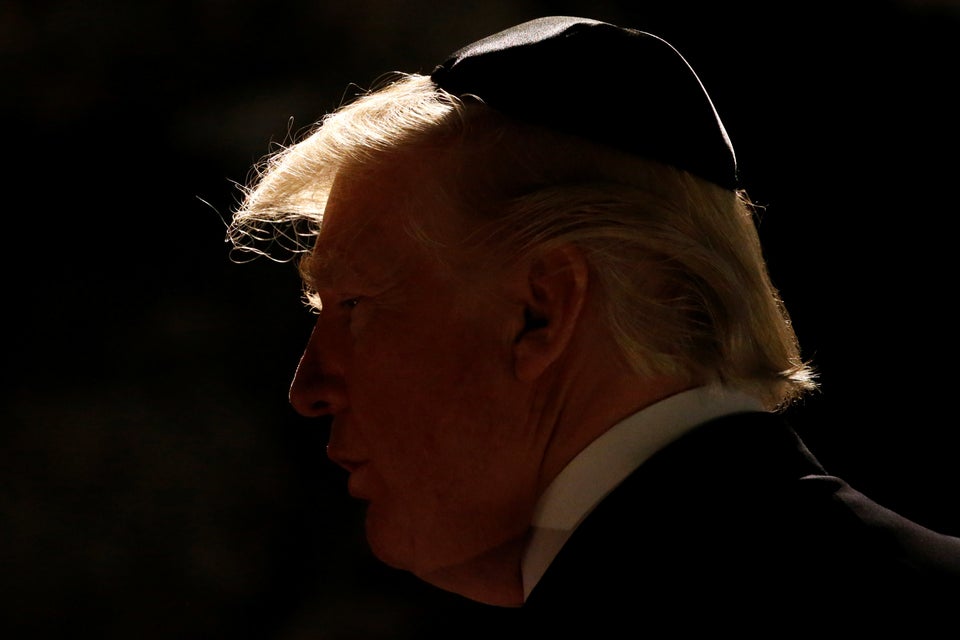 President Donald Trump's First Trip Abroad
Popular in the Community