WASHINGTON ― The Senate on Wednesday passed a bill so friendly to banks that even a Republican worried it goes too far.
The measure would also exempt 25 of America's biggest banks from regulations created in response to the financial crisis that contributed to the Great Recession a decade ago. The Congressional Budget Office warned that the risk of another financial crisis "would be slightly greater under the legislation."
The prospect of helping Wall Street while increasing the likelihood of a bailout situation was unsavory enough to prompt one Republican on the Senate Banking Committee to try to make the bill less favorable to huge banks. The amendment from Sen. Bob Corker (R-Tenn.) never had much of a chance, however. While dozens of changes to the bill were proposed, party leaders were unable to reach an agreement to vote on any of them.
Part of the legislation could allow JPMorgan Chase and Citibank, two of the very biggest banks in the U.S., to hold less capital relative to their assets, undercutting one of the 2010 Dodd-Frank law's safety measures. Corker wanted to strike that provision.
"Capital standards matter and leverage ratios matter a great deal to me," Corker told HuffPost.
The bill sailed through the Senate thanks in large part to backing from a mix of centrist and red-state Democrats, who argued that small and regional banks had nothing to do with the excesses of Wall Street prior to the 2008 recession.
Those Democrats also touted several new "consumer protections" in the bill. While the legislation delivers favors to banks, it ostensibly cracks down on credit monitoring companies like Equifax, which exposed millions of consumers' financial information to hackers last year. One provision would require such firms to give customers free credit freezes, although critics have complained that measure would also pre-empt more generous state laws and still allow employers and insurance companies to look at otherwise frozen credit reports. The bill also gives Equifax and other credit monitoring firms a leg up in the mortgage business.
It's unclear whether the House would vote to pass the Senate bill as is or amend it with other items. Rep. Jeb Hensarling (R-Texas), chairman of the House Financial Services Committee, told reporters last week that the current Senate bill didn't satisfy him and that he looked forward to attaching several other provisions.
"I'm really pleased with what the Senate accomplished, but I actually think our legislation is better," Rep. Tom Cole (R-Okla.) said Wednesday.
Major changes to the bill, however, could threaten its support among Senate Democrats.
Democrats themselves had proposed a range of amendments, some to improve the bill and some that were more about messaging. One proposal from Sen. Tammy Baldwin (D-Wis.) would have reined in corporate stock buybacks, which have surged since Congress passed a huge corporate tax cut in December.
"The Senate functions best when people's ideas can get a full debate," Baldwin told HuffPost.
The provision that caught Corker's attention would allow "custodial" banks, which hold assets on behalf of other institutions, to not count certain assets for purposes of calculating additional leverage requirements on banks with more than $250 billion in assets. Though they're not custodial banks, the Congressional Budget Office has said that JPMorgan and Citibank could benefit from the provision depending on its regulatory interpretation. Corker's amendment would have taken away that uncertainty by deleting the entire section.
Corker told HuffPost that he has talked about the issue with the Federal Reserve, which is one of the bank regulators that enforces the supplementary leverage ratio, as the Dodd-Frank provision is known. He suggested that simply having his proposed amendment in the Congressional Record would be a signal to bank regulators and also to the lawmakers whose job it will be to merge the different bills from the House and Senate.
"We're just trying to create some legislative history here," Corker said. "I want to make sure that we give the Fed plenty of room to do what they feel is appropriate in that regard."
This article has been updated to reflect that the bill passed the Senate.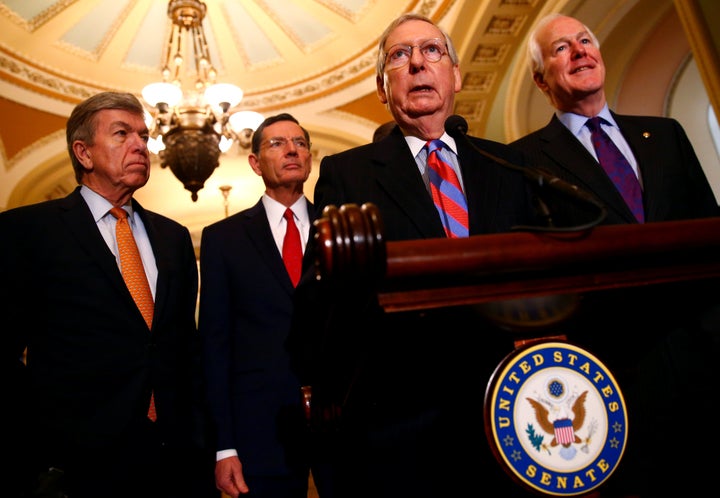 Popular in the Community