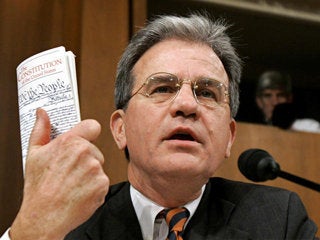 Scroll down for late update...
While Senate Democrats held a press conference celebrating their latest health care reform victory on Thursday afternoon, a Republican slipped into the chamber to move a bill that would extend soon-to-expire enhanced unemployment benefits -- paid for with $10 billion in unused funds from the stimulus bill.
With Democrats caught off guard, the clock started ticking on the bill's slog through the legislative process. Democratic leaders, who had planned to introduce the same bill without using funds committed to the stimulus, trudged into the chamber as Sen. Tom Coburn launched into an epic speech on the perils of deficit spending.
"We're going to be like the Athenian Empire," warned the Oklahoma Republican, standing alone on the Republican side of the room. "The real thing going on outside Washington is the fear that that's happening to us."
Sen. Chris Dodd (D-Conn.) slumped in his chair, rubbing his temples in apparent agony.
After about 20 minutes, Senate Majority Leader Harry Reid (D-Nev.) interrupted Coburn to ask: "How long are you going to talk?"
Coburn said he planned to talk for another 45 minutes. Reid turned around and left the room. He eventually returned with a motion to table Coburn's bill, which succeeded easily.
After the vote, Coburn's office released a statement blaming Democrats for blocking benefits. "The 59 Senators who voted no," the statement said, "may be the only 59 people in the country who believe the federal government is running at peak efficiency and can't be trimmed to pay for unemployment benefits for families who are struggling."
Senate Minority Leader Mitch McConnell (R-Ky.) laid the groundwork for this fight back on Tuesday, when he introduced the Republican bill to little notice. It's an apparent effort to prevent the public relations nightmare that erupted when Sen. Jim Bunning (R-Ky.) prevented the Senate from passing a similar extension back in February, jeopardizing unemployment benefits for hundreds of thousands of people in an impromptu stand for deficit reduction.
A reporter asked Bunning how he felt that Coburn had taken up his cause. "I think it's wonderful," he said. (Bunning refused to take a question from HuffPost.)
The Senate adjourns for two weeks on Friday. If they leave without passing this extension, on April 5 laid-off workers will lose their eligibility for extra "tiers" of Emergency Unemployment Compensation, which provides up to 53 weeks of federally-funded unemployment checks on top of state-funded benefits. Newly unemployed workers will also lose their eligibility for subsidized COBRA health insurance.
Democrats asked unanimous consent to move forward with their version of the bill, but Coburn objected. Reid tried again with a version of the bill he said was partially offset, and Coburn, who is sometimes known as the Senate's "Dr. No," objected again. Democrats don't think Coburn is going to blink.
"Coburn has the stamina of three Bunnings," said a Dem aide. "I really believe this is a retaliation for the passage of health care."
The aide said Reid was not interested in cutting a deal that pays for unemployment benefits with stimulus funds, since offsetting the government spending by withdrawing money from another part of the economy essentially nullifies the stimulative effect of the benefits. "We're going to keep trying but I don't think we're going to get an agreement," the aide said. "They want to pay for unemployment insurance on the backs of out-of-work people and we're not going to do that."
Without a deal, the Senate will either stick around for the weekend or leave without finishing the bill.
"We're going to keep fighting back. My hope is we'll just stay and stay and stay," said Sen. Ron Wyden (D-Ore.) in an interview with HuffPost. He said he hoped Democratic and Republican leadership will reach a deal before the break. In the meantime, he added: "Part of getting a deal is for people to see how strongly we feel. So that's our job, is to show spine."
"They're just playing games," said Sen. Debbie Stabenow (D-Mich.). "[Coburn's] motion is a motion to play games by taking money away from the Recovery Act."
Stabenow said that even if the Senate adjourns for its two-week break without finishing the bill, the measure would apply retroactively when it is finally passed -- meaning that laid-off workers will get their unemployment checks eventually if there's a delay. "We can't get it done right now, but it will be retroactive."
An advocate for extending benefits said that even if it applies retroactively, a congressional delay would hurt the unemployed.
"It will mean a stoppage and disruption in checks, and people who are so far into federal benefits probably can't float many weeks without their checks," wrote Judy Conti, a lobbyist for the National Employment Law Project, in an email to HuffPost. "And it's enormously disruptive to the state agencies."
UPDATE 8:30 PM: That disruption is now likely to happen. Reid filed for cloture on the Democrats' version of the bill, initiating a process that could get the bill passed as soon as this weekend -- if the Senate remains in session, that is. He also filed for a "conditional adjournment", which passed by party-line vote. It means the two-week recess has started, but party leadership has the authority to reconvene the Congress in case of an emergency or important issue.
A McConnell spokesman told HuffPost that Democratic and Republican senators had reached a deal to pay for a one-week extension, but that House leadership rejected it. He said the enhanced benefits and other programs would lapse on April 5 during the recess.
"Once the Senate adjourns, the Congress can't act," he said.
McConnell vowed that Coburn and several other Republicans would be on hand Friday morning to debate both the importance of extending the benefits and how to pay for them.
Popular in the Community