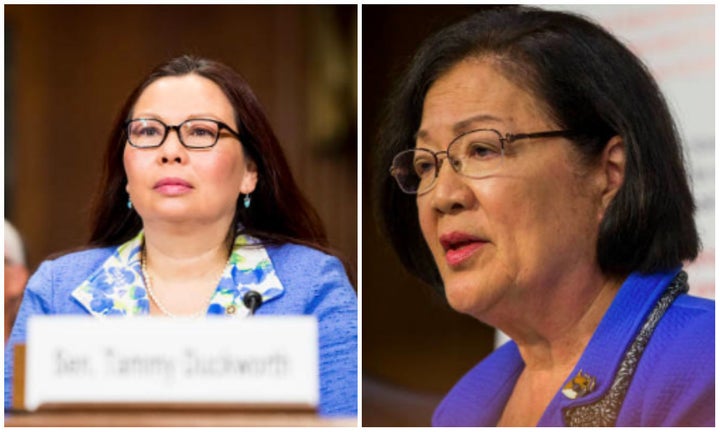 The government is another step closer to properly honoring Chinese-American veterans who served during World War II.
The Senate unanimously passed a bill last week that would allow Congress to award the veterans with a Congressional Gold Medal for their service during a time of anti-Chinese discrimination.
While it's estimated that more than 13,000 Chinese-Americans served the U.S. during that time, their contributions and achievements have largely been left out of the mainstream media. And Sen. Tammy Duckworth (D-Ill.), who introduced the bill last year with Sen. Mazie Hirono (D-Hawaii), told HuffPost that it's time they get the tribute they deserve.
"They faced outright discrimination throughout their service, which led to their heroism and sacrifice being largely ignored," Duckworth, a veteran herself, told HuffPost in an email. "Awarding these Veterans the Congressional Gold Medal would be a much-needed step in recognizing the sacrifices they made to our nation."
At the start of World War II, Chinese immigration to the U.S. was still being restricted. The Chinese Exclusion Act, a law passed in 1882, had put an absolute 10-year moratorium on Chinese labor immigration, and its provisions were extended by the Geary Act for another decade. The ban was made permanent in 1902 and was not formally repealed until the 1943 Magnuson Act.
Yet many Chinese-Americans still either volunteered or were drafted into the U.S. military. About 40 percent of them were foreign-born.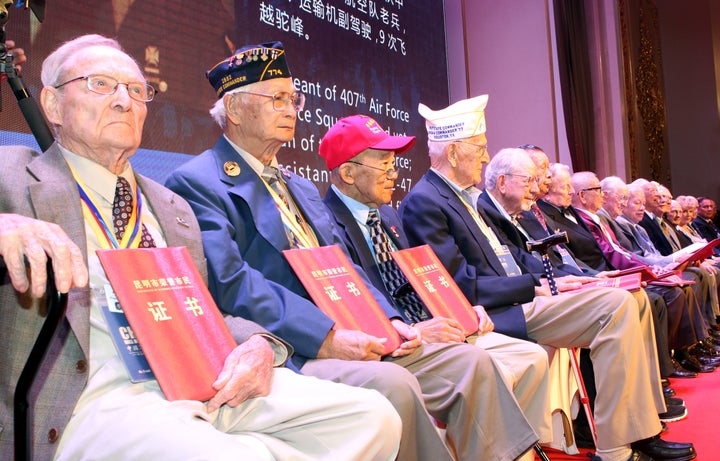 Many Chinese-American servicemen played important roles during the war, including those in the 407th Air Service Squadron and the 987th Signal Company ― two all-Chinese-American support units of the iconic Flying Tigers, which the U.S. government had authorized to help the Chinese defeat Japan. They were sent to China, Burma and India, where they serviced and fueled fighter aircraft, trained Chinese soldiers as mechanics and engineers, and often flew the "Hump" ― a deadly supply route that went over the Himalayas.
"We all had parachutes," veteran Paul Ngim told SFGate in 2009. "But if you have to jump and parachute there, you'll never be found again. We all knew that."
In a letter of support for the bill, Nell Calloway, granddaughter of aviator and leader of the Flying Tigers Claire Chennault, wrote that the all-Chinese-American units "demonstrated courage, loyalty, and patriotism" while helping the Flying Tigers win aerial victories.
Captain Francis Wai remains the only Chinese-American to ever receive a Medal of Honor ― an accolade he posthumously received. Wai, who was killed in action on the Filipino island of Leyte, assumed command and deliberately exposed himself to fire to determine enemy strongpoints.
Duckworth said that, under the current administration, the stories of the Chinese-American World War II veterans are particularly important.
"Their story is yet another reminder that our military and our country are stronger because of our diversity."
The bill still needs to be passed in the House before it can be signed into law.
CORRECTION: A previous version of this story misstated the gender of Nell Calloway.