WASHINGTON ― With less than two hours to go before a deadline to avert a government shutdown, 48 senators blocked a four-week government spending extension, causing the government to partially shutdown at midnight.
Forty-four Democrats and four Republicans voted against the short-term spending bill that passed the House on Thursday evening, many of them saying they could not vote for a measure that does nothing for the 700,000 undocumented young people President Donald Trump has put at risk of losing protection from deportation. The bill, which needed 60 votes to proceed, failed in a 50-49 vote, with Senate Majority Leader Mitch McConnell (R-Ky.) voting against it for procedural reasons.
Leaders in both chambers haven't settled on a Plan B. There's no deal to help so-called Dreamers and no agreement on an even shorter-term bill to extend funding while they work on one. There's not even certainty about what Trump actually wants. Earlier in the day, he rejected an offer from Senate Minority Leader Chuck Schumer (D-N.Y.) to fund his border wall, the Democrat said. Senators remained in the chamber discussing a path forward but didn't find one before the deadline.
Eventually, the Senate adjourned without a deal and will have to return later Saturday.
It will be difficult to reach a long-term deal to reopen the government. Democrats want protections for Dreamers first, but White House press secretary Sarah Huckabee Sanders said that's not something the administration will discuss until government funding is approved.
"We will not negotiate the status of unlawful immigrants while Democrats hold our lawful citizens hostage over their reckless demands," she said in a statement just before midnight. "This is the behavior of obstructionist losers, not legislators. When Democrats start paying our armed forces and first responders, we will reopen negotiations on immigration reform."
It wasn't just Democrats who voted against the bill. Four Republicans also opposed the four-week funding measure: Sens. Lindsey Graham of South Carolina, Jeff Flake of Arizona, Mike Lee of Utah and Rand Paul of Kentucky. John McCain of Arizona was not present.
Five Democrats crossed the aisle to vote for the bill: Joe Manchin of West Virginia, Heidi Heitkamp of North Dakota, Doug Jones of Alabama, Claire McCaskill of Missouri and Joe Donnelly of Indiana.
Republicans also tried to shift blame to the Democrats for a potential shutdown by adding a six-year extension of the Children's Health Insurance Program (CHIP) to their short-term bill. Then GOP leaders in the Senate decided to hold a vote on that funding measure even though it was clear minutes before that it didn't have the support to pass ― essentially daring Democrats to vote no.
Negotiations over a last-minute deal to extend funding for the government through Feb. 8 ― one week earlier than the House-passed bill ― collapsed shortly before midnight after Democrats were unable to secure a commitment from House Speaker Paul Ryan (R-Wis.) to attach a DACA measure to a must-pass government funding bill next month, according to senators of both parties. Without the commitment, Democrats would have no guarantee that Republicans would vote on DACA before the program expires in March.
McConnell criticized Democrats after the vote for "shoehorning of illegal immigration into this debate."
Senators are expected to return to work Saturday in hopes of reaching a deal by Monday, when most federal employees return to work.
Republicans insisted there's no urgency on immigration. But Democrats, at the urging of Dreamers themselves, stood firm, even though many of them voted for a spending bill in December. At a time when Trump is simultaneously insisting he wants an immigration deal and making demands that Democrats find difficult to stomach ― reportedly discussing immigrants in racist terms and insulting the lawmakers he is negotiating with ― they argued that tying DACA to government funding is the best chance they have to do so.
On Friday, ahead of the vote, Schumer went to the White House to meet with Trump to discuss the deal in person. Schumer said that he offered Trump funding for his border wall ― something he and other Democrats have said no to repeatedly. He also told him Democrats would agree to higher defense spending, according to a source familiar with the conversation, who requested anonymity to discuss the private meeting. They parted without a firm deal, but the president said that a short-term spending bill, as proposed by Schumer, was a good idea, the source said.
But later, it fell apart. White House Chief of Staff John Kelly called Schumer and said the proposal he had discussed with Trump was too liberal, according to the source.

Trump tweeted after the meeting that it was "excellent" but hours later was back to publicly bashing Democrats, accusing them of wanting "a Shutdown in order to help diminish the great success of the Tax Cuts, and what they are doing for our booming economy."
Schumer accused Trump of turning on a bipartisan deal as if he was "rooting for a shutdown."
"And now we'll have one, and the blame should crash entirely on President Trump's shoulders."
But it wasn't just Democrats who blocked the bill, and DACA wasn't the only thing keeping lawmakers from supporting the spending bill. Some senators said they wouldn't vote for another one-month spending bill because they view it as an irresponsible way to run the government. Such measures, called continuing resolutions, are in lieu of a full-year bill to fund the government because lawmakers have yet to reach a deal.
Young people are set to begin losing DACA protections in larger numbers in early March, although about 122 per day have been losing their shield against deportation since Trump rescinded the program. (The government is currently accepting renewal applications because of a court order, but aims to have that ruling overturned.)
Trump also rejected a bipartisan proposal from senators, most prominently Sens. Dick Durbin (D-Ill.) and Graham, intended to conform to the president's demands. The White House hasn't voiced support for a bipartisan House proposal from Reps. Will Hurd (R-Texas) and Pete Aguilar (D-Calif.). And a separate effort to find a deal between the second-ranking members in each party in the House and Senate hasn't led to an agreement.
Sen. Orrin Hatch (R-Utah) spun the night's developments in a positive light, predicting the failed vote would eventually drive both sides to settle on a bipartisan compromise.
"This is what makes Congress work," Hatch said. "Sooner or later they can get tired of it, then they'll say let's quit playing around and get something done."
He added, somewhat facetiously: "Isn't this fun?"
Before You Go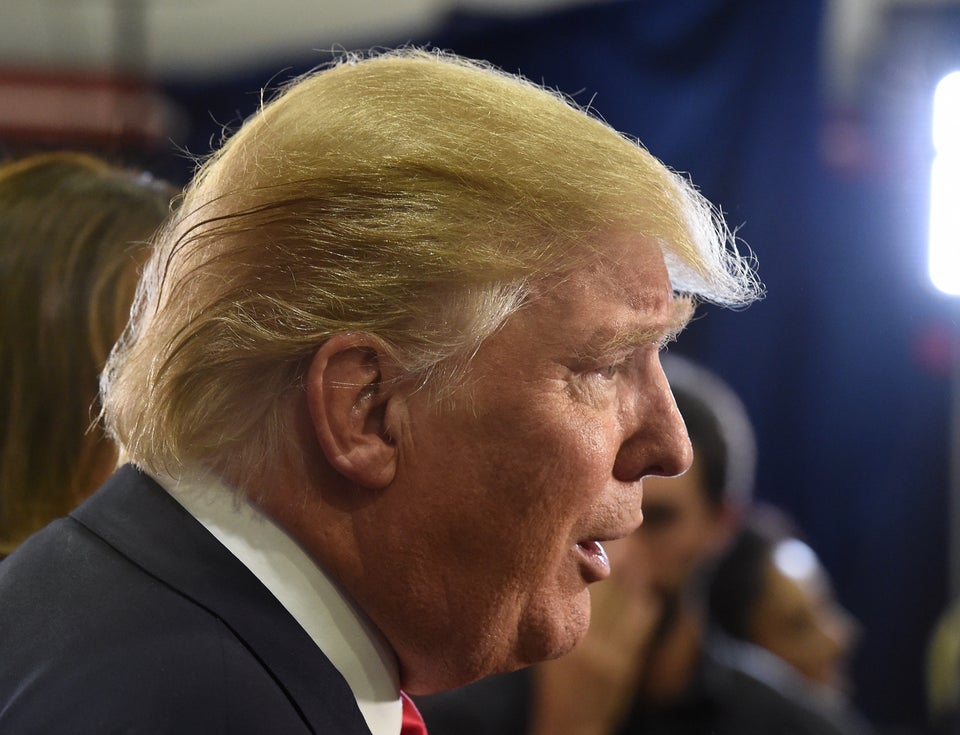 How Donald Trump Talks About Undocumented Immigrants
Popular in the Community