WASHINGTON -- Moments after House Republicans failed to advance a plan to end the government shutdown and avert default, Senate leaders took matters back into their own hands.
Aides to Majority Leader Harry Reid (D-Nev.) and Minority Leader Mitch McConnell (R-Ky.) confirmed the two had reopened talks that were put on hold earlier to allow the House to act first.
A Senate Democratic aide told The Huffington Post on Tuesday evening that a deal between the two was "imminent."
The aide said the deal would hew closely to those earlier talks between Reid and McConnell. It would fund the government through Jan. 15, raise the debt ceiling through Feb. 7, and mandate both chambers appoint budget conferees to produce a broader framework for deficit reduction by Dec. 13. (The aide noted that having a deadline on Friday the 13th didn't bode well for the framework's chances.) A second Democratic aide, who confirmed the substance of the deal, added that because of parliamentary quirks, the budget conference language may be considered as an addendum, and not part of the deal itself.
The Senate deal also would allow the Treasury Department to use extraordinary measures to avoid defaulting should the next debt limit deadline be breached. The bill would require income-verification for those receiving subsidies under Obamacare, though that is a small change that the administration is comfortable with. There will be no delay in the re-insurance provision, which was contemplated in earlier talks and is a favored policy of both businesses and unions.
The Senate had neared completion of such a deal on Monday night, only to hit the pause button Tuesday morning when House Speaker John Boehner (R-Ohio) announced the lower chamber would produce a bill to resolve the budget crisis on its own terms. Some Senate Republicans expressed frustration at the idea of waiting for their colleagues in the House, who have failed to coalesce around any strategy to end the shutdown as the nation moves dangerously close to default.
It took several hours for those fears to come true, after House conservatives declared unacceptable the plan laid out by their leaders. An entire day wasted was especially problematic for the Senate, where procedural hurdles abound without unanimous consent.
It was for that reason McConnell had hoped Boehner could rally his GOP House conference to send a "message" bill to the Senate, that would be harder to block and thus get a vote much more quickly.
Aides said they still hoped Boehner would send a message to the Senate on Wednesday morning to expedite the legislative process. But they also were preparing to use normal procedures, which would allow a single member to delay consideration for 30 hours if he or she wanted.
The aide suggested that an announcement of a formal deal could come as early as Tuesday night.
CORRECTION: This article has been edited to correct the number of senators needed for unanimous consent.
Before You Go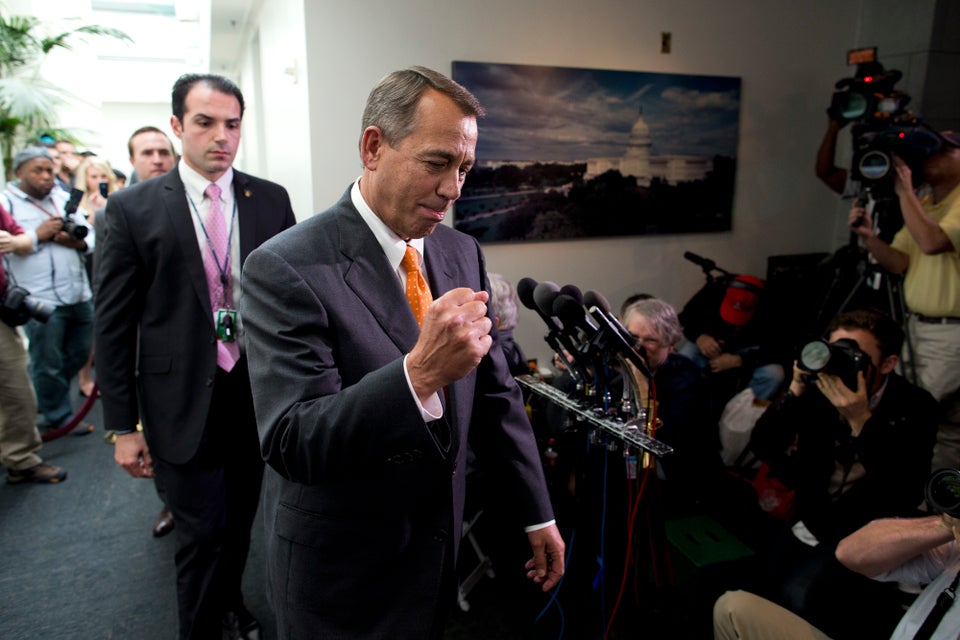 2013 Government Shutdown
Popular in the Community