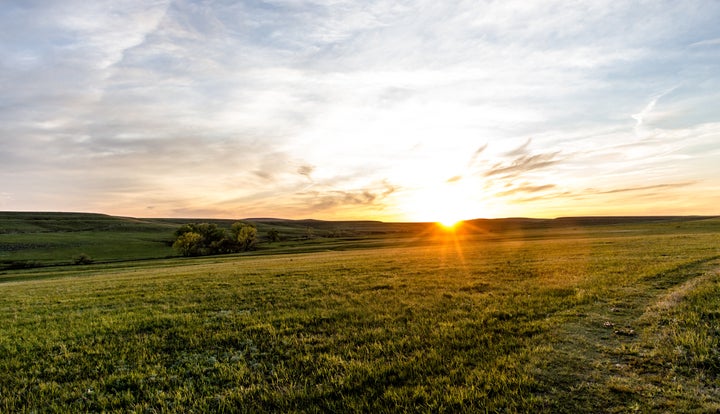 Minnesota state Rep. Jim Newberger (R) cited a long-debunked theory on the sun's role in climate change while flipping his stance on the issue during a Friday debate with U.S. Sen. Amy Klobuchar (D), whom he hopes to unseat in the November midterm election.
A moderator at the Minnesota State Fair asked the two candidates about the Trump administration's intention to gut the Clean Power Plan, an Obama-era rule that tightened power plant emissions standards, along with the broader climate problem.
"Do I believe in climate change? Yeah, I do," Newberger said, contradicting a response he gave to a Minnesota CBS affiliate late last month. At the time, when asked plainly whether he believed in climate change, Newberger said no. His campaign website does not mention the issue.
"Do I believe it's man-made?" he continued, "No, I do not. Climate change, the No. 1 factor is the sun. We cannot change how the sun operates."
Satellite readings of the sun's energy output, or solar irradiance, measured since the late 1970s indicate a slight drop, indicating the sun can't account for the warming trend observed over recent decades. Additional research has shown that the sun can affect Earth's climate over millions of years, but not in such a short time as the past two centuries that climate change has been observed.
The overwhelming consensus among scientists is that an increase in carbon dioxide in the atmosphere, caused by human activity such as deforestation and the burning of fossil fuels, is the major cause of the planet's shift in temperature.
In his response, Newberger also touted his proximity to a local coal power plant and the workers' union that supports him. He asked the crowd why, if coal is so bad, nations and regions in the Paris Climate Agreement ― among them South Korea, Japan, Poland, Russia, Germany and African nations ― are opening such plants.
While the nations he named are still to varying degrees reliant on coal, it's largely seen as a temporary solution to precede a shift toward renewable energy sources. Japan has turned to coal after a 2011 disaster at its Fukushima Daiichi nuclear power plant, and has faced criticism. African coal plants are largely financed by China as nations across the continent strive toward industrialization goals.
For her part, Klobuchar responded to the question by criticizing President Donald Trump's decision to pull the United States out of the Paris climate agreement, becoming the only nation in the world not to participate.
"This is an extreme view that is not held by the scientists of this country," the senator said. "Yes, we're not going to get rid of all our coal plants, but we're going to be transitioning. Over time, you transition."
Watch their whole debate below. (The climate question comes just after the 30-minute mark.)
Popular in the Community