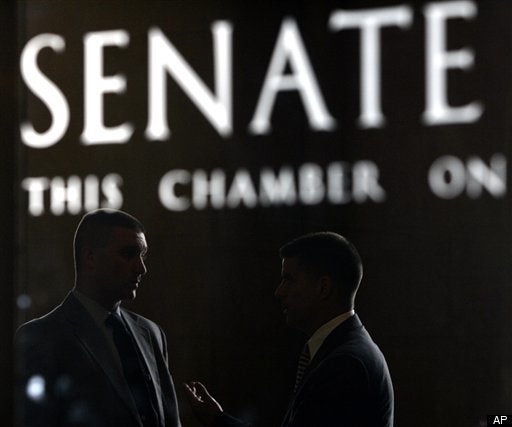 When Democrats approved the Senate bill that President Obama signed into law on Tuesday morning, Senate Majority Leader Harry Reid (D-Nev.) did so with great pomp and circumstance, with senators seated and rising to cast their votes as the roll was called. In the afternoon, with no fanfare, the same Senate Democrats -- minus one caucus member from Massachusetts -- overcame a major procedural hurdle and voted to proceed to the health care reconciliation fight.
The vote was taken in the traditional style, with senators meandering about the chamber, chatting, arriving late or leaving early. There was no sign of partisan rancor, despite Sen. John McCain's (R-Ariz.) earlier statement that the move would mean the end of any GOP cooperation with Democrats.
When Finance Committee Chairman Max Baucus (D-Mont.), who led months of fruitless bipartisan talks with the erstwhile Gang of Six, saw Sen. Chuck Grassley (R-Iowa), the committee top-ranking Republican, who dropped out of the gang amid warnings that the bill would "pull the plug on grandma," Baucus gave his former interlocutor a robust high-five. Beaming, the pair talked about the University of Northern Iowa's improbable run and the prospect of an upset of Michigan State in the Sweet Sixteen.
Sen. Chris Dodd (D-Conn.) chairman of the Senate Banking committee that just passed financial regulatory reform with a party-line vote, chatted amicably with Republican committee members Bob Corker (Tenn.) and Richard Shelby (Ala.).
Sen. Mark Pryor (D-Ark.), a health care reform skeptic who came around in the end, shook hands with Baucus and Reid before voting 'aye' and exiting the chamber.
In all, 55 Democrats, plus Sen. Bernie Sanders (I-Vt.), voted to move forward with reconciliation. Thirty-nine Republicans opposed the motion, joined by Sen. Ben Nelson (D-Nebraska), who is torn between wanting to vote to repeal the "Cornhusker Kickback" and not wanting to vote for student-lending legislation that will cost his state jobs. Sens. Tom Udall (D-N.M.), Bob Byrd (D-W.Va.) and Bob Bennett (R-Utah.) and Johnny Isakson (R-Ga.) missed the vote.
By statute, 20 hours of debate will now commence. If the Senate doesn't adjourn for the night, the debate will expire at roughly 11:30 a.m. on Wednesday. During the 20 hours, Republicans are expected to make any number of procedural objections, which will continue once the time has expired in the form of unlimited amendments. Democrats are hoping that the parliamentarian will rule the amendments dilatory and out of order, allowing for a final vote. Republicans are worried that if he doesn't, Democrats will overrule, a move they say will "destroy the Senate." Senators, however, have been warning that such-and-such move will destroy the chamber almost as long as it's been in existence.
As the debate goes on, two words the American people are likely to hear over and over -- if they tune into C-SPAN -- are "replace" and "repeal," Sen. John Cornyn, a member of Republican leadership, told reporters just before the reconciliation floor battle began.
And add a non-health-care-related issue to that list: "ACORN."
The maligned community organizing group, which its enemies blame for everything from the Democratic majority to the financial collapse, is teetering on the brink of bankruptcy and set to formally disband, but is still targeted by the GOP.
A spokesperson for ACORN wasn't immediately available.

Calling all HuffPost superfans!
Sign up for membership to become a founding member and help shape HuffPost's next chapter