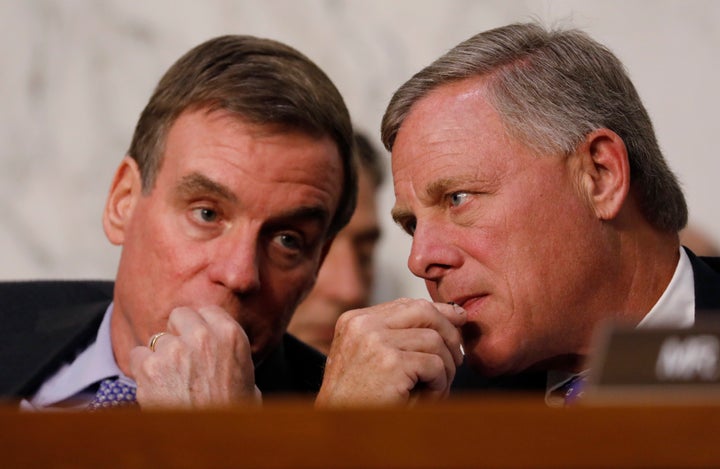 After interviewing all members of the intelligence community who helped draft the assessment and reviewing thousands of pages of classified documents, there is a "general consensus" that members and staff "trust the conclusions" of the intelligence community's assessment, Senate Intelligence Committee Chairman Richard Burr (R-N.C.) said at the beginning of the Wednesday press conference.
Burr later cast doubt on whether he backed all of the findings in the intelligence assessment. The assessment focused on "Russian involvement in the election process," the chairman said in response to a question. "We have not come to any determination on collusion or Russia's preference," he added.
The declassified version of the January intelligence assessment ― which includes analysis from the CIA, FBI, National Security Agency and Office of the Director of National Intelligence ― does not touch on the issue of collusion. But it does make clear that the intelligence community believed Russia wanted Trump to become president. "Putin and the Russian Government developed a clear preference for President-elect Trump," the declassified version of the assessment states.
A spokeswoman for Burr declined to clarify the chairman's remarks.
The Senate committee began its investigation into Russian election interference in January and has now interviewed more than 100 people and reviewed over 100,000 pages of documents, Burr said. At the outset of the investigation, the panel planned to focus on reviewing the intelligence community's findings, determining whether there was evidence of either presidential campaign colluding with Russia, and assessing ongoing Russian measures to influence political campaigns.
The Senate committee is still investigating the issue of collusion, Burr said, declining to share even initial findings on that topic. That admission is likely to anger Trump, who has repeatedly denied that his campaign worked with Russia, questioned whether Russia interfered in the election at all, and has said it is "time to move forward" on the Russia issue.  
Russian actors were involved in three different active measures during the campaign, according to Senate Intelligence Committee Vice Chairman Mark Warner (D-Va.). Those included hacking political entities and advisers and disseminating hacked materials, attempting to "test the vulnerabilities of 21 state electoral systems," and using social media platforms to engage in information campaigns, Warner said. (At least three of those 21 states dispute that their electoral systems were targeted.)
Russians used social media to influence the election through paid advertisements and the creation of fake accounts to force certain preferred stories to trend to "sow chaos and division in our country," he added.
Burr noted emphatically that the attempts to penetrate state electoral systems were unsuccessful and "did not in any way, shape or form alter" vote totals.
He also said the committee's investigation has "expanded slightly" since January as witnesses and documents generated new leads. He declined to set a deadline for the conclusion of the investigation but said it is important to share information with the public before primary races for the 2018 elections begin.
Now nine months into the Russia probe, Senate Intelligence Committee members say there is no sign that the investigation is close to completion. "We're months and months into this, and we keep finding plenty of more stuff to look into," Sen. Martin Heinrich (D-N.M.) told CNN.
The committee has scheduled 25 additional interviews this month, Burr said — but they have been unable to get in touch with Christopher Steele, a former British intelligence agent who wrote a controversial dossier containing salacious allegations about Trump and his campaign staff's interactions with Russian officials.
The House Intelligence and Senate Judiciary committees are conducting their own Russia probes alongside the Senate panel. There is also a separate investigation led by special counsel Robert Mueller, a former FBI director.
Lately, the congressional investigations have focused on how the Internet Research Agency, a Russian company that engages in information warfare on behalf of private and government actors, attempted to influence American public opinion during the 2016 presidential election through online platforms like Facebook, Twitter and Google.
On Monday, Facebook turned over 3,000 Russia-linked election ads to the committee. Burr told Reuters on Wednesday that those ads targeted states other than Michigan and Wisconsin, the two states initially listed in media reports. NBC's Kasie Hunt reported that Alabama and Mississippi were also targeted with Facebook ads.
The Internet Research Agency is reportedly behind the 3,000 ads uncovered by Facebook that sought to capitalize on existing political and social issues that divide Americans. These included amplifying the anti-Muslim and anti-immigrant messages already prevalent in conservative political circles. The agency is also reported to have created fake accounts imitating African-Americans and American Muslims as part of a disinformation campaign.
When asked whether the public will see the advertisements at issue, Burr explained that the committee never discloses documents it receives as part of an investigation. He said he did not mind if the companies disclosed those ads themselves. Warner added, "At the end of the day, I think it's important that the public sees these ads."
Warner stated that he was initially dissatisfied with social media companies' reactions to the investigation and the issue of foreign interference. But he now believes that they understand the importance of the issue and have complied with every request from the committee, he said. However, he added, "Their actions need to match their public statements."
Warner and Sen. Amy Klobuchar (D-Minn.) are working to develop legislation to require online platforms like Facebook, Google and Twitter to publicly disclose information related to political advertising purchased on their sites. It is already illegal for foreigners to spend money on explicit electoral messages, whether online or offline, but online advertisements on platforms like Facebook and Twitter are not required to carry the same disclaimers as television or newspaper ads noting the ad buyer.
In September, Facebook sought to get ahead of legislative or agency regulations by announcing a new policy to require disclosure of ad buyers.